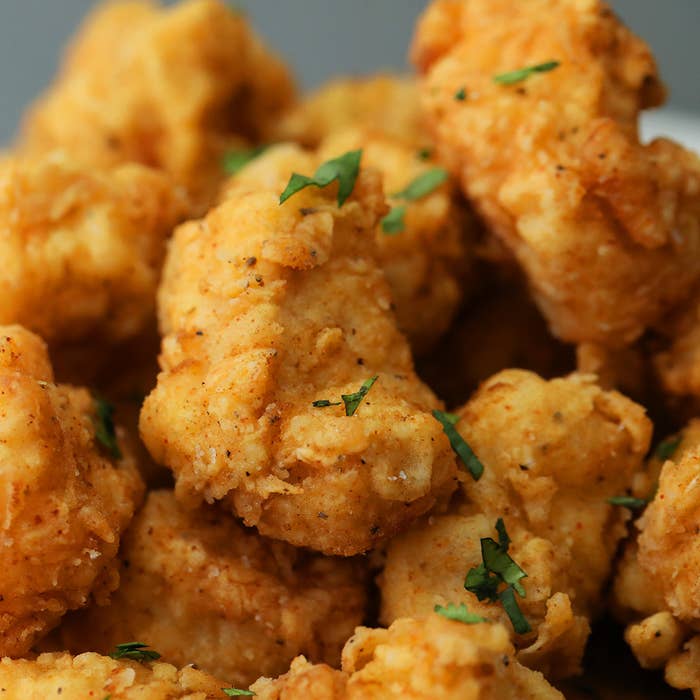 INGREDIENTS
Brine
2 pounds chicken breasts, boneless skinless, cut into 1-inch cubes
1½ tablespoons salt
1½ tablespoons hot sauce
2 cans Dr Pepper
Breading
2 cups flour
1 tablespoon salt
1 teaspoon pepper
2 teaspoons paprika
2 teaspoons garlic powder
2 teaspoons onion powder
3 eggs, whisked
Vegetable oil, for frying
Dipping Sauce
⅓ cup sour cream
Juice of 1 lime
½ teaspoon chipotle powder
PREPARATION
1. Place chicken breasts in a bowl. Sprinkle with salt and hot sauce. Pour 2 cans Dr Pepper over chicken and stir. Place in refrigerator for at least 3 hours.
2. Remove chicken from brine. Pat dry.
3. In a large bowl, mix together flour, salt, pepper, paprika, garlic powder, and onion powder. In a smaller bowl, whisk the eggs. Dredge chicken pieces in flour mixture, shaking off the excess. Dip chicken in the eggs, then back in the flour.
4. Fill a pot with 3 inches of vegetable oil. Heat oil to 350ºF. Fry popcorn chicken in batches until cooked through, 3–4 minutes. Drain chicken on paper towels.
5. Mix together sour cream, lime juice, and chipotle powder. Dip popcorn chicken in sour cream dip and enjoy!