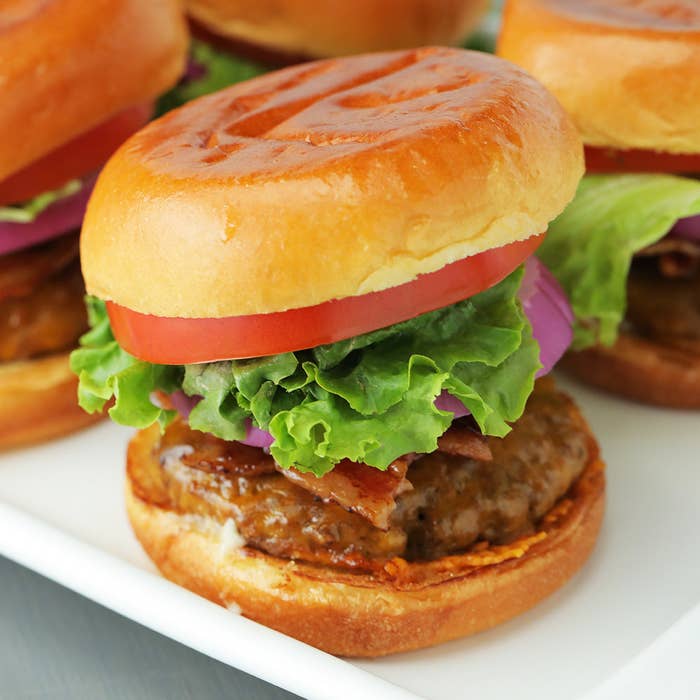 INGREDIENTS:
8 slices thick-cut bacon
1 cup Dr Pepper
1 pound ground beef
1½ teaspoons salt
½ teaspoon pepper
4 slices cheddar cheese
4 toasted brioche buns
⅓ cup mayonnaise
1 red onion, sliced
Lettuce
Sliced tomato
PREPARATION:
1. Preheat oven to 400ºF.
2. Pour Dr Pepper in a small pot. Bring to a simmer. Let simmer until Dr Pepper starts to thicken and is reduced by about 80%.
3. Arrange bacon on a parchment-lined sheet tray. Cook in oven for 13 minutes.
4. Remove from oven and brush bacon with reduced Dr Pepper. Place back in oven and cook for 3–4 minutes. Remove from oven, flip bacon, and brush other side with reduced Dr Pepper. Cook for another 3–4 minutes until bacon is dark and shiny. Let bacon rest on a cooling rack while making the burgers.
5. Mix ground beef with salt and pepper. Shape into 4 thin patties.
6. Heat up a large cast-iron skillet with a small drizzle of vegetable oil. Cook patties until browned on the first side. Flip patties and top each one with a slice of cheddar cheese. Cover pan with a lid and cook for 2–3 minutes. Cheese should be melted and burgers cooked through.
7. Spread a swipe of mayonnaise on the bottom brioche buns. Place burgers on bottom bun. Break 2 pieces of bacon in half and layer on top of each burger. Layer on red onion, lettuce, and tomato, followed by the top bun. Serve!