Dr Pepper BBQ Chicken Mac And Cheese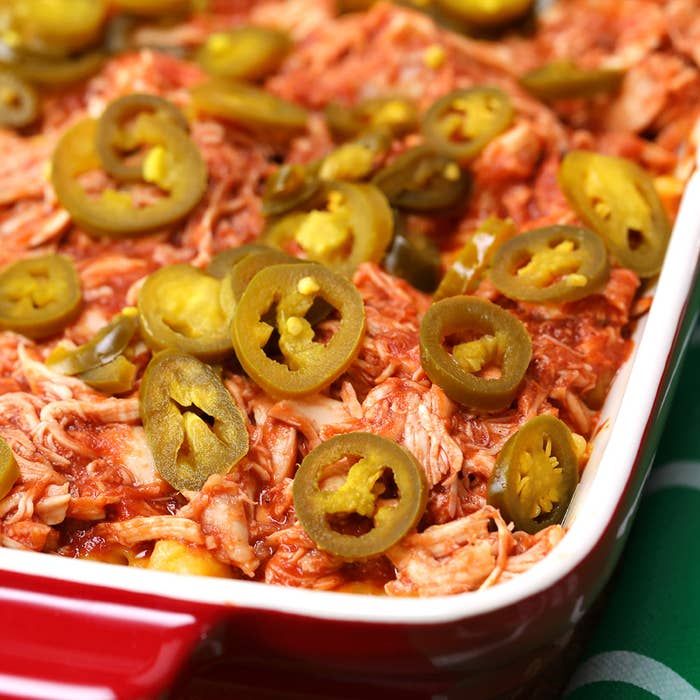 INGREDIENTS
Servings: 10
3 tablespoons butter
¼ cup flour
2 cups milk
4 cups shredded sharp cheddar, divided
1 cup shredded Pepper Jack cheese
1 pound elbow macaroni
1 can Dr Pepper
½ teaspoon liquid hickory smoke
½ cup tomato paste
1 tablespoon brown sugar
Salt, to taste
Pepper, to taste
1 rotisserie chicken, deboned and shredded
1 cup pickled jalapeños
PREPARATION
1. Preheat oven to 400ºF/200ºC.
2. In a large pot, melt butter over medium-high heat. Once melted, add flour and whisk together until bubbling. Allow to bubble for 30 seconds to 1 minute, whisking every 10 seconds. 

3. Whisk in milk and add Pepper Jack, 3 cups cheddar, salt, and pepper. Stir until thick and cheesy. Add cooked pasta and stir. 

4. Scoop pasta into a casserole dish and cover with remaining cheddar. 

5. Bake for 10 minutes, or until cheese on top is melted. 

6. In a large saucepan, bring Dr Pepper to a boil and reduce by ⅓. 

7. Whisk in liquid smoke, tomato paste, brown sugar, salt, and pepper. Reduce until thickened. 

8. Add shredded chicken and stir. Scoop on top of baked macaroni and cheese.
9. Cover with pickled jalapeños and other desired toppings. 

10. Enjoy!