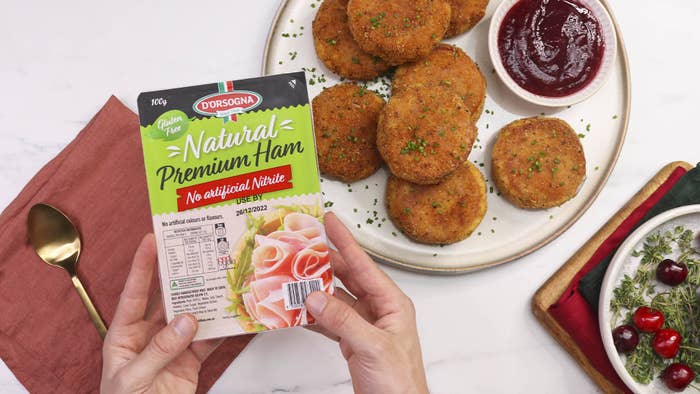 Ingredients
2 x 100g packet D'Orsogna Natural Premium Ham
900g brushed potatoes, peeled, cut into large chunks
½ teaspoon garlic powder
½ teaspoon onion powder
½ teaspoon dried oregano
100g brie cheese, cut into 1cm pieces
2 teaspoons salt
2 teaspoons pepper
1 bunch fresh chives, finely chopped
1 litre vegetable oil, for frying
2 cups dried breadcrumbs
1 tablespoon grated parmesan
2 eggs, lightly whisked
2 tablespoons plain flour
Cranberry sauce, to serve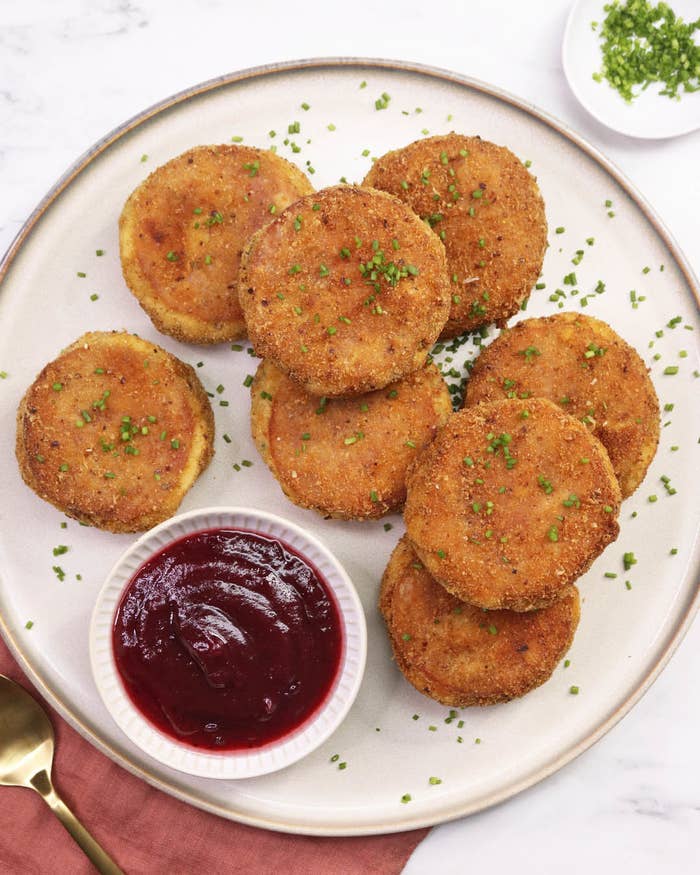 Method
STEP 1: Lay 20 slices of D'Orsogna Natural Premium Ham slices on a chopping board. Then, using an egg ring, press firmly into the ham to cut circles out and set aside. Roughly chop the offcuts of ham and also set aside.
STEP 2: Place the potatoes into a large saucepan filled with cold water and bring to a boil for 20 minutes or until the potatoes are soft. Drain the potatoes and place back into the pot. Using a masher, mash until there are no lumps. To the potato, add the roughy chopped ham, garlic powder, onion powder, dried oregano, brie, chives and salt and pepper, then mix to combine.
STEP 3: Divide the potato mixture into 10 equal portions and shape into 6cm circles, sandwiching between 2 circles of ham. Repeat until all have been covered and then place into the freezer for 20 minutes to firm up slightly.

STEP 4: Fill vegetable oil into a small pot and over medium-high heat bring up to180C.
STEP 5: In 3 separate bowls, add breadcrumbs and parmesan in the first bowl, flour in the second bowl and the eggs in the third bowl.
STEP 6: Remove the ham croquettes from the freezer and dip into the flour, dusting off any excess, then dip into the egg wash and straight into the breadcrumbs, rotating to completely coat.
STEP 7: Deep fry the croquettes for 7 minutes or until lightly golden and crispy, then remove from the oil and place onto a plate lined with paper towel to drain. Repeat until all have been cooked.
STEP 8: Serve the ham croquettes with chives to garnish and cranberry sauce to dunk.
STEP 9: Enjoy!