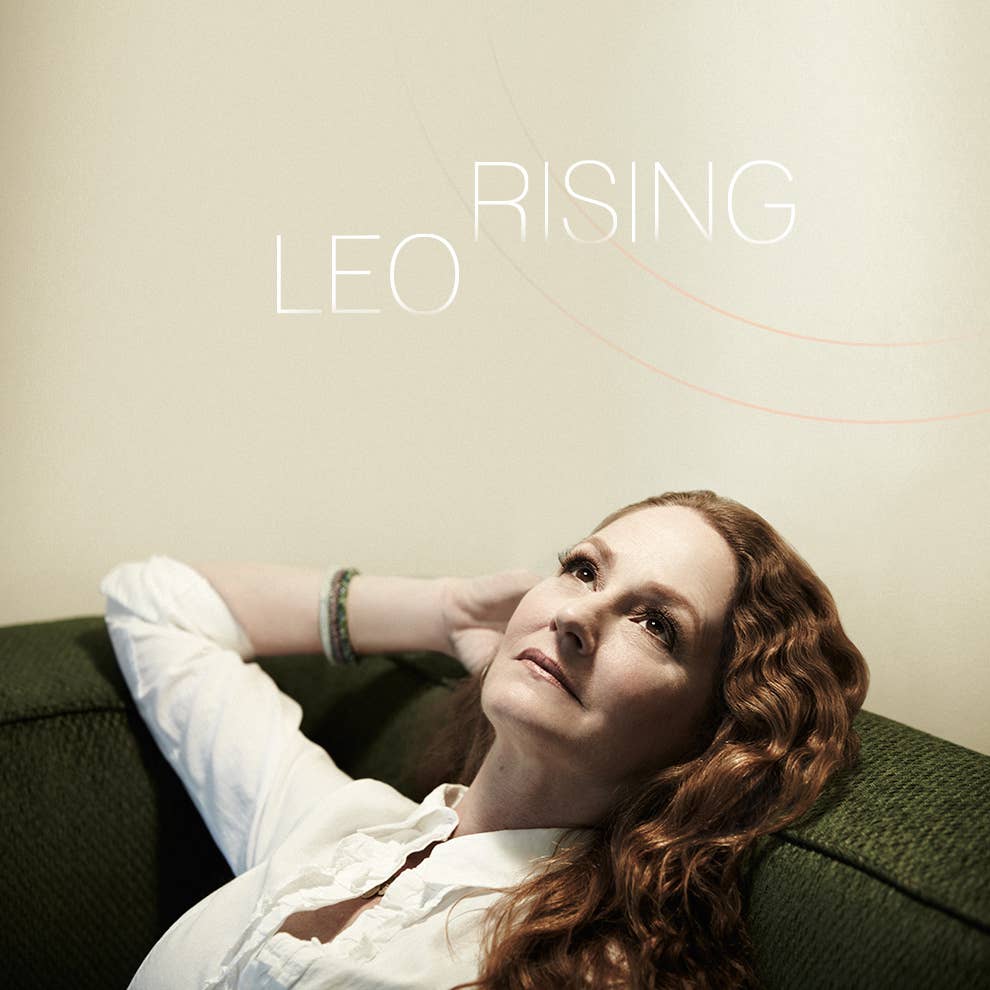 On the morning after winning her first Emmy — Guest Actress in a Comedy Series for her hilarious portrayal on Louie of a woman who gives Louis CK a blow job in her pickup truck and then firmly insists on reciprocity — Melissa Leo is bent over the entry foyer in a second-floor penthouse of the Chateau Marmont inspecting the intricate floor inlay. "This is bird's-eye maple!" she exclaims. "This is really expensive wood. There's four kinds of wood here." She glances around at the rest of the room's flooring. "I don't know why everyone hates parquet. I think it's gorgeous."She'd come downstairs a few minutes earlier, Emmy in hand, in a standard Melissa Leo casual-hippie outfit — jeans and a tight white embroidered cotton shirt, which accentuates her bony frame, and flip-flops, which she quickly kicks off — but her makeup is flawless and her long copper hair flows in perfect waves down her back. She's already taken a victory lap on the morning talk show circuit. These days, Leo walks a fine line between wanting Hollywood's approval — she is really proud of that Emmy — and also of positioning herself as an iconoclast — she is also really proud of the house she's lived in for 20 years in upstate New York, where she recently replaced the old kitchen with a stone tower she designed herself. But if she's in Los Angeles working, she's living as a movie star should, staying at the Chateau, which rises castle-like above Sunset Boulevard, perhaps the most ur-Hollywood of all classic Hollywood hotels.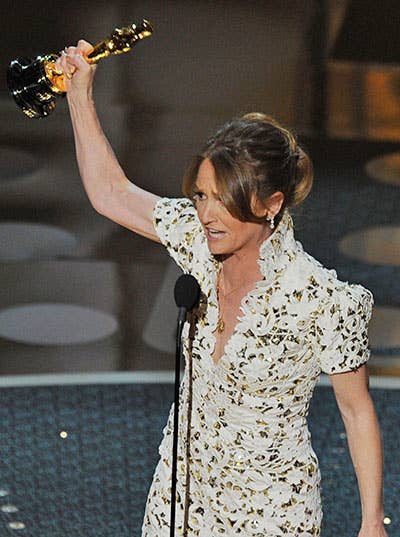 The last big award she won — the 2011 Best Supporting Actress Oscar for her role as Lowell, Massachusetts matriarch Alice Ward in
The Fighter
, which she accepted with a glorious
f-bomb
— was preceded by a widely mocked self-commissioned For Your Consideration
ad campaign
. The photos in the ads, one of Leo wearing an evening gown and a fur stole leaning provocatively into the camera and another of her in a floor-length fur coat, were admittedly a bit ham-fisted; the subtext of what seemed so galling to so many people, though, was that Leo had so brazenly deviated from the script of how older actresses in Hollywood who have delivered a performance good enough for an Oscar are supposed to behave. She was trying to tell Hollywood she was a movie star, not waiting for them to decide she was one. She silenced the scolds in the best way possible: by winning.Three years later, she has no regrets about her ambition or her methods. "Deep inside of me, that little golden man standing in my home," she says, "my little tiny home where I raised my son, means to me things I couldn't care to put into words."These days Leo is in more demand in Hollywood than ever ("I'm now starting to get paid what, in my estimation, I should have been starting to get paid probably 15 or 20 years ago"), and there aren't many other 53-year-old actresses working today who can say the same. Actors, sure — think of the career arcs of Paul Giamatti, Steve Buscemi, and Philip Seymour Hoffman, just to name a few. (A recent
People
cover story was entirely about how
Meg Ryan doesn't work
.) And she's done it pretty much her own way, playing intense, intelligent, tough, complicated women. It's almost gotten to the point where when these roles come up — which they don't, of course, not in a world where oftentimes the most compelling role available for a woman in her fifties is a kindly grandma (not that there's anything wrong with kindly grandmas) — Leo is the first person directors turn to.It's hard to imagine any other actress of her generation even attempting the
Louie
role, flipping what is set up as a blind date between unwitting sad sacks into, essentially, an extended rape joke with Louie as the victim. Meryl Streep, not caustic enough; Sharon Stone, too sexy; Kim Cattrall, too predictable; Michelle Pfeiffer, too silken; Ellen Barkin, too actually possibly crazy. But if
The Fighter
put her on the radar of the critical establishment, then all 10 or so minutes of the role have brought her to the attention of an entirely new audience. "There are more people who watch
Louie
who are willing to come up to me who haven't watched anything I've done in 30 years," she says. "Not a
flood
of people, but a
very
different cross section of people than [those who] normally say hey."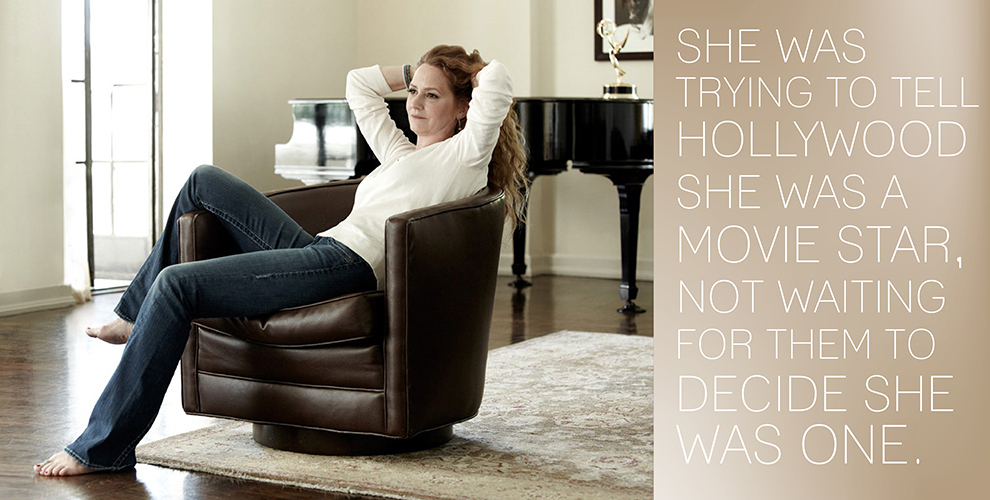 Leo spent her early years in Manhattan's East Village. It was the '60s, and her father, Arnold, worked at Grove Press and edited Warhol. But when Leo was around 8 years old, her parents separated, and Leo's mother, Peggy, took Melissa and her older brother, Erik, to live in Putney, Vermont. Arnold soon left his job at Grove and moved to East Hampton, New York, and became a commercial fisherman.But Leo didn't start acting until her mother uprooted her and her brother again a few years later. By that time, Peggy was working for the School for International Training, running study-abroad programs, and the family moved to London. When Leo was 15, they spent the summer in Oxford, where she got her first part, a small role in an A.A. Milne play that was being produced as part of a one-act play competition at Oxford University. "I saw an advertisement — they needed a younger girl to play the princess. So I did that for a little while and hung out with the college students," she tells me over iced tea at the Crosby Hotel in downtown New York, one afternoon in late August. She's dressed in jeans and Pumas, and wearing no makeup; her hair is tied back in a ponytail. "We did a homestay and stayed with an English family, and I still know how to make an English crepe by, you know, flipping it over in the pan."When the family returned to London, her mother wanted her to enroll in school, but, says Leo, the thought of going to school in Britain "frightened me to death. I'd never done well in American school, and it was clear that English schools had a much higher standard." She ended up enrolling at London's Mountview Academy of Theatre Arts, and after a year — at age 16 — moved into her own flat in Hampstead, which she soon began sharing with a boyfriend. When I remark that it was quite open-minded for her mother to let her go off alone at such a young age, she laughs bitterly. "Let me go! My mother almost — oh my gosh, some would call it abandoned."Two years later, she came back to the U.S. and in 1980 enrolled at the State University of New York at Purchase, known for its theater program, and then dropped out her junior year to try to break into the professional acting world. "Somewhere deep inside I think both of my very intellectual parents knew that I had a sort of different brain than them," she says, explaining that although they didn't necessarily understand the career path she was choosing, they supported it.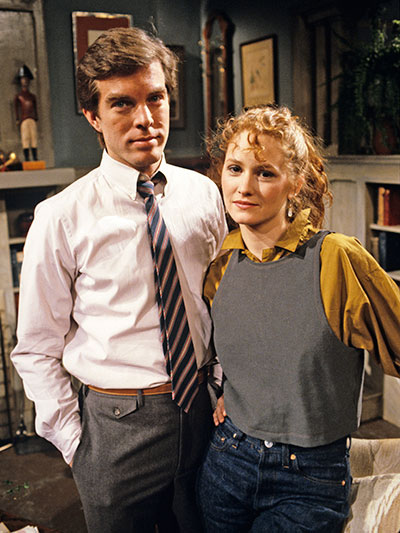 In any case, she wasn't a struggling actress for long. In 1985 she landed a role on
All My Children
, for which she was nominated for a Daytime Emmy, and since then has been working steadily. It was around that time that she met the actor John Heard, then best known for his roles in
C.H.U.D.
and
After Hours
, now best known for playing Kevin's dad in
Home Alone
and
Home Alone 2
(not to mention a role in
Sharknado
). They dated for three years, but during her pregnancy with her only child, Jack, now 26, Leo says she knew that the relationship was doomed; they ended up breaking up when Jack was 9 months old. The subsequent custody battle was brutal — it dragged on for over a decade, with Heard getting
arrested in 1991
(for assaulting Leo) and in 1996,
being charged with stalking Jack
at his school and harassing Leo's then-boyfriend, but the two eventually ended up working out a joint custody arrangement. The process, Leo says, was "really hellish," but taught her invaluable lessons about motherhood."It's the only way I've ever known raising a child, and I have a lot of thoughts and advice to parents who find themselves separating or considering separation," she says. "When I was pregnant with Jack, and I knew it would be difficult, I thought,
Oh, it would be all right to raise him as a single parent
. And in the end, I discovered that human beings need two. I don't care if they're two women or two men or a grandma and an auntie. But human beings, when we're small, need two."Leo characterizes her current relationship with Heard as "friendly"; in June, they had breakfast together with Jack to celebrate his birthday. "It was more than nice," says Leo. "It was really, really lovely. And we have produced an amazing human being."Jack is now an artist who lives in L.A. after having graduated from Cal Arts, and just had his first solo show at a gallery in Tijuana, Mexico. He's tall and skinny, with close-cropped hair and a handsome baby face, wearing an oversize blue-and-white print shirt and jeans, and over lunch at the Chateau, he and Leo have an easy rapport. "I probably see you more than I see Dad, and Dad lives in the Valley," he says.After Jack leaves, we've been talking for half an hour or so when another handsome young man, this one darker-skinned with curly black hair, sits down at the table. "Oh — Adam, I'm doing an interview," Leo says, a bit flustered, and the man apologizes and tells Leo he'll see her later.This, it turns out, is someone else Leo considers a son of sorts: 28-year-old Adam Davenport, a filmmaker who met Leo when he contacted her as an undergrad at Yale after seeing her in
21 Grams
and asked her to be in his thesis project. To his great surprise, she said yes — "It was a time when working was so much more important to me than what it was and where it was, and I actually did a fair amount of work on student films," she says — and they've been extremely close ever since. So close that they lived together for three years in a house Leo rented in Los Angeles; she brought him to the 2011 Oscars as her date, and speculation was that he was either her lover (he's gay) or, per Wikipedia, her adopted son (he's not, and he has a biological family in Chicago). If the financing comes through, she'll be in his first feature film, a movie based on a novel by the author John Kaye called
The Dead Circus
. He now seems to be a combination personal assistant/protégé/best friend. "I'm pretty much now traveling with her on the road," he tells me by phone a couple of days later. "For the past two months I've been on set with her a lot, living out of hotels with her."And that's a lot of hotels. She's currently shooting the
Twin Peaks
-esque M. Night Shyamalan TV series
Wayward Pines
in Vancouver; in July, she shot a small role in
The Judge
with Robert Downey Jr. in Boston the same week she was shooting
The Equalizer
with Denzel Washington. In between there was lots of press (and the Toronto Film Festival) for
Prisoners
, the Hugh Jackman–Jake Gyllenhaal thriller in which she plays the slightly creepy aunt of a suspected child kidnapper. And her series-long role as New Orleans lawyer Toni Bernette on
Treme
wraps up this fall.She's been a working actress, though, for most of her 30-plus-year career. Her best-known role before Alice Ward was probably her portrayal of Detective Kay Howard on the NBC show
Homicide: Life on the Street
, from 1993 to 1997. And there were two films between
Homicide
and
The Fighter
that are often cited as having been game changers for her: 2003's
21 Grams
and 2008's
Frozen River
, which led to the call from Mark Wahlberg for
The Fighter
.
"I think it really helps in playing mothers to have had a child," she says. "You have to have a point of reference — and, I don't know, I would be hard-pressed to find a way to play a mother who does not love her children. Alice Ward pops into my mind because there was a lot of conversation about treating one child better than another, and I know in my heart, I know from Alice's own lips, it's just not possible. If you have nine kids, you love them all. So I think that it's something that's very helpful to me, to have had that experience."She's not currently in a romantic relationship, a situation she seems resigned to. "You catch me here in a particularly poignant, lonely moment in my life where I begin to imagine once again that there would be a partnership of someone who would be beside me, and I beside them, with an equality, with a truth and an honesty and a trust, and then I get that far down the list of things — like, I don't think you're gonna find it," she says. "If I was a guy, and I was looking for a wife, I might be able to find it. Might."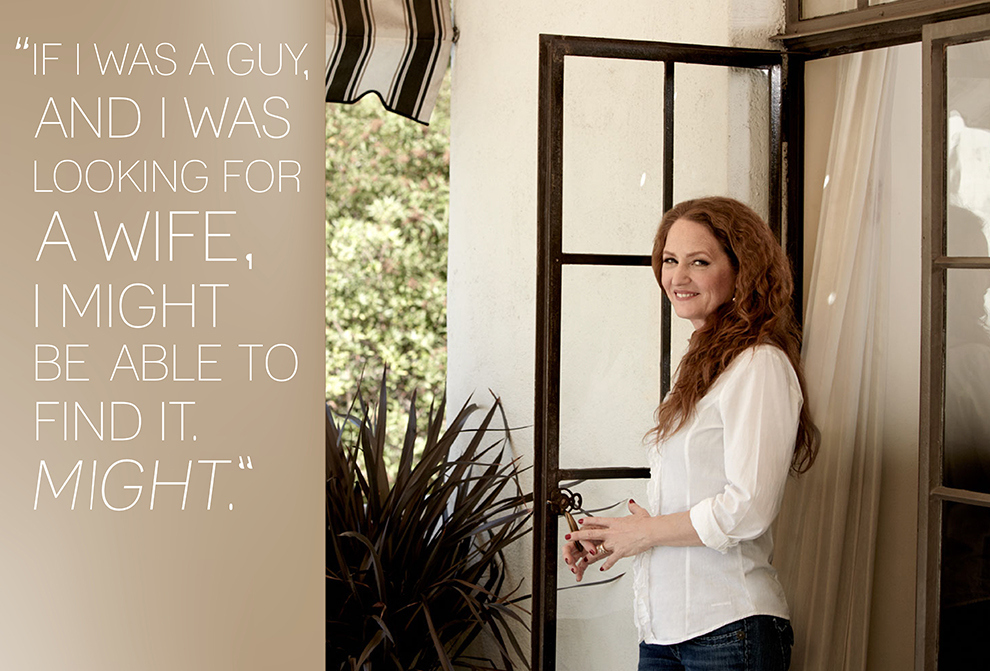 There's a brief moment in Prisoners when the camera captures Leo's character Holly Jones from behind, and we see Leo lumbering slowly, her backside much broader and, well, lumpier than normal. "I suggested that perhaps it would be a really good idea if Holly's bottom was a little larger than mine," she tells me at lunch, where she's ordered a cheeseburger and fries. When it comes, she removes the bun and places it on the bread plate, and eats the burger, slowly, with a knife and fork.In Prisoners, we initially don't know much about Holly Jones except that she seems relatively poor, and unhealthy, and old. Leo gained around eight pounds before Prisoners started shooting, but almost subconsciously. "I knew I had the job for a fairly long period, and I sort of couldn't stop myself from eating the pasta and bread that I know makes me heavier, and I began to realize this was my instrument preparing me for Holly. If you allow your instrument to lead you in it, it's amazing what you can find out. I let the eating happen." It turned out Prisoners costume designer Renée April had already chosen Holly's elastic waist jeans and frumpy sweaters.
"Renée, I would like to say, squealed with delight when I mentioned I was going to have a bigger bottom. It forced down my center of gravity, which caused me to shuffle and not pick up my feet. The slower and more sloppily I walked, and the lower I talked, as informed by that bottom, the happier Denis [Villeneuve, the director] was with what he was getting."Leo has very strong feelings about her characters' appearance, and she was insistent that her natural hair — no matter how it was styled — would not work for the role, which called for long gray hair in the screenplay. "I hate wigs," says Villeneuve. "Melissa fought for a wig, and she was right all the way. That's the beauty when you work with such a strong artist — it's a collaborative process. From the start I felt that she believed in my vision and she trusted me."When she prepares for a role, no matter how small, Leo has to create for herself the character's entire physical and mental world, and really live in it. "She's someone that loves to stay in character — she's an actor that loves to create a fiction bubble on set, meaning that the bubble will be the world we are in," says Villeneuve. "This world has to stay alive even when the camera is out of the shot to keep the concentration, to keep the focus.""Melissa disappears into her roles and represents an excellence and independent spirit that elevates every project," Shyamalan writes via email. "That level of talent truly informs everyone's work on set and really helped us define the show we were aspiring to make."If Leo seems at all precious about her work, that comes from taking herself, and her work, extremely seriously — a posture that is perhaps alienating in an age of false modesty and fame for fame's sake. She isn't an actor in order to be famous; she is famous because she is an actor, and that's a crucial distinction. She is someone who first and foremost views her acting as work, and if that work sometimes bleeds into quote-unquote "real life," then that is just collateral damage."I'm not on set to be comfortable and happy. I'm there to get my work done, and it depends what they're asking of me, what the woman is I'm playing, what the scene is today," she says. She tells the story of a recent table read for Wayward Pines, in which her character, a nurse, has a monologue at the end of the first episode that starts off calm but ends with her getting very upset."Upset in an angry kind of way at the end," she says, and when she says "angry" her eyes get hard and her voice gets steely. "When we finished reading the script, I got back to the hotel, and I need a window that opens in the hotel, and the window didn't open, and when I went down to ask to please find me some room in this hotel that had a window that opened, I was once again not my pleasant self, and I know better than that, but I found myself unable to sort of stop this irateness about" — and here she uses the angry voice again — "'You WILL find me a room!'"I realize that I recognize this voice: It's the one that she uses in the pickup truck when Louie doesn't want to go down on her. "I don't like having to deal with that myself," she says. "But I also realized, once I finally settled into the room an hour and a half later, Oh, this is the aftermath of culling up that emotion!"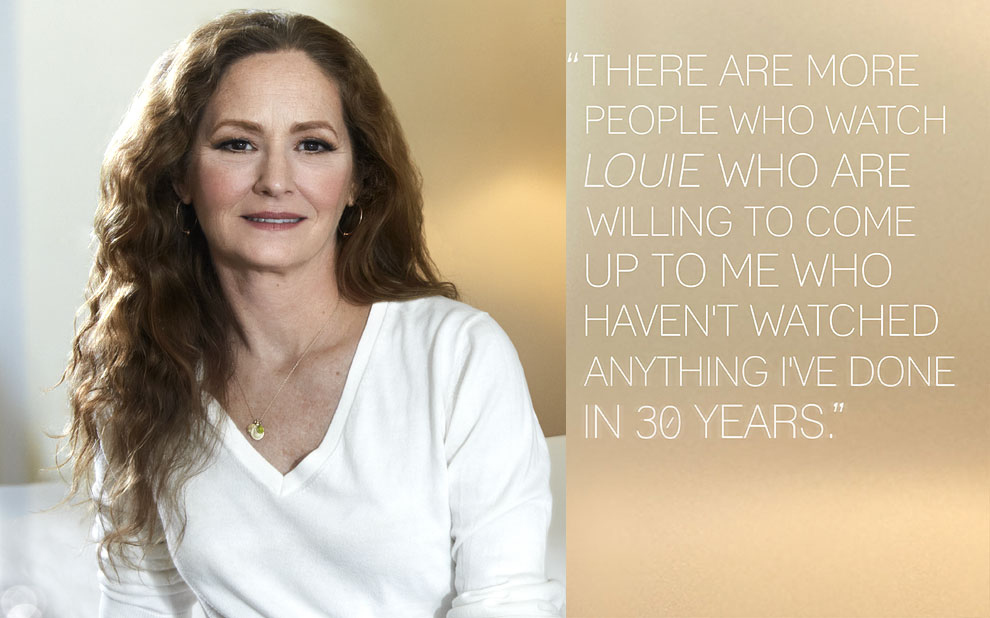 A few days after I see her at the Chateau Marmont, Leo is onstage at the Primetime Emmys to present the award for Outstanding Direction in a Comedy Series (the winners of many of the Creative Arts acting awards are subsequently presenters at the main event). It's perhaps the ultimate sign that she's been inducted into the club, and yet she's wearing an outfit — patterned silk Carolina Herrera pants, a jacket (with tails) on which she hand-sewed crystal embellishments, a green velvet vest given to her by her mother, and a cerulean sequin scarf — that inspires the fashion blog
Go Fug Yourself
to call her a "delightful crackpot,"
remarking
, "She certainly marches to the beat of her own drummer and perhaps ALSO in her own marching band."Perhaps you are asking: Who could possibly be her stylist? And the answer would be herself, because Leo is extremely sensitive about the subject of stylists and dressing up to fit an idea of what an actress "should" wear, which seems to be a broader commentary on the Hollywood Industrial Complex. A question on the topic leads to a 10-minute-long rant that touches on her childhood as a tomboy and her parents' divorce, and how there was a brief period in the '80s when she "tried a little makeup and clothing on," and which she prefaces by saying, "I'll happily talk about that, get myself in trouble, and set my career back 10 years." She's joking, but also not really joking: "That's my bitterness about it coming out and trying to be light."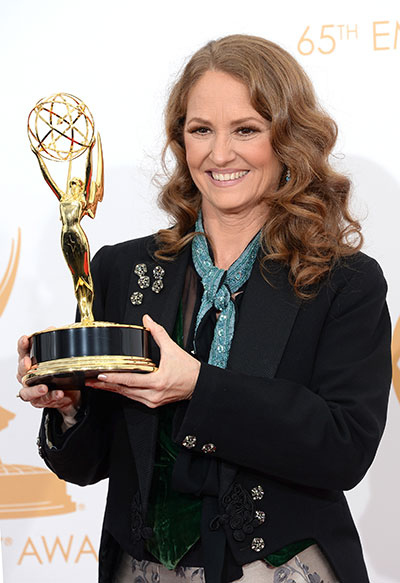 "Maybe in the first 20 years of my career, I could count on a single hand the times I was asked to dress up, and I'd just have to do it, and I'd go buy something at the thrift store and wear that," she says. She launches into a story about having to do the red carpet for 21 Grams, and how that led to her learning "a whole bunch of things I sort of thought I could avoid, and to a degree that was the kickoff period of this thing that has become the whole nine yards of red-carpet hoo-ha thingymajigga. It's not really something that fills me with glee and laughter, like it does, by my observation, a lot of girls."That's not to say that she's not concerned about her appearance — she is, very much so; she just knows what looks good on her, and now she dresses herself for events. "I had a lot of different stylists, most of them hardworking people doing their job, and I have no complaint on a personal level about any of them whatsoever, but I was begging them to take my hand in this, take my experience and knowledge and know that there is a far more gracious way for this particular lady to go in public."She looks me in the eye. "I don't cotton to bullshit, and I ain't nobody's Barbie doll at 50 years old." Then again, she never was.