I'm driving through Detroit in a rented Ford sedan with the author Angela Flournoy, and it's hard not to think that Google Maps is deliberately trying to get us to avoid the city's ghosts. "It keeps wanting to — I'm just going to say, avoid things. Because this is a city that always wants to put you on a freeway." Flournoy, who is 31, is sitting in the passenger seat, and is trying to get her phone to give us directions to the buildings and neighborhoods in her book, many of which no longer exist. We need directions because even though she's deeply familiar with the city — her father's hometown, and a city where she frequently visited her extended family, long before she started research on the book that would become The Turner House — she's from Los Angeles.
Yet she knows about Detroit's ghosts. They're in the American flag flapping in the wind outside of the abandoned train station on a freezing day in February, and they're in the once-proud mansions with broken windows and sagging porches; in the much-Instagrammed, graffiti-covered Packard Automotive Plant, and in the nearly empty streets of downtown. And there are ghosts in what you can't see, in the buildings and neighborhoods and people that are simply no longer there, in the scars that have lingered from the 1967 riots, which left 43 people dead and over 1,000 injured, and destroyed over 2,000 buildings — most of which were never rebuilt. All these ghosts help shape her book, but The Turner House is mostly concerned with one particular ghost — or, to be precise, a haint — that is haunting one of its protagonists, 68-year-old Charles "Cha-Cha" Turner.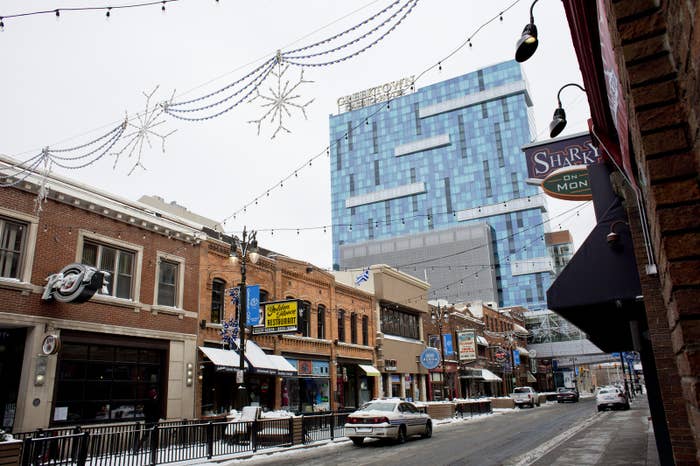 "Turn left onto John C. Lodge Service Drive. Then use the left lane to take the Michigan 10 North ramp," chirps the disembodied female voice coming out of Flournoy's phone, and Flournoy sighs. "Just keep going straight — it will have to reroute us," she says, and then the voice seems to start to frantically keep up with the way I'm driving: "HeadnortheastonTempleStreethenturnrighton … Make a U turn!"

"Make a right, actually," Flournoy says to me.
"Make a U-turn!" The voice is getting angry.
"We're just gonna take Cass," Flournoy says, shaking her head. She is tall and lanky, given to wearing skirts and boots and dangly earrings. "It really doesn't want us to, but we're going to."
I follow Flournoy's instructions. She has the kind of voice — calm yet forceful, with a hint of deadpan mirth always in the background — that compels you to focus your attention. After all, it's the voice of the most lauded debut novelist in America: Among other accolades, The Turner House was named a New York Times Notable Book of the Year, and Flournoy was nominated for a National Book Award and an NAACP Image Award for Outstanding Literary Work — Debut Author, named a National Book Foundation "5 Under 35," and is up for a Young Lions Fiction Award. A glowing New York Times review called The Turner House "an engrossing and remarkably mature first novel."
She has also managed to sell a good number of books for a work of literary fiction: According to Bookscan, which tracks around 70% of U.S. book sales, her book has sold over 15,000 copies in paperback and hardcover as of April; anything over 10,000 is generally considered high for literary fiction. And she's become a forceful voice in criticism, with pieces on everything from Girls in the New Republic to the 1965 Watts uprising in the Los Angeles Times.

Besides being a smart, funny, and empathic writer, she is also a perfect writer for what may prove to be a post-white-male-novelist moment, when publishing seems to be, finally, making an effort to better reflect the diversity of the reading public — even if those efforts came largely as a result of people of color pointing out the necessity repeatedly, on social media and elsewhere. But of course, she's not just a symbol herself — she's part of a broader group of literary novelists of color, including writers like her friends Ayana Mathis and Justin Torres, who have quietly but emphatically made the case that the days when there was only room for one or two literary writers of color in publishing are over. "I'm friends with a lot of writers of color, a lot of black woman writers," Flournoy says. "I don't get the feeling that there can be only one. It used to be that there would only be one per moment when publishing would care to look at us, but it seems like that's not the case, that there can be multiple."
The Turner House centers around a family of 13 grown children, the Turners, who in 2008 are faced with a crisis about what to do with their heavily mortgaged, and now empty, family home on Detroit's East Side. The children have scattered, some to the suburbs, some out of state, and they're torn about what to do. In the meantime, the youngest Turner, 40-year-old Lelah, has been evicted and is squatting in the family house unbeknownst to her siblings; the oldest, Cha-Cha, is questioning his sanity after seeing a haint that's been haunting him on and off since childhood. (One of the working titles of Flournoy's book was Haunting Detroit.)
The book — which has been optioned for television by The Danish Girl production company Working Title — imparts the idea that like people, Detroit contains multitudes, and a city that is in many places blighted and depopulated can also be the source of great joy and deep love, and all of those things can coexist, and there can be beauty in all of them. When Lelah drives to visit her daughter, she notes: "A rash of dandelions pocked the east side with yellow. The newly arrived spring — the spots of color, the surprise of birdsong — gave the neighborhood a tumbledown, romantic quality. It reassured Lelah that the ghetto could still hold beauty, and that streets with this much new life could still have good in them." Later, when Lelah listens to the sounds of the city, she hears "the chirrup of squirrels making mischief in the lot next door. A distant tire screech and the bass-induced rattle of a car's cheap sound system."
As we drive, Flournoy says that she was particularly mindful, as an outsider, of how she portrayed the city. "There's probably things you're noticing right now about the state of houses and things that I'm not even noticing anymore, just because I've seen them. They're not new anymore," she says. "So imagine if you lived here every day of your life — it becomes part of the landscape. So I try to just be accurate in characterization. And that's where the challenge is. Because I want other people to see this place like they've never seen it. I'm gonna point out the things that are interesting, but I also don't want to focus too long on things that are not the things that you focus on if you live here."
Detroit, whose population is more than 80% black, has in the last few years gotten a lot of publicity for the things that its white population — much of which is newly established there — is doing. In certain circles, it's become a truism that Detroit is the next Portland/Austin/Brooklyn, a town that white people can move to for cheap and establish beachheads of bourgeois white culture: artists' lofts, farm-to-table restaurants, bicycle manufacturers, and, of course, a Whole Foods. This is not the Detroit that Flournoy grew up with, but the specter of this Detroit looms for the Turners, and they are wary of it. The Detroit they know is dysfunctional, but it's dysfunctional in large part because of the city's history of housing discrimination. And they are wary of outsiders characterizing their city in a way that seems both unfamiliar and tinged with racial assumptions.
"Oh my god," Flournoy says. "It's doing it again. It cannot not let us go on the freeway. You can just keep going straight. Don't get on the freeway." I do as I am told.
Flournoy grew up in West Covina, California, about 20 miles east of Los Angeles, reading fantasy novels under the covers with a flashlight and journaling from the time she was young. Her parents divorced around the time she was 7, and her father, a teacher, struggled with alcoholism. A few years later, her mother, Francine Harper, went to college while also working full time and raising Angela and her older sister, Candice. Harper recalls one weekend where, as was typical, she was consumed with homework, "and Angela wanted to do something, and she was upset because I was like, 'No baby I gotta write these papers.' And she said, 'It is not my fault that you waited 'til you were old to go back to college.' For a minute I felt bad but I knew that by my going back to school it set a good example for the girls."

At USC, Flournoy was a journalism major in the Annenberg School of Communications, but soon she decided to switch her major to English. (She says she never intended to be a journalist.) She was a joiner, particularly of black organizations: She lived on Somerville Place, USC's African-American themed floor, during her freshman year, and was a member of Delta Sigma Theta sorority and president of the Black Student Association. USC, says Flournoy, has always been a relatively good place to be a black student — although she's characteristically wry about why that might be. "How do you have a school that really cares about athletics and you don't value students of color? I think they have the most Olympic medals of any university, and I'd wager at least a third of those are black people. So if you don't want us here, give us those medals. Stop claiming those medals."
After graduating college in 2007, she moved to New York and took a job in PR, which she promptly lost after the markets crashed in 2008. She moved to Atlanta and enrolled in the Iowa Writers' Workshop the following year, when she was 24. Flournoy characterizes the way she was perceived at Iowa as, "I was not a star. I think people liked me, but not because of my writing. I was just sort of plugging along." When I asked one of her instructors, Alexander Chee — author of the critically acclaimed novels Queen of the Night and Edinburgh — what he thought of Flournoy's self-assessment, he was careful to say that he disagreed with it, but acknowledged that at the time, Flournoy wasn't one of the students getting "priority attention" from faculty. "But I just love her work so much that I assumed everyone thought the way I did," he said. "It's a little sad to me that in some ways that was true — it's a cautionary tale about people inside of their institutions that they're taking care of the people that seem to be flying under the radar."
At Iowa, the book that would become The Turner House started to take shape. In a summer workshop with the short story writer ZZ Packer (who is currently working on her first novel, about black soldiers during the Civil War), when Flournoy had around 15 pages written, she remembers people in the workshop being skeptical that 40-year-old Lelah would be so adept at texting her 21-year-old daughter — and implicitly, challenging the idea that a woman in her twenties could and should write characters who are older. "That was the moment when I realized, What about middle-aged people? They're depicted in a way in literature that is devoid of some of the realities. If you're middle-aged in 2008, you have an email address. You're not completely weary and bumbling. So I think that was one of the moments when I was like, 'I'm just going to have to make people contend with the fact that these people are not all 28.'"
The traces of Flournoy's time in Iowa — two years in workshops and a year as an instructor — are evident in her work and, now, in her teaching in the MFA programs at the New School and Columbia University. She got the idea to have a time limit on how long Lelah could stay in her family's house from Torres, the author of the novel We the Animals, who was a year ahead of her at Iowa. "He pointed something out that when you're writing a novel is really useful: when you have a clock, a time imperative. Narratively, just figuring out how to structure a thing is so useful, because when you have so many different ideas, you need something that's going to be the governing principle." And, she says, "You can't get out of a Marilynne Robinson workshop and think that sloppy or hasty characterization in any way is cool."
"What makes her book so special is her investment in the characters as real people rather than as symbolic people," said Tayari Jones, the author of novels Silver Sparrow, Leaving Atlanta, and The Untelling. Jones and Flournoy met in Washington, D.C., in 2012, and Jones blurbed The Turner House, calling it a "thrilling debut." "When you're dealing with something like Detroit, there's such an impulse to make the characters indicative of a problem, and there's especially pressure on African-American writers to write symbolic characters."
Flournoy's characters feel authentic because they are complicated and messy, but also because they speak like real people. Sometimes — as when one of the characters, David, is talking to his mother's neighbor, who lives on the street on the East Side where the Turners grew up, and says "I seen Troy Turner a couple weeks ago" — they speak in AAVE, or African-American Vernacular English. And sometimes — as when David is talking to nearly anyone else — they don't. And here is where Flournoy has become a quiet revolutionary of craft, because this is not the way you're supposed to do things in literature: If a character drops his G's at the end of gerunds, he always drops his G's at the end of gerunds; there's no going back and forth.
"That's not how people talk though," Flournoy says. "I think part of the reason it feels normal is because it's a book in which every single black person has their own sort of relationship with AAVE. Some people use it all the time, some people use it less of the time. But it really just comes down to instinct. It has to do with what you imagine a character sounds like. When Lelah talks to [her daughter] Brianne, she does not really employ AAVE, because she wants Brianne to go out in the world and not employ AAVE. Which in my very liberal, I guess, opinion, you're giving Brianne a handicap. She won't feel comfortable communicating in other spaces. I'm very happy I know how to code switch because even though some people may say that I don't always sound right doing it, I can communicate in a lot of spaces."
The only time her friend Torres says he's seen her ruffled was a recent Thanksgiving when the two were "drinking bourbon and playing Spades" with Flournoy's editor at Houghton Mifflin Harcourt, Jenna Johnson (who also edits Torres), and Mathis, who was at Iowa with Torres and Flournoy. "There was some table talk, or at least there were accusations of table talk, and then there was some serious trash talk, and maybe Angela suggested Jenna might get cut, but it was all in good fun. In the morning Angela was mortified. I do believe that is the only time I truly saw her mortified." (When we speak a couple months later, Flournoy says, "I can't believe Justin told you the story about Spades.")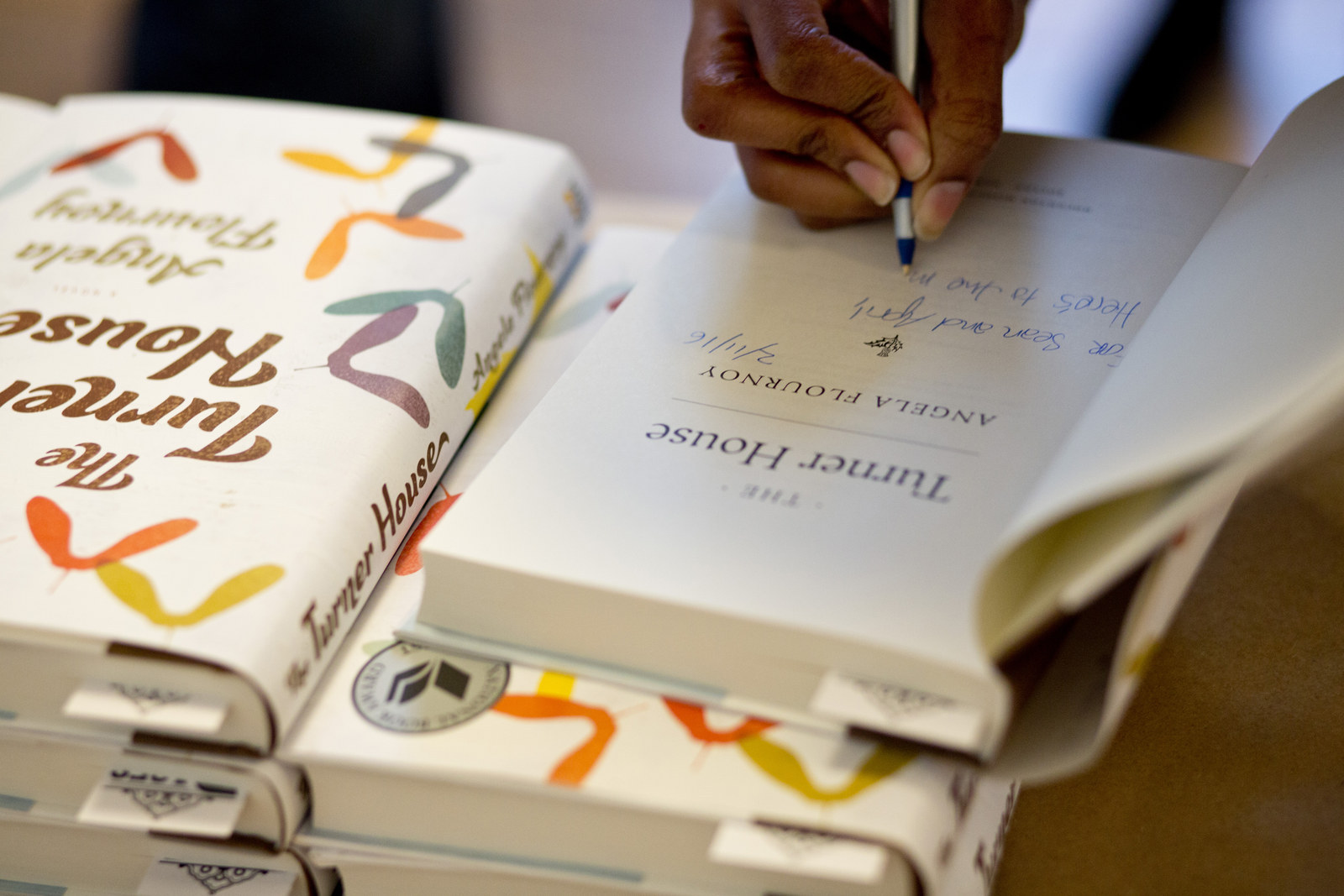 The Turner House is about a black family and a mostly black city, but it is first and foremost about a family. "I want to write about black people in the way that Jennifer Egan just writes about rock 'n' roll people in Visit From the Goon Squad," Flournoy says. "It's very specialized and specific and not going to necessarily tell you anything about the black community as a whole."
Flournoy says that she was drawn to her publisher, HMH, in part because "they didn't necessarily position my book as a 'black book.' They positioned it as an American family book. And that was something I was waiting to hear, because I didn't want to go with someone who thought this was a nice black book."
Johnson says she acquired the book because "I'm not interested in novels that are about people I know super well already. If there's a niche audience we would certainly try to reach out to that audience strongly, but we would never think of a literary novel as only for a group of people."
And yet, there's a way in which some of the publication choices have obscured the blackness of The Turner House: The cover of the hardcover edition has some multicolored helicopter leaves on it, and the cover of the paperback is the bright blue front door of a yellow house. Neither of these covers telegraphs "this is a book about a black family" — which is clearly a choice, and one that, in a moment when discussions of diversity in publishing are growing more urgent, seems relevant. Her book wasn't marketed as a "black book," but the covers almost completely elide the blackness of her book.
It's not just perception that the gatekeepers in publishing are still mostly white — a recent survey by the multicultural children's book publisher Lee & Low found that 82% of editorial department employees are white and 84% are women. The annual Publishers' Weekly salary survey found that 89% of publishing employees overall are white.
Flournoy was interviewed for a February Brooklyn magazine feature about diversity in publishing called "You Will Be Tokenized." "Everybody has to do one," she says, referring to articles about diversity. "I was like, 'I'm gonna do this once and then I'm just not gonna do it again,' because I'm not the one who has to change! It's very much like Chris Rock saying it's not that black people got better. It's that white people stopped being so crazy!"
Flournoy is matter-of-fact about working within the system. "I've had wonderful experiences, but that doesn't mean that it was not a host of white women. I just got the right mix of them who cared, who didn't want to put me in a box. But if the deck had been shuffled any other way something else might have happened."
Still, she's pointedly critical of the ways in which white women in publishing can be ignorant of their own privilege. "It's a lot of white women who are sort of passing the buck as far as what the issue is onto dudes who don't exist. Yeah, they might be at the top, but they're not reading the books. They're excited about the books they're telling you to get excited about…I think it's an undue burden for the writer of color that's just trying to get people to care about their book as much as other people's books, to then also be the one to have the answers."
And Jones notes that there's a danger in thinking that just because writers like Flournoy are celebrated, that the work is done. "I think it is wonderful that so many young writers of color are having access to the same opportunities that are the launching pad to a literary life. There are so many young black writers who have access to these places of privilege. I believe that they will use these places of privilege to open the door wider still. We need some diversity within our diversity."
Flournoy seems keenly mindful of this place of privilege, and how her privilege allows her to be a kind of tastemaker, to champion writers who might not have had the advantages she has. In a conversation in Los Angeles in December, she tells me that she did several end-of-year book lists for different publications. "That is something to me that's exciting because in most cases, the book that I said was not mentioned by anybody else, and so that is what is a sort of power — just being able to put people on to more writers. They're usually women writers, they're usually writers of color."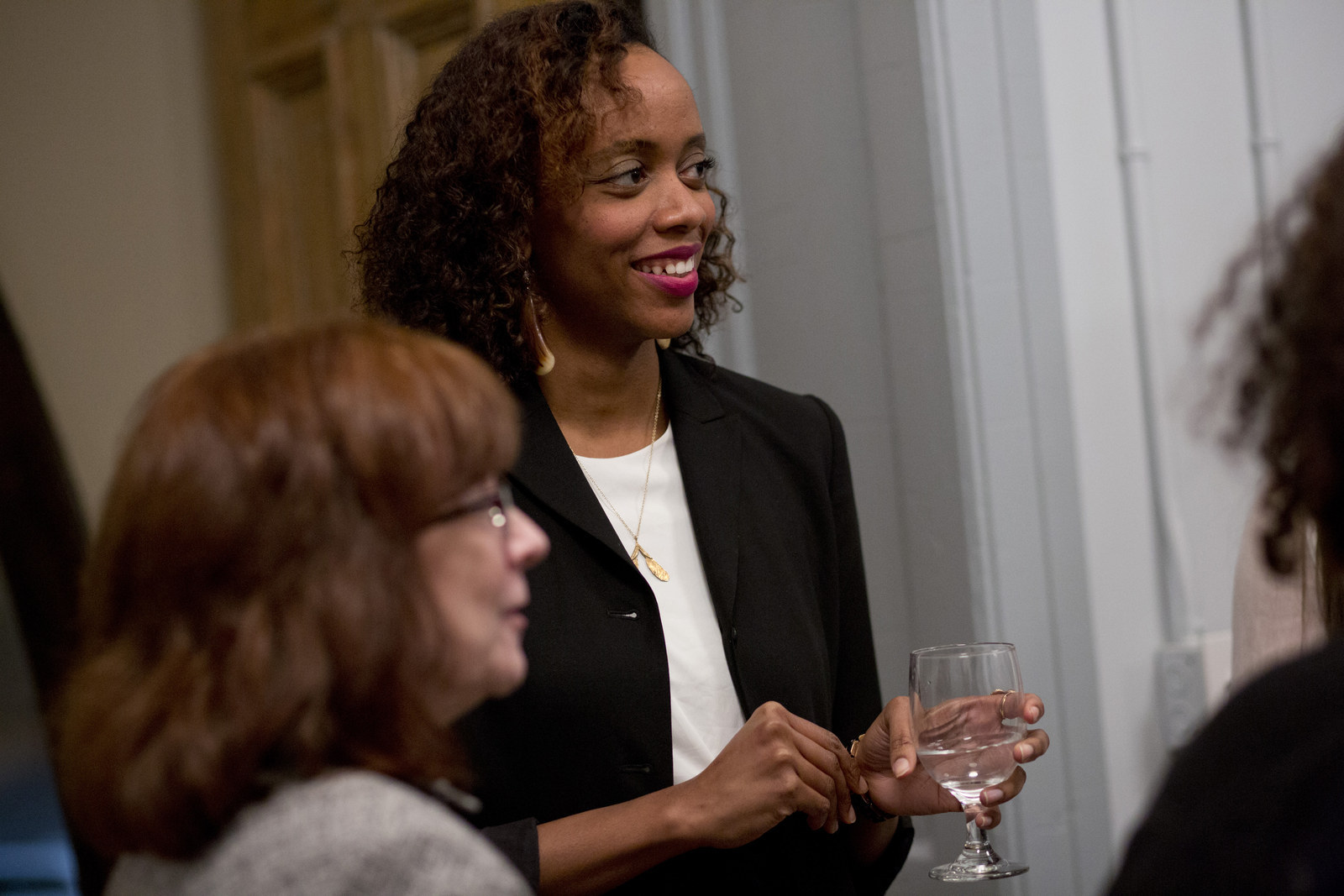 On her way up, Flournoy was helped along by other writers of color herself, particularly her collaborators at PostBourgie, the group blog about race, culture, and politics started by NPR's Gene Demby whose contributors have included Slate Chief Political Correspondent Jamelle Bouie, New America fellow Monica Potts, the writers Stacia Brown and Nichole Perkins, and BuzzFeed's Tracy Clayton, Shani Hilton, and Joel Anderson. Demby says he was initially drawn to Flournoy's writing from a pop culture blog she had started with a friend called Proper Talks. "She was a little irreverent, a little skeptical." At PostBourgie, says Demby, "we have strong opinions on things but we're also self-reflexively averse to sanctimony. Angela wants to say things but she doesn't want to seem like the person who's like, 'I have big things to say.'"
Flournoy is on Twitter, but doesn't spend a ton of time there, tweeting mostly about fellow writers, her book tour, and the occasional family member. But her thoughts about, in particular, race and feminism manage to peek through, usually humorously: "At a bar overhearing some dude mansplain his date about why Nicki Minaj isn't good, right after she said she loves Nicki. Dump him, girl." But to Demby's point, her strongest opinions tend to get expressed through retweets, such as The Black Youth Project tweeting "It's starting to seem like the Clintons actually don't want Blacks to vote for Hillary."
That's evident in her fiction too; the politics of The Turner House sneak up on you, and before you know it you've absorbed more about housing discrimination in Detroit than you ever thought possible.
"She is not afraid of humor," says Jones. "Imagine this novel as a road trip — the characters are driving. They're dancing, they're fiddling with the radio, but they're determined to get us to the end. That is where her gift is."
Flournoy's success in the last year is astounding for any author, but particularly for a debut novelist; it's easier to count the awards she wasn't nominated for than the ones she was. "As successful as she is, I know an [award] she hasn't gotten because people think she's already gotten so much," Chee says. "Which kind of makes me angry, because nobody holds back like that for white writers, especially white male writers. There's a certain amount of deal-making that occurs during awards season that I don't like and I think isn't really appropriate — committee people discuss who's getting what and so on. So yes, she's covered in glory, I guess you could say, but I feel like there should be more, and I hope there will be."
Flournoy will start work on her next book, about a group of black women in New York and L.A. between 2015 and 2035, during a yearlong fellowship at the New York Public Library. Last summer, when she was at Kimbilio, a retreat for writers of African-American fiction, she was talking with the novelist Dolen Perkins-Valdez about Sandra Bland being arrested. "We were just talking about how there's this disconnect between what people sort of think black women are and...there's just this weird way in which the only people who really understand black women, or even care to — I don't think people are trying to — are black women," Flournoy says. "We are really the only ones who, in a pop cultural sort of reflection way, see value in us that isn't to put on a coat to look cool in a video. And also see complexity and potential. Not even a lot of black men see that. And I feel like there's a way in which outside of trauma and struggle there's really not a lot explored in literature about just how awesome it feels to be a black woman."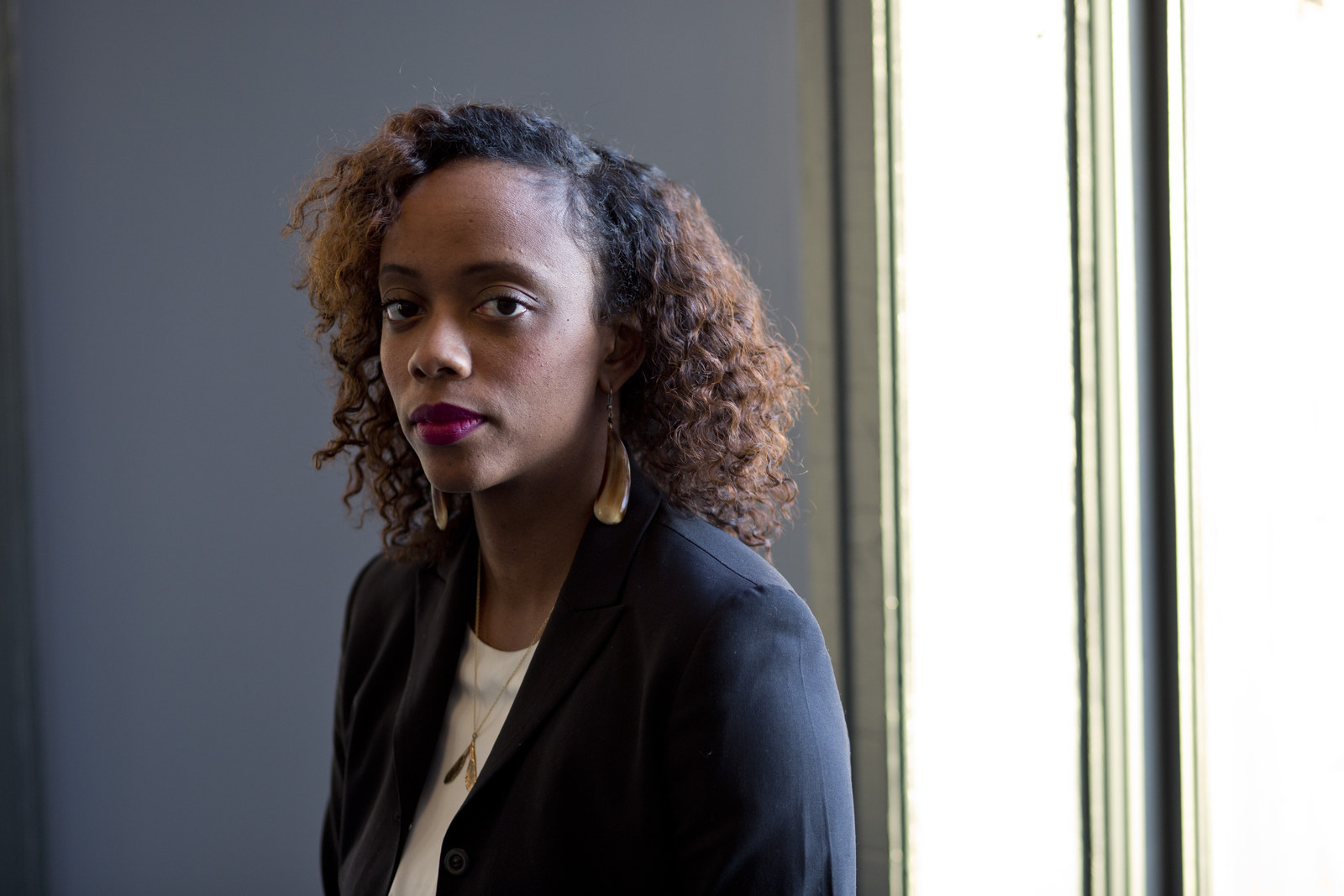 It's way past lunchtime when Flournoy says, "We can actually eat if you want — I've only had this trail mix," pointing to a small bag. We've already decided to head to Hamtramck, the city-within-a-city where Troy, a cop who's one of the middle Turner brothers, lives with his hairdresser girlfriend in Flournoy's book. In Hamtramck, we can get jelly-filled doughnuts called paczki at a famous bakery that has special flavors for Fat Tuesday. "Maybe we can find something in Hamtramck near the doughnut place for actual food. I do feel like a terrible West Coast person every time I come out here because I only eat fish, and they're like, get out of here. Because all the fish places we saw are all fried fish, and I'm like, I'd prefer if it wasn't fried, and they're like, what? We have nothing for you." Flournoy scrolls through her phone, looking at restaurants on Yelp. "Polish Village Cafe looks like sausage. I don't know about that. Kielbasa, mashed potatoes, sauerkraut, stuffed cabbage, and pierogis. Not today. I appreciate the authenticity, but not today."
Tonight, Flournoy is hosting a benefit dinner for 826michigan, the Dave Eggers–founded after-school tutoring and writing program, at a restored building downtown. General admission tickets are $125, and for $250 attendees will get access to a pre-dinner cocktail hour where Flournoy will be circulating. She doesn't seem nervous, exactly, but she still has to write the speech she's going to give, and maybe, if there's time, take a nap. In the meantime, she's still pointing out landmarks from her book.
"The assembly plant that Cha Cha worked at is around here. It doesn't exist anymore but it did. My dad worked there one summer, when he was 16. He got enough money to buy a car. He just mentioned the name of the plant and what kind of car he used to build, and he talked about how they had a relief man, and he said, 'Oh you had to have a relief man so no one got backed up.' And I was like, what exactly would happen if you got backed up? And...anything could happen. And I was like, I really want to write about the day that something happened."
We drive for another few blocks. "When you're looking for things, the thing that's the aside is the thing that becomes interesting."
The disembodied voice from Google Maps interrupts us yet again. "In a quarter mile, use the right lane to turn slightly left onto Chalmers Street."
I'm prepared for Flournoy to tell me to go another way, but this time, she just sighs. "I'm going to finally let it put us on the freeway."