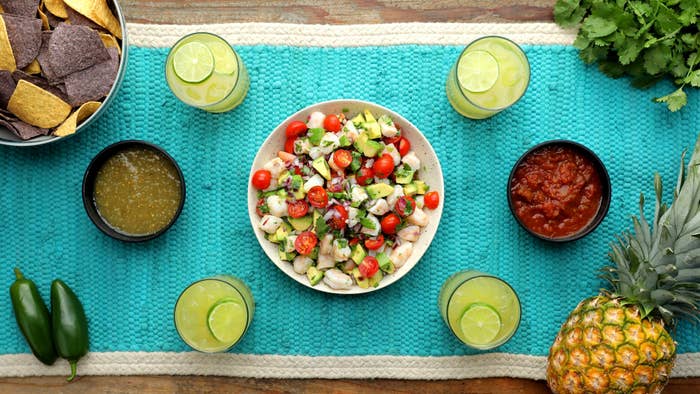 Ingredients
Tequila Pineapple
6 cups pineapple juice
1 cup lime juice
1 & 1⁄2 cups Don Julio Blanco
Lime rounds, for garnish
Shrimp Avocado Ceviche
1 pound cooked cocktail shrimp
1⁄3 cup lime juice
3⁄4 cup halved cherry tomatoes (or quartered if large)
1⁄3 cup diced red onion
1 jalapeño, diced
1⁄2 bunch cilantro, chopped
1 teaspoon kosher salt
2 avocados, diced
Tortilla chips, for serving
Preparation
Tequila Pineapple
1. In a pitcher, stir together pineapple juice, lime juice, and Don Julio Blanco.
2. Fill rocks glasses with ice cubes. Pour cocktail over ice. Garnish each drink with 2 lime rounds.
Shrimp Avocado Ceviche
1. Remove tails from shrimp. Cut into 1⁄2-inch pieces. Place in a medium bowl.
2. To the bowl, add lime juice, cherry tomatoes, red onion, jalapeño, cilantro, and kosher salt. Toss to combine.
3. Add in avocados and gently fold. Taste for seasoning. Serve with tortilla chips.