Grilled Grapefruit Palomas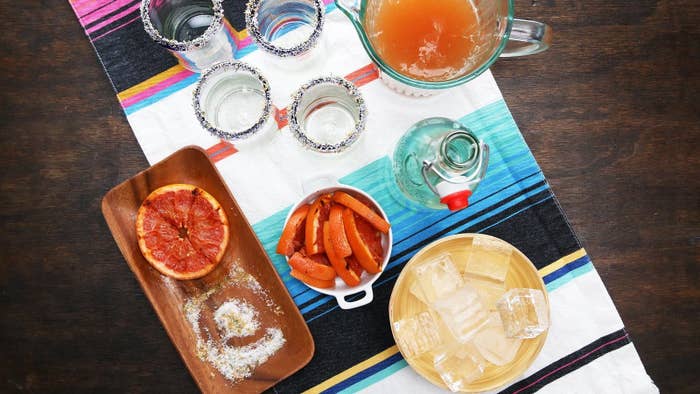 INGREDIENTS
Servings: 4
1 teaspoon sea salt
1 lime
1 grapefruit, sliced into rounds
10 ounces grapefruit juice (2 additional grapefruit)
6 ounces Don Julio Tequila
2 ounces agave syrup
Club soda (approximately 2-3 cups)
Ice
PREPARATION
1. Preheat your grill to medium-high heat.
2. Zest half of the lime and ¼ of a grapefruit onto a plate and mix with sea salt.
3. Slice two grapefruit in half, and slice the third into ½-inch thick rounds. Place on the grill and cook on both sides until grill marks are visible and grapefruit has started to soften. Remove from the grill and cool.
4. Juice the grapefruit halves and lime into a measuring cup or carafe and strain it so there is no pulp.
5. Add simple syrup and Don Julio Tequila to the juices and stir.
6. Press the rim of the glasses onto a piece of the grilled grapefruit rounds, then dip the rim into the salt. Fill the glass with ice and pour 4 ounces (½ cup) of the grapefruit mixture into the glass. Top with club soda and a slice of grilled grapefruit.
7. Enjoy!