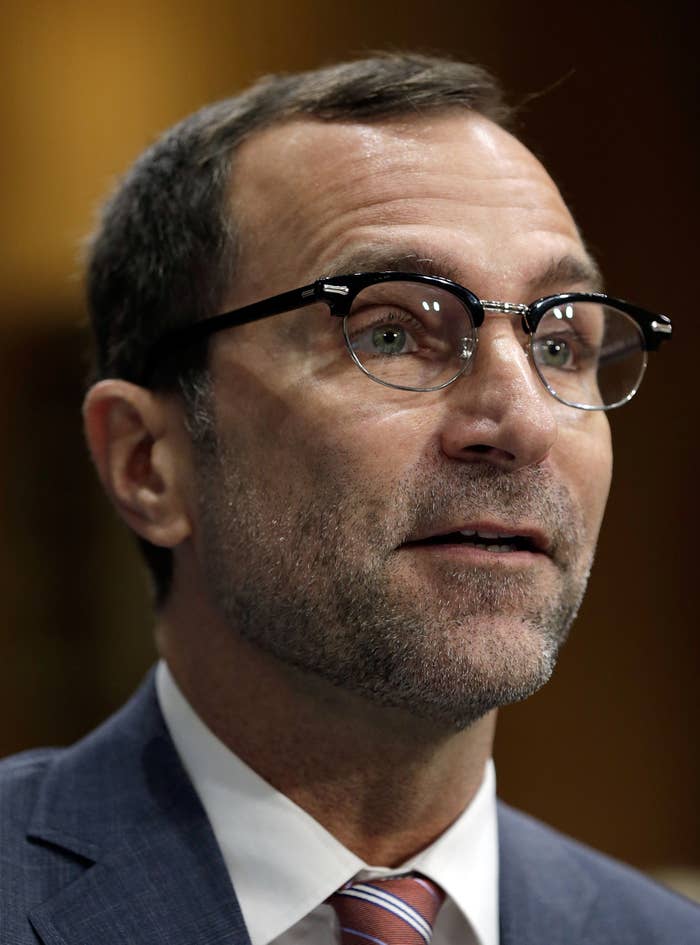 The out gay U.S ambassador to Spain may be banned from donating blood at home in the United States but he appeared eager to post a photo of himself donating blood in Spain, where the rules are different.

Smiling and giving a thumbs up, James Costos appears in a photo on his Instagram account wearing a tourniquet and giving blood along with a glowing message to his followers. "I joined Team U.S. Embassy Madrid donating blood. Please join us, it feels good to give...trust me!" he wrote in the April post. "Gracias."
The Instagram account belongs to Costos and his partner, Michael S. Smith, an interior designer who's been with Costos for more than 15 years.
Rian Harker Harris, a spokesperson for the ambassador, told BuzzFeed News, "Costos' intent in posting a photo of himself donating blood at the U.S. Embassy Madrid Blood drive on social media — for the second year in a row — was to raise public awareness of the need for blood donors in Spain, and encourage others to do the same."

But back in the the United States, the Food and Drug Administration bans blood donations from men who have had sex with another man anytime since 1977 — a rule approved more than three decades ago during the AIDS epidemic. However, as blood screening and HIV testing have made advances, the policy has been criticized as unscientific and discriminatory by some medical organizations, Congressional Democrats, and advocacy groups.
In Spain, however, being gay does not disqualify potential blood donors. The donors are screened based on the individual's risk factors — such as how recently they became intimate with a new partner and other behaviors that could raise chances of exposure to HIV.
After years of pressure to reform the ban, the FDA announced plans in December 2014 to ease the rules slightly; officials issued a formal recommendation Tuesday. The new guidelines would allow donations by men who have had sex with men — but only if they had abstained from sex for one year.
Many critics said Tuesday that even those new guidelines would function as a ban for many gay men, including gay men in longterm monogamous relationships with little to zero practical risk of contracting HIV.
"The FDA may have had good intentions behind this policy, but asking gay and bisexual men to be celibate for a year before donating blood is in practice still a lifetime ban," said a statement issued by Kelsey Louie, the CEO of LGBT health advocacy group Gay Men's Health Crisis. "By contrast, the new policy does not require heterosexuals to be celibate for one year in order to donate blood, even if their sexual behavior places them at high risk for HIV."
U.S. Senator Patty Murray (D-WA) said in her own statement, "I am disappointed that this guidance does not go far enough and continues discriminatory policies against many healthy gay and bisexual men."
BuzzFeed News tried to reach Costos for comment at the U.S. Embassy in Madrid and sent an email to the U.S. State Department, asking if his post was intended to provide commentary on the ban on blood donations in the United States, but did not receive a response before publication.
Asked if the proposed policy would still ban Costos from donating blood in the U.S, an FDA spokesperson declined to comment but said the department's new draft guidance reflects their current position on the issue.