Feds To Reveal Draft Guidelines For Relaxing Ban On Blood Donations From Gay Men
The Department of Health and Human Services will submit this week a long-awaited draft guidance to the Federal Register, sources tell BuzzFeed News.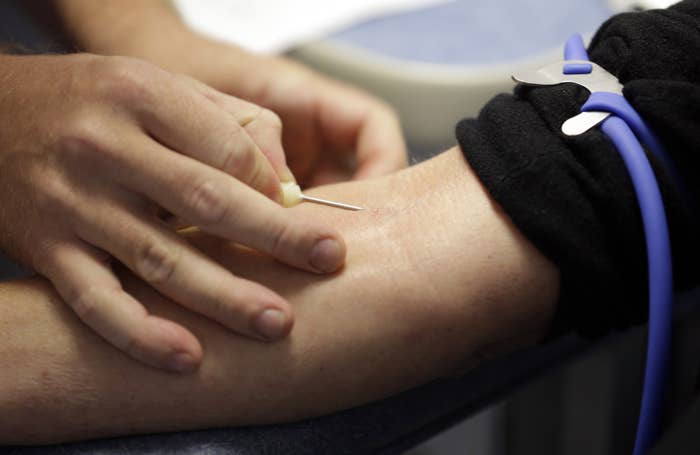 The United States Department of Health and Human Services is expected to submit long-awaited draft guidance to the Federal Register in the coming days that, if approved, would relax a ban on blood donations from men who have sex with men, three people who are familiar with the department's plans told BuzzFeed News.

The new draft guidelines are also expected to clarify confusing current rules applied to transgender blood donors.
For years, numerous medical organizations and LGBT advocacy groups have denounced the existing rules as archaic, scientifically baseless, and discriminatory against gay and bisexual men — pressing the federal government for reforms. Many of those stakeholders are expected scrutinize the draft rules to see how far they go and whether the federal government considers this to be a transitionary step or final policy.
Once submitted to the Federal Register, the draft guidance will be open for public comment before being approved.
U.S. Senator Tammy Baldwin of Wisconsin said she looked forward to seeing the new draft guidance, but cautioned that it should be part of an evolving policy that moved toward a risk-based system for assessing blood donations, not a black-and-white policy that disqualifies donors based solely on their sexual orientation.
"I have long fought to end this discriminatory, lifetime ban on blood donations," Baldwin said in a statement to BuzzFeed News. "I look forward to seeing the Administration's plans to achieve this goal and one thing is for sure, I will continue to push the Administration to do the right thing by moving away from this outdated policy that is medically and scientifically unwarranted and toward our ultimate goal of risk-based policies that allow all healthy individuals to donate."
BuzzFeed News asked spokespeople at HHS and FDA to clarify if the draft guidance was indeed being released this week. Tara Goodin, a spokesperson for the FDA said Monday, "We are working expeditiously on the draft guidance and as soon as it is public, we will let you know." The FDA did not comment on questions about the contents of the full proposal.

The draft guidance is expected to be released before the FDA's Blood Products Advisory Committee meets Wednesday, the people with knowledge of the plans told BuzzFeed News, when an agenda has designated 15 minutes to discuss the matter. One person said officials will likely provide an update but that the full committee will not discuss the draft guidance.
The sources, who spoke on the condition of anonymity, said that the draft expected this week will flesh out details of a bare-bones proposal announced in December by officials for the Food and Drug Administration — a subdivision of the Health and Human Services (HHS). At the time, officials said they would propose relaxing existing rules, which ban any blood donations from men who have had sex with another man since 1977 — a policy implemented in the 1980s amid the HIV/AIDS epidemic. Under these new guidelines, blood donations would be allowed from men who have sex with men, provided that they had abstained from sex with another man within the previous year.
But critics, while praising that proposal as a step forward, widely blasted it as effectively maintaining the ban for the vast majority of gay and bisexual men, who have sex more than annually. Just before the December announcement, a group 80 congressional Democratics sent HHS secretary Sylvia Burwell a letter calling for her to move toward a risk-based policy that assesses blood donors based on behavior that makes them more likely to contract HIV, rather than their sexual orientation. They also pushed to improve blood screening mechanisms but said a new policy should not hinge on those mechanisms being implemented.
In that vein, many advocates and lawmakers will be examining the draft guidance to determine if HHS considers this proposal a terminal for reforms or a step in a longterm plan to assert an entirely risk-based policy. They will also examine how the proposal addressed transgender blood donors.
Existing guidelines have been used to ban transgender people from donating blood, regardless of their gender.
The American Red Cross, the American Association of Blood Banks, and America's Blood Centers said in a joint statement in November that the existing ban "is medically and scientifically unwarranted," and expressed support for a one-year deferral for men who have had sex with men. The groups said they back "rational, scientifically-based deferral periods that are applied fairly and consistently among blood donors who engage in similar risk activities."