Nine states and the District of Columbia took a stand in federal court on Wednesday to support transgender military veterans who are suing the Department of Veterans Affairs to make the agency pay for gender-transition treatment as part of their health care coverage.
The states say in a brief, led by Washington state Attorney General Bob Ferguson, that "there is no legitimate basis for the Department's refusal to cover sex reassignment surgery to transgender veterans who need it."
Some of the states, including Washington and California, have their own health care policies that provide transition-related services, which can include hormone treatment and surgery. They contend they have an interest in seeing a ban at the VA overturned.
"Our experience demonstrates that ensuring equal access to health care helps us all without imposing significant costs or meaningful financial burdens," the states write in their amicus brief.
A 2013 rule says "sex reassignment surgery cannot be performed or funded by the VA."
By failing to cover these costs for transgender veterans, the federal government imposes a burden on states to provide those medical services themselves, the states argue. And ye they say it's a small expense for a humane, worthwhile cause.
The states behind the brief — filed in the US Court of Appeals for the Federal Circuit — are Washington state, California, Connecticut, Hawaii, Illinois, Massachusetts, New York, Oregon, and Vermont, in addition to Washington, DC.

The underlying lawsuit, filed by two transgender veterans and the Transgender American Veterans Association, challenges policies by the VA that ban "gender alterations" from being included among the services granted to eligible military veterans. A rule from 2013 adds that "sex reassignment surgery cannot be performed or funded by the VA."

However, as Dee Fulcher and Giuliano Silva wrote in a request to repeal the ban last year, similar procedures — such as hysterectomies — are covered by health care plans for veterans who are not transgender.

Still, Veterans Affairs Sec. David Shulkin wrote in a letter to lawmakers on Nov. 10, 2016, that while officials have "begun considering factors impacting this rulemaking process, it is not imminent."

Backed by lawyers at the LGBT group Lambda Legal, the transgender veterans appealed their case to the Federal Circuit in January, arguing that the Nov. 10 letter constituted a denial of their request. Rejecting transition-related care denies them needed services, is arbitrarily applied to transgender people, discriminates on the basis of sex, and violates rules created by the Affordable Care Act, they argued.

The government has yet to reply to those allegations in court, and the Justice Department declined to respond to them in an email to BuzzFeed News. The VA did not immediately answer a request for comment.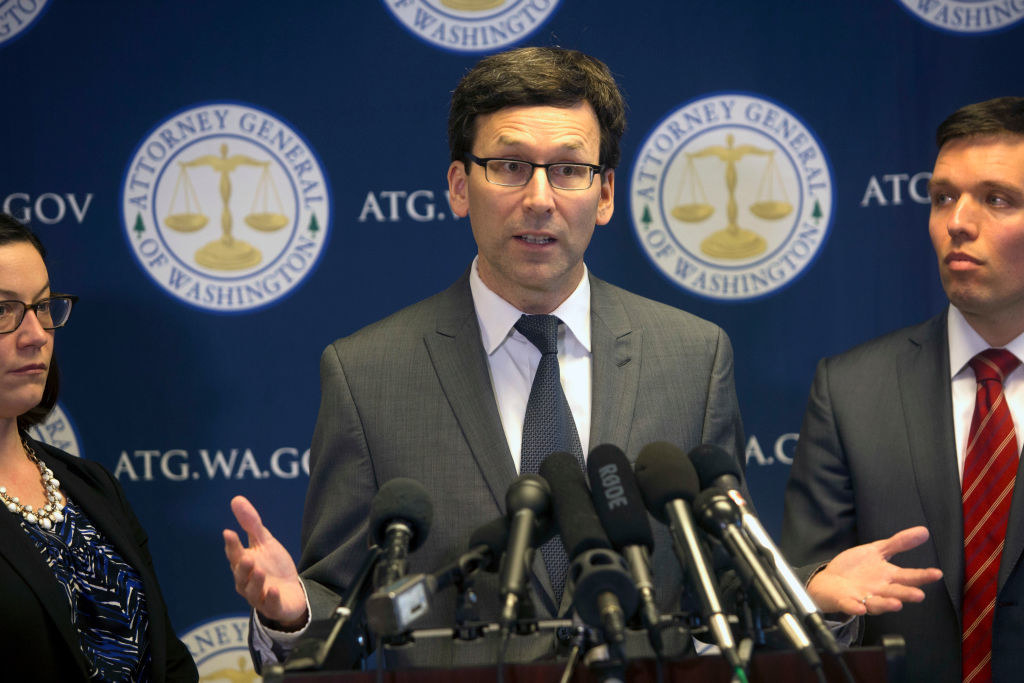 The case prompted several states to support the plaintiffs in a friend-of-the-court brief on Wednesday because, as Attorney General Ferguson said in a statement, "Access to medically necessary healthcare should be available to all of those who sacrifice for our country."
In a 20-page filing, the states say local policies have not been cost-prohibitive for coverage that includes gender-transition treatments. In Seattle, the city absorbed a $200,000 cost at two-tenths of 1% of the city's health care budget. In San Francisco, the city initially charged employees a $1.70 premium, but then scrapped the charge due to "low utilization rates."

If the court upholds the VA's ban on such services, the states say, "one of the largest health providers in the country will remain free to ignore the medical community's well-established protocols and deny needed medical care based on the person's gender identity."
"Such an outcome harms amici States' transgender residents, whose gender dysphoria would be left untreated, and the amici States directly, by leaving a deprivation of civil rights in our nation's health care system unmitigated," the states continued.

CORRECTION
Giuliano Silva's name was misspelled in an earlier version of this post.