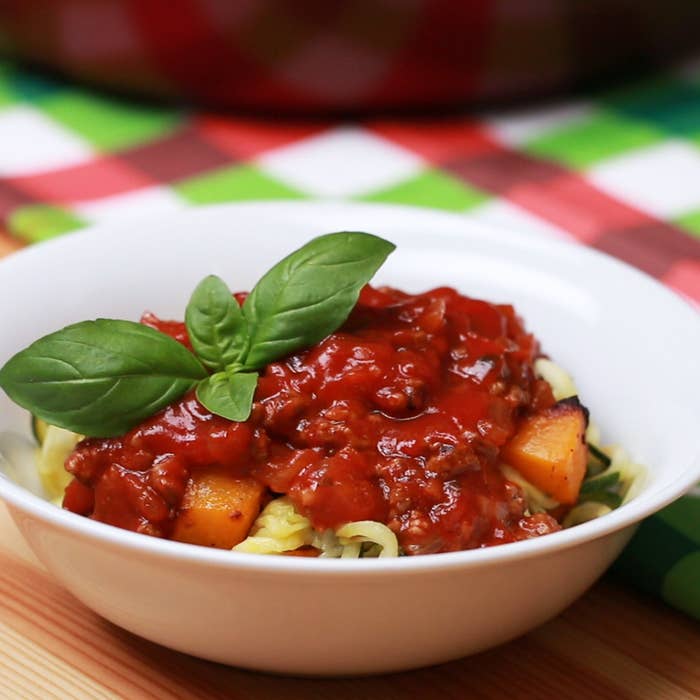 Serves: 4
Ingredients
4 large sized courgettes and 2 small/medium sized summer squash
600 grams butternut squash, peeled, de-seeded and cubed
3 tablespoons olive oil
4–6 cloves garlic, finely chopped
1 white onion, peeled and finely chopped
250 grams minced beef
500 gram jar Dolmio Original Bolognese sauce
20 grams fresh basil, picked
Salt and Pepper to taste
Preparations
Preheat oven to 200ºC (400ºF).

Add the prepared butternut squash to a large baking tray, pour over half of the oil, half of the garlic and season with a sprinkle of salt & pepper. Toss together and roast for 30 minutes, turning half way to make sure all sides are turning golden brown.

Meanwhile, remove the top and bottom of the courgettes and spiralise them using a spiralizer machine, set aside.

Once the butternut squash is starting to turn golden brown and is cooked through. Remove from the oven and place the spiralised courgette on top. Toss the butter squash and courgette together until the courgette is coated in the oil and garlic. Place back into the oven for 10 minutes.

Next move straight onto the bolognese. Heat a large pot over medium-high heat. Add the olive oil, minced beef, onions and the remaining half of the garlic. Season with salt and pepper.

Continuously stir, making sure to break the minced beef up. Continue to cook for 4-6 minutes or until the beef starts to brown.

Carefully add the Dolmio Original Bolognese sauce into the pan. Stir thoroughly and bring to a simmer for 3-5 minutes.

Gently transfer the cooked veggies to your serving dishes with tongs.

Spoon the meaty Dolmio Bolognese sauce over each portion.

Garnish with fresh basil - Enjoy!