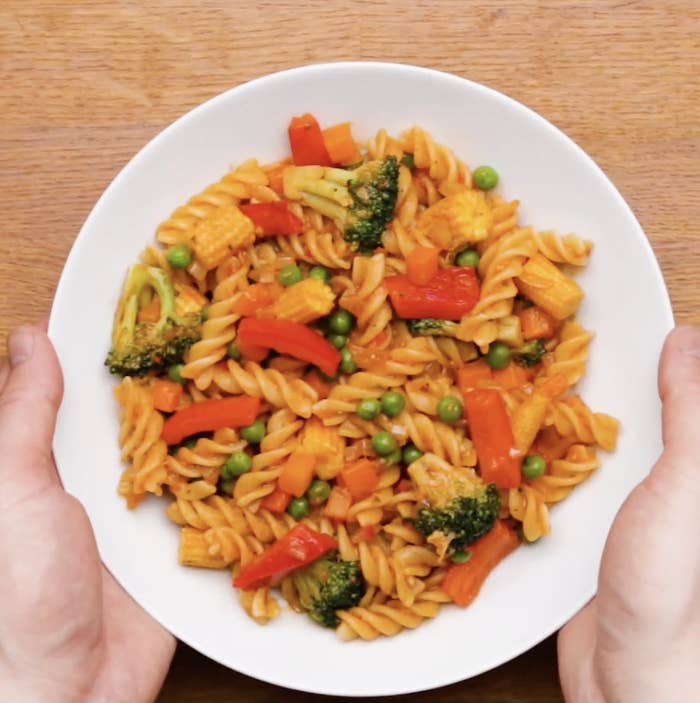 Serves: 2
Ingredients
1 teaspoon salt
180 grams fusilli pasta
1/2 head broccoli, cut into small florets
1 carrot, peeled and diced
8 baby sweetcorn, roughly chopped
100 grams peas, defrosted
1 large onion, diced
4 cloves garlic, crushed
1 red chilli, finely diced
1 red pepper, cut into small chunks
2 tablespoon olive oil
1 Dolmio Stir-In Slow Roasted Garlic & Tomato Sauce
Preparation
1. Take a large pan of water and place over a medium-high heat and bring to a boil.
2. Add the salt and fusilli; stir and cook for 8–9 minutes or until al dente. Add the broccoli florets, carrot, and baby sweetcorn to the pan in the final 3 minutes of the pasta's cooking time.
3. Strain the pasta and vegetables and run under cold water, set aside.
4. Place a large frying pan over a medium heat; add the olive oil.
5. Once the oil is warm add the onions, garlic, and chilli to the pan. Continue to cook for 1–2 minutes stirring continuously.
6. Next add the pepper and peas; stir and cook for a further 1 minute.
7. Add the reserved pasta, broccoli, and baby sweetcorn. Stir for 1 minute to warm through.
8. Add the Dolmio sauce, stir, serve and enjoy!