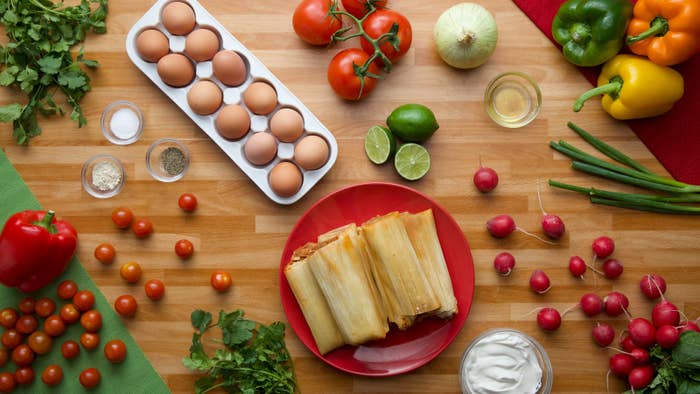 Servings: 4
INGREDIENTS:
4 Del Real Pork in Red Sauce Tamales
2 tablespoons olive oil, divided
½ onion, diced
2 bell peppers, diced
1 teaspoon salt
½ teaspoon pepper
½ teaspoon garlic powder
3 eggs, fried
Avocado Lime Crema
1 avocado
2 limes, juiced
½ teaspoon salt
½ cup sour cream
1 tablespoon water
Garnishes:
Del Real Fire-Roasted Red Salsa
Sliced scallions
Minced cilantro
Sliced radishes

PREPARATION:
1. Unwrap Del Real Pork in Red Sauce Tamales and remove husks. Chop tamales into small cubes.
2. Heat 1 tablespoon of olive oil in a large skillet. Sauté tamale cubes until browned and crispy, stirring frequently. When crispy, remove tamales from pan and set aside.
3. Heat the other tablespoon of oil in the same skillet. Add diced onion, bell peppers, salt, pepper, and garlic powder, and sauté for 4–5 minutes. Add tamales back in and mix together.
4. Make crema: In a blender, blend together the avocado, lime juice, salt, sour cream, and water until smooth. Add more water if needed to blend.
5. Drizzle tamale hash with crema. Top with fried eggs, add garnishes, then serve!