Slow Cooker Loaded Corn Chowder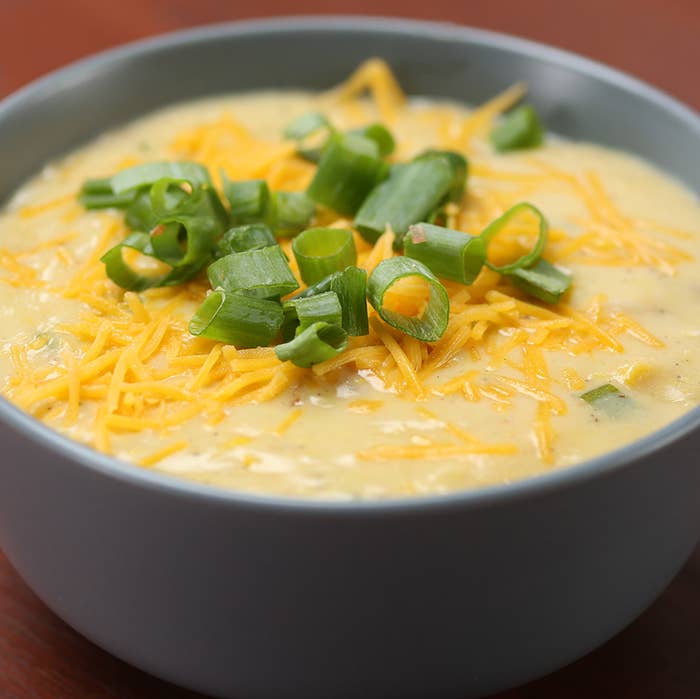 INGREDIENTS
Servings: 6
1 pound raw chicken breast, cubed
1 pound raw bacon
2 cans Del Monte Whole Kernel Corn (drained)
16 ounces half & half
12 ounces shredded sharp cheddar cheese, divided
32 ounces chicken broth
1 ½ cup green onions, diced and divided
2 tablespoons vegetable oil
¼ cup cornstarch
PREPARATION
1. Heat vegetable oil in large skillet over medium-high heat. Cook chicken through.
2. Wipe out skillet and cook off bacon. Drain on a plate lined with paper towel. Chop into bite-sized pieces.
3. Pour one can of corn and chicken broth into slow cooker and puree with an immersion blender. Alternately, blend corn and broth in a blender and pour into slow cooker.
4. Add second can of corn (drained), half & half, and cornstarch while stirring.
5. Add chicken, bacon, 8 ounces cheese, and 1 cup green onions.
6. Cook on high for 1 hour.
7. Serve with cheese and onions sprinkled on top.
8. ENJOY!