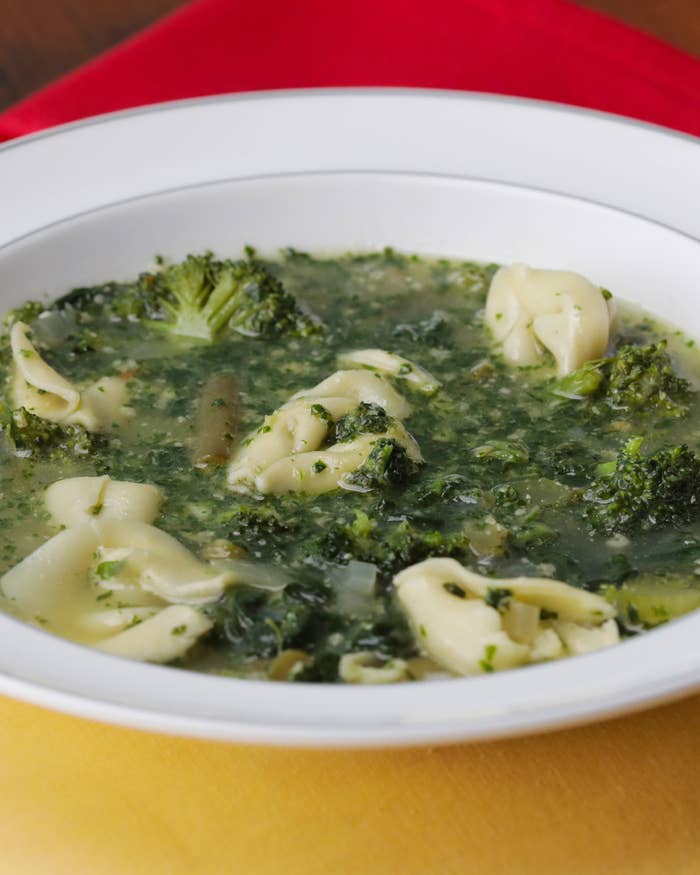 GREEN VEGETABLE AND TORTELLINI SOUP
Servings: 6-8
INGREDIENTS:
2 tablespoons olive oil

1 onion, medium diced

3 celery stalks, thinly sliced

1 teaspoon salt

6 cups College Inn® Chicken Broth

1 ½ cups small broccoli florets

1 can (14.5 ounces) Del Monte® Cut Green Beans

2 ½ cups baby spinach

9 ounces cheese tortellini, cooked

Pesto
1 packed cup basil leaves

3 tablespoons pine nuts

½ teaspoon salt

1 small garlic clove

½ cup olive oil

PREPARATION:
In a large pot, heat the olive oil over medium heat. Add the onion, celery and salt and saute for 10 minutes until softened. Add College Inn® Chicken Broth and bring to a light simmer.

Add the broccoli and let cook for 2 minutes. Add the Del Monte® Cut Green Beans, baby spinach and tortellini. Bring back up to a simmer for 2-3 minutes.

Make pesto: add all ingredients to a food processor and process until smooth, scraping down the sides with a spatula.

Ladle soup out into bowls and stir a tablespoon of pesto into each bowl. Serve!