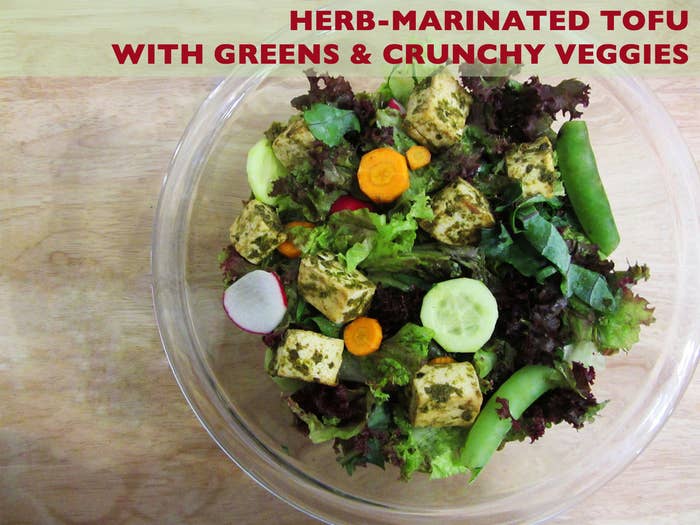 The beauty of this recipe is twofold. One, you can use essentially whichever veggies you have in the fridge as a bed for the tofu. (And any herbs you have on hand for the tofu marinade.) And two, once you make a big batch of the tofu, you can stick it in the fridge and eat it all week, with anything you want. (Put it in a sandwich! Eat it with sautéed greens! Have it plain as a snack!)
Herb-Marinated Tofu With Greens And Crunchy Veggies
Recipe by Deena Shanker
***HI YOU NEED A FOOD PROCESSOR FOR THIS RECIPE***
Serves 4
INGREDIENTS
For the Tofu
14 oz. extra firm tofu
2 Tbsp Dijon mustard
2 Tbsp Balsamic vinegar or lemon juice or a combination of both
1/2 cup extra virgin olive oil, divided
1 1/3 cup basil or parsley, firmly packed
4 Tbsp fresh oregano, mint or tarragon
1/4 tsp salt
dash of red pepper flakes
For the Salad
Use whatever vegetables you have! I used:
2 bunches of any lettuce greens, chopped into 2-inch pieces
Handful of kale leaves separated from stems, then chopped into 2-inch pieces
4 carrots, peeled and sliced in coins 1/4-inch thick
5-6 radishes, thinly sliced
2 cucumbers, peeled and sliced in coins 1/4-inch thick
1/2 cup of snap peas, ends removed
PREPARATION
1. First, press the tofu. Remove the block from it's packaging, pat dry, wrap in a paper towel, and put on a plate. Put another plate on top of the tofu and put a weight on it. (Any "weight" will work — a jar of pickles, a 28-oz. can of tomatoes, a small handheld weight — as long as it's heavy.) Leave it for 15-30 minutes.
2. While you're waiting for the tofu, make the marinade: Put the Dijon, Balsamic veingar or lemon juice, 1/4 cup of olive oil, herbs, salt, and red pepper flakes into a food processor and blend until smooth.
3. When the tofu is done being pressed, remove the paper towel, blot it dry and cut into 1/2-inch cubes. In a mixing bowl, combine the tofu cubes with 1/2 of the marinade and gently toss to coat. (Feel free to use your hands, since the tofu will still be a little delicate.) Place in fridge and let marinate for at least 30 minutes.
4. While the tofu is marinating, add the remaining 1/4 cup of oil to the marinade left in the food processor and blend. This is your salad dressing!
5. Heat the oven to 350°F and line a baking sheet with parchment paper. When the tofu is finished marinating, place the cubes on the baking sheet, and bake for 30-40 minutes, tossing the cubes around a few times so they bake evenly.
6. While the tofu is cooking, think about your options. You can make a salad with your vegetables, and add the tofu to that. Or you can eat them with sautéed greens. Or you can stick them in some Tupperware and into the fridge and eat them another time. Or, if you made more than you need right away, you can split them up and do one thing with them tonight and one thing with them tomorrow.
7. Execute your decision from step #6. If you're going with the salad, toss all the salad ingredients into a salad bowl, add some dressing and the baked tofu. Enjoy!