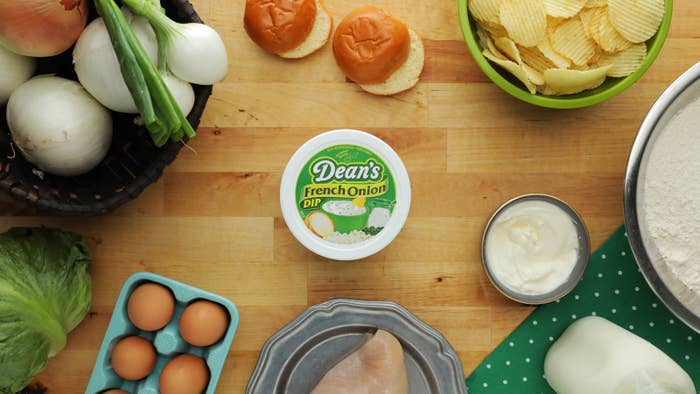 Makes 4–6 sliders
INGREDIENTS:
1–1½ pounds chicken breast
⅓ cup Dean's® French Onion Dip
¼ cup buttermilk
1 egg
¾ cup flour
1 teaspoon salt
3 cups ridged potato chips
Sauce:
3 tablespoons Dean's® French Onion Dip
1 tablespoon mayonnaise
Slider buns
Shredded lettuce
PREPARATION:
1. Mix flour and salt, then set aside. Crush chips using food processor or rolling pin and bag, until fine crumbs. Set aside. Mix dip, egg, and buttermilk. Set aside.
2. Pound chicken until about ½" thick, cut into 4–6 (2½") pieces, dredge in flour, dip in egg mixture, and then potato chip crumbs.
3. Fry in a skillet with 1½" vegetable oil (set to about 320) until golden brown on both sides and cooked through (about 8–10 minutes). Drain on paper towels.
4. Combine the 3 tablespoons of Dean's® French Onion Dip and 1 tablespoon of mayo to make the sauce. Spread sauce on buns, and place the chicken, lettuce, and any other fixins on buns.