You CANNOT miss this gem of a restaurant if you're in the Bay Area! Chef Nelson German of alaMar shows you how to make this amazingly tender braised chicken in this video here:
Get the full recipe for this Tender Braised Chicken below!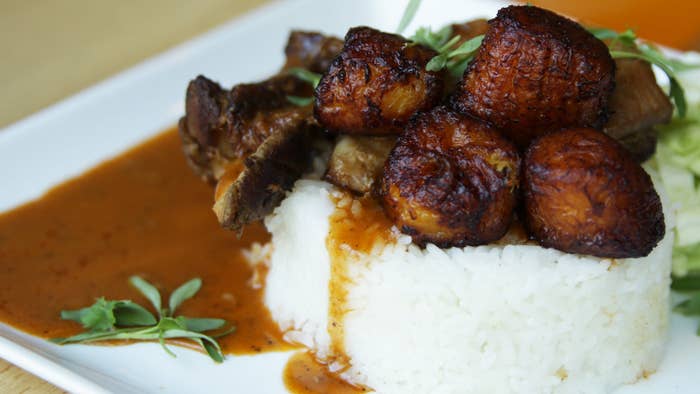 INGREDIENTS
Dominican-Style Sofrito:
1 bunch cilantro
12 cloves garlic, peeled
1 red onion, chopped
1 green bell pepper, chopped
2 tablespoons salt
1 tablespoon crushed black pepper
½ cup olive oil
Chicken:
2 boneless, skin-on chicken thighs
¼ cup canola oil
1 small red onion, sliced
½ cup chopped garlic
1 cup maggi seasoning soy sauce
1 tablespoon ground cumin
1 tablespoon lemon pepper seasoning
16 ounces chicken stock
½ cup tomato paste
Juice and zest of 1 Orange
¼ stick butter
PREPARATION
1. Combine cilantro, garlic, red onion, green bell pepper, kosher salt, crushed black pepper, and olive oil in a food processor or blender and blend well. Reserve 1½ cups of the sofrito for marinating the chicken thighs and set the last half cup aside.
2. In a large ziplock bag, place the quartered chicken and sofrito. Marinate for 3 hours, to overnight.
3. Preheat a medium pan with oil for about 5 minutes on medium high heat. Add the chicken pieces and cook for 2 minutes until golden brown, then flip over.
4. Lower the heat to low then add the onions and garlic to the pan, cooking until soft.
5. Turn the heat to high and add the maggi seasoning, flipping the chicken twice to fully absorb the sauce, making sure to scrape up any bits that stuck to the pan.
5. Add the cumin, lemon pepper and stock. Bring liquid to a boil and add tomato paste then ½ cup of sofrito, stirring both well until dissolved. Add the orange zest and juice.
6. Lower the heat to low and cover with lid. Cook chicken for 90 minutes.
7. Remove the chicken from the pan and set aside. Add the butter to the sauce and stir until dissolved.
8. Serve the chicken and sauce over rice. Enjoy!