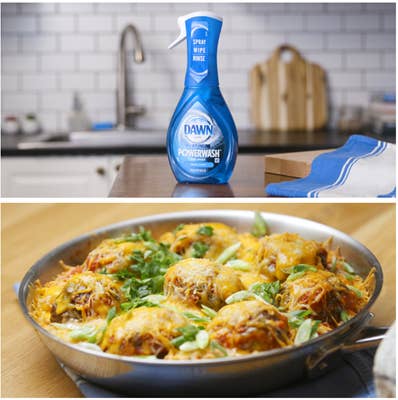 INGREDIENTS:
Sauce
1 tablespoon olive oil
Half a yellow onion, diced
3 cloves garlic, minced
2 teaspoons kosher salt
1 individual chipotle in adobo (from a can)
1 (14.5-ounce) can diced tomatoes
Rice
1 cup medium- or long-grain rice, rinsed
1½ cups water
Meatballs
Extra-virgin olive oil cooking spray
1 egg
⅓ cup bread crumbs
2 teaspoons kosher salt
½ teaspoon ground pepper
2 teaspoons chili powder
1 teaspoon paprika
1 teaspoon garlic powder
1 teaspoon dried oregano
½ teaspoon cumin
1 pound ground beef
Assembly
3 cups shredded Mexican cheese
Sliced scallions
Minced cilantro
PREPARATION:
1. Sauce: Heat olive oil in a skillet over medium heat. Add onions, garlic, and salt. Sauté until vegetables are softened and taking on a little color, about 8–10 minutes. Stir chipotle into diced tomatoes and their juices. Simmer sauce for 2–3 minutes, remove from heat, and let cool. Transfer sauce to a food processor and pureé until mostly smooth. Set aside.
a. Using Dawn Powerwash Dish Spray, clean the cutting board, knife, measuring spoon, and cooled skillet. Simply spray, wipe, and rinse.
2. Rice: Combine rice and water in a pot with a lid. Place over medium heat, covered. Bring to a simmer. Let simmer for 12–14 minutes or until all of the water has been absorbed. Remove from heat and set aside. (Rice will still be slightly crunchy at this point. It will cook through in the skillet.)
3. Meatballs: Stir together all ingredients except the beef in a bowl. Once ingredients are thoroughly mixed, stir in the ground beef just until combined. Use oiled hands to firmly roll beef mixture into golf-size balls.
4. Preheat oven to 325ºF.
5. Spray olive oil in a skillet over medium-high heat. Add meatballs and brown on all sides. Remove meatballs from skillet.
6. Assembly: Place rice in a 10-inch ovenproof skillet. Pour a little of the sauce on the rice and stir. Spread rice in an even layer. Sprinkle with 1 cup of the shredded cheese. Arrange meatballs on top. Pour more sauce over top.
7. Cover skillet with foil and cook in the oven for 25–30 minutes.
a. Clean as you go with the Dawn Powerwash Dish Spray on the mixing bowl, measuring spoons, measuring cup, and all other dirty dishes.
8. Remove foil. Sprinkle the rest of the cheese over the top and put back in the oven for 5 minutes or until cheese melts and meatballs are cooked through.
9. Remove skillet from oven and garnish with scallions and cilantro before serving.
a. Clean the skillet, food processor, and all other dirty dishes using Dawn Powerwash Dish Spray.
10. Enjoy!