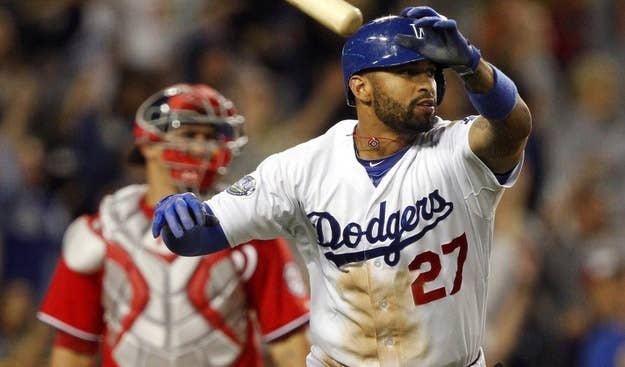 First, the bad news, especially for all you Triple Crown enthusiasts. Matt Kemp's not likely to finish the season hitting above .400. He's probably not going to break the single-season home run record. And given the lack of quality hitters surrounding him in the Dodgers' line-up, there's a good chance he'll finish with less RBIs than he had last year. The fact that he actually drove in offensive sinkholes like Rod Barajas, Juan Uribe, and Tony Gwynn Jr. 126 times in 2011 is miraculous enough. But one of the many wonderful things about April baseball is being able to make wild and wholly unrealistic assumptions based on a month's worth of at-bats, and Matt Kemp had one hell of an April: 12 home runs, 25 RBIs, and a preposterous .417 / .490 / .893 line.
Having said that, it's not out of the realm of possibility that Kemp could have a year that makes his MVP-worthy campaign from last year look downright pedestrian. According to Fangraphs, Kemp's amassed 2.2 WAR so far this year. WAR stands for Wins Above Replacement; it's a statistic meant to encompass a player's offensive & defensive value, and represent that value in terms of actual wins in comparison to a run-of-the-mill player. To paraphrase that in a succinct manner: Matt Kemp's had a most excellent month. And when you dive into Fangraphs' stat archives to pull up similarly fantastic months over the past 30 years — that is, players that amassed a WAR of 2.0 or better in April — the list is pretty special.
Thing is, though, you don't even need to go that far to get excited about what Kemp could accomplish. The list of folks that possess Kemp's prowess in the batter's box and on the basepaths is very small. Of course, there's Barry Bonds, to date the only MLB player to have both a 50-stolen-base season and a 70-homer season in their career. Young Alex Rodriguez showed that kind of potential. Vladimir Guerrero, before the Astroturf in Montreal savaged his knees, was a legitimate 40 home-run / 40 stolen base threat. So was Alfonso Soriano, before injuries and old (baseball) age got ahold of him.
Talking about that list of 2.0+ WAR Aprils, Barry Bonds appears 3 times, exhibiting the combination of power, patience, and speed that made him one of the best offensive players to ever play. The PR disaster that is Alex Rodriguez also appears three times: as a wide-eyed Mariner, as a high-priced Ranger, and as the presumptive Yankee scapegoat. Albert Pujols — the version that deserved a 10-year, $250 million contract, not the April 2012 version that actually signed the aforementioned contract this offseason — shows up twice. Ryan Braun's MVP-worthy performance last year featured a Kemp-esque April that earned him a spot. Some other folks you'd expect to appear are also included: the healthy version of Ken Griffey Jr., the mile-high version of Larry Walker, Chipper Jones in the prime of his career. If you want to talk about Matt Kemp's potential as a perennial All-Star, or even a future Hall-of-Famer, seeing him in this elite group of players is a nice way to start the conversation.
As last year's 39 homers and 40 stolen bases proved, Kemp definitely deserves to be included in that company. While Kemp's 2012 is light on the stolen bases to date, it's understandable; his 2 steals, against 3 caught stealing, are primarily the result of him spending too much damn time hitting balls into the stands. Even Kemp's "off year" in 2010 had him hitting 28 bombs while stealing 19 bases, a trick most players couldn't turn on their best day. At the tender age of 27, Matt Kemp's best days are probably yet to happen.
Of course, baseball being baseball, there are a few oddballs that end up meeting this WAR criteria. And I'm not talking about Jose Reyes' 2007 (with only 2 home runs, but 17 (!) stolen bases and a .596 slugging) or Ivan Rodriguez's 1998 (which takes into account he put up his 0.442 / 0.495 / 0.695 line while playing catcher). I'm talking about the likes of Von Hayes, Darin Erstad, Derek Bell, and Scott Brosius; perfectly fine players in their time (Operation Shutdown notwithstanding), but obviously not the sort of perennial all-world types that can hit 10 or more home runs in a month on a regular basis or could be expected to carry a team for an extended period of time. Like Matt Kemp.
No, Kemp won't finish 2012 with 73 home runs, 147 runs scored, and 153 RBIs (totals extrapolated from his April numbers) to go with that absurd triple-slash line of .417 / .490 / .893. But after all is said and done, the distance between this fantasy and his actual performance might be closer than you think.
David Raposa's work has appeared at Pitchfork, The Awl, The Village Voice, and GQ.com.