EGGS BENEDICT BAKE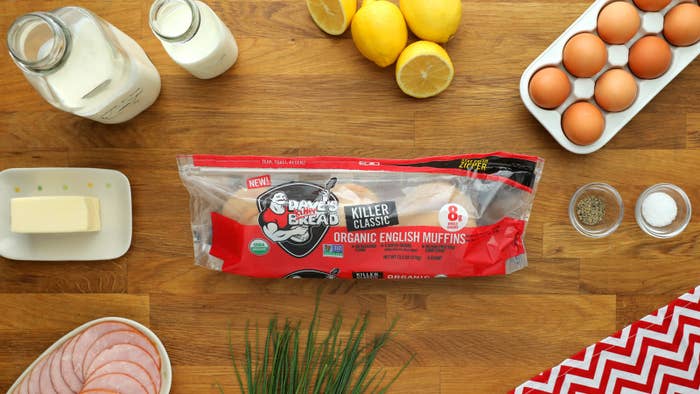 Servings: 8–10
INGREDIENTS
10 eggs
2 cups heavy cream
1 cup milk
1½ teaspoons salt
½ teaspoon pepper
2 packages Dave's Killer Bread English Muffins
2 packages canadian bacon, 12–16 ounces total, diced
Chives, finely chopped (garnish)
Hollandaise Sauce
3 large egg yolks
2 tablespoons lemon juice
½ cup melted butter
½ teaspoon salt
PREPARATION:
1. Preheat oven to 350℉.
2. Place 12 separated English muffins in a single layer on two baking sheets. Try not to overlap. Bake 10–15 minutes, until slightly crisp.
3. In a large bowl, combine eggs, heavy cream, and milk. Mix well. Season generously with salt and pepper.
4. Butter a 9x13" baking dish. Place half the English muffins in a single layer across the bottom. Spread half the chopped Canadian bacon evenly over the first layer of English muffins. Repeat this process again with one single layer of English muffins, followed by the remaining half of the Canadian bacon.
5. Gently pour egg mixture over the top of the English muffins. Press down to make sure all parts are coated.
6. Tightly cover the baking dish with foil. Refrigerate overnight.
7. Preheat oven to 350℉. Remove the baking dish from the refrigerator 30–45 minutes before baking to allow it to come to room temperature.
8. Bake for 30 minutes. Remove foil and bake for 10–15 more minutes until lightly golden and set.
9. Hollandaise: Place egg yolks and lemon juice in a blender. Blend for 10 seconds, then slowly stream in the hot, melted butter (while blender is still running). Sauce will thicken by the time all of the butter has been added. Blend in salt.
10. Drizzle hollandaise sauce over the bake. Top with chives. Serve immediately.
11. Enjoy!