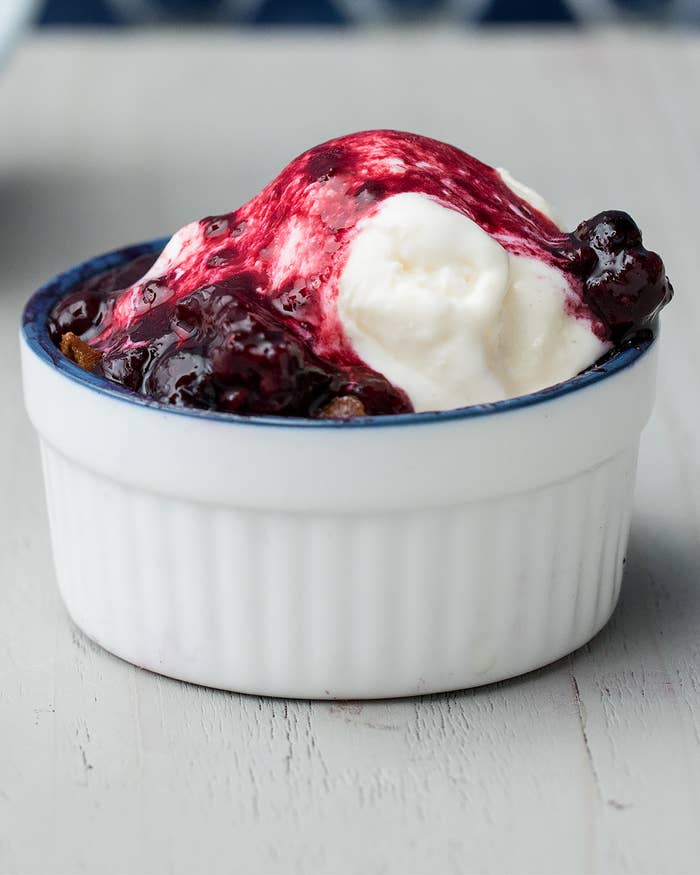 Servings: 6
INGREDIENTS:
2 cups milk
1 teaspoon vanilla extract
1 teaspoon salt
2 eggs, whisked
⅓ cup sugar
Zest of 1 lemon (reserve juice for blueberry sauce)
2 Dave's Killer Bread® Boomin' Berry™ Bagels
2 tablespoons butter, melted
1 cup blueberries
Fresh whipped cream, for topping
Blueberry Sauce
1 cup blueberries
1 cup blackberries
¼ cup water
Juice of 1 lemon
2 tablespoons maple syrup
½ teaspoon flaky salt
PREPARATION:
Preheat oven to 350ºF.

In a large bowl, whisk together milk, vanilla, salt, eggs, sugar, and lemon zest to form a custard.

Tear Dave's Killer Bread® Boomin' Berry™ Bagels into small bite-size pieces. Pour melted butter over bagel pieces and toss.

Add bagel pieces to the custard. Fold in the blueberries and mix everything together. Let sit for 5–10 minutes.

Spray 6 ramekins with cooking spray. Ladle bread pudding evenly between the ramekins. Place on a baking sheet and bake for 25 minutes. Remove from oven and let cool for a few minutes.

While bread pudding is baking, make the blueberry sauce. Add blueberries, water, lemon juice, and maple syrup to a small pot. Once it comes to a simmer, smash the majority of the berries with a small potato masher. Continue to let simmer until thickened — about 15 minutes. Stir in flaky salt and remove from heat.

Top each bread pudding with a dollop of whipped cream and a spoonful of blueberry sauce.