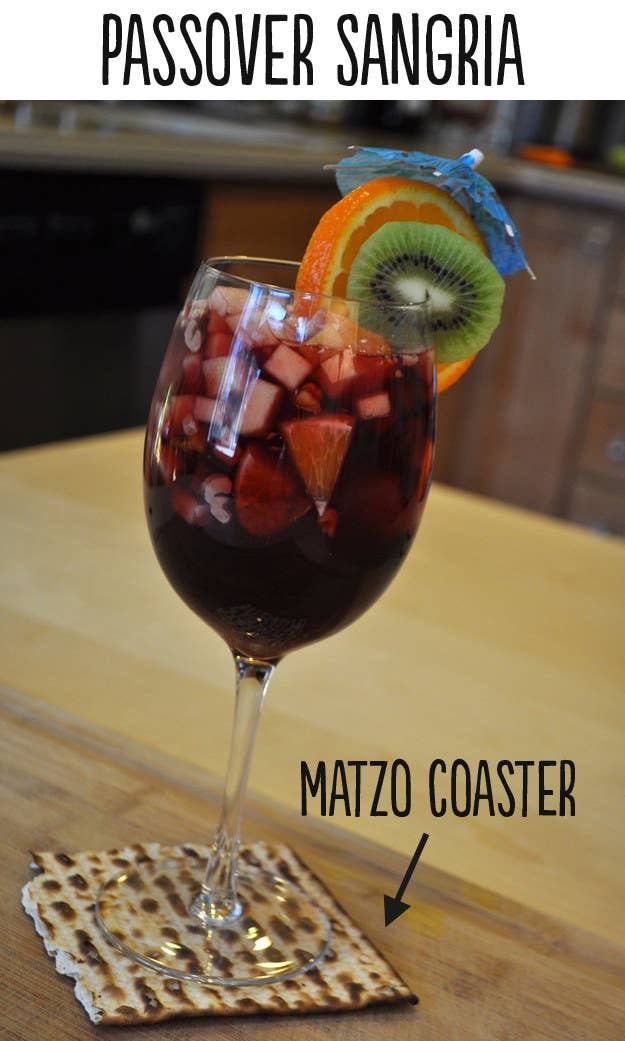 Passover is a drinking holiday.
During a single night's observance, Jews are supposed to consume four glasses of wine as we recall the plight of our ancestors. But why not drink enough to forget the plight of our ancestors? After all, they don't want us to worry about them. They only want us to be happy. Can't you just hear them?
"Don't worry about us. We only want you to be happy. Go, have a good time with your friends. We'll be fine. We love building pyramids for the Pharaoh. Heavy? No, these bricks are light as feathers!"
As it turns out, several Passover staples form the perfect base for sangria...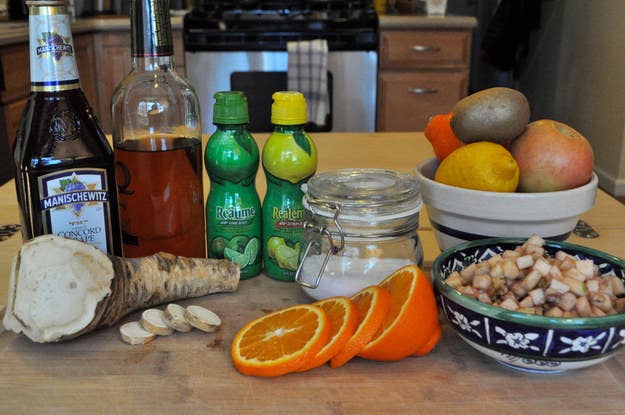 THE RECIPE: Perfect Passover Sangria
INGREDIENTS
1 bottle (750 ml) Concord grape Manischewitz
1 cup kosher for Passover calvados or brandy
3 cups charoset (click for recipe; don't use the sugar)
¼ cup fresh lemon juice (I used/pictured bottled, but I shouldn't have)
¼ cup fresh lime juice (ditto above)
Pinch salt
4 (1/4-inch-thick) slices fresh horseradish, a.k.a. Maror (optional)
Seasonal Fruits (optional)
Orange, grapefruit, or tangerine, peeled and segmented
Kiwi, peeled and quartered
Cherries, pitted and halved
Ingredient Notes
Charoset that isn't too sweet and is made with Cortland or McIntosh apples is best for this recipe. If you want to get really hardcore, you can swap out the charoset for 2 chopped, peeled apples, ½ cup of toasted walnut halves, and 2 cinnamon sticks, so the charoset isn't adding extra sugar.
If you want it even more tart, substitute grapefruit juice for lemon and/or lime juice. Orange juice is also a nice option.
Peeled horseradish needs to sit exposed to the air for at least 10 minutes in order for it to develop its characteristic spiciness.
Kosher for Passover brandy includes Clear Creek Distillery's Slivovitz and Kirschwasser and some brands of Calvados (apple brandy) produced in France like Boulard, Chateau de Breuil, and Fermicalva.
PREPARATION
Combine everything in large pitcher. Cover and refrigerate at least 8 hours and up to 48 hours. Serve in wine glasses filled with ice cubes.
This recipe makes about 1 ½ quarts of pure bliss, guaranteed to bring peace and harmony to your family's holiday gathering. Tweak it to your liking and remember, while it is kosher for Passover, it's not just for Jews. In fact, you may find that it pairs well with a salty Easter ham.