It's been a whirlwind for Little Mix's Perrie Edwards, as she's been the subject of recent backlash regarding new single 'Shout Out To My Ex' and her confirmed break up with her ex-boyfriend via Our World.
Online trollers have continuously framed Perrie Edwards as a bad cookie for writing a song about her ex (as if the other members of the group didn't have an ex as well), apparently lying about the whole break-up, etc. Fortunately for Perrie, we're sure she's realized all this online hating rubbish is just that - rubbish!
Little Mix are on their way to receiving their fourth U.K #1 hit with 'Shout Out To My Ex', as chart experts have determined their likely to sell approximately 100,000 copies of the song despite it being released Sunday. In addition, the song has steadily been provided with a huge safeguard in America as it continues to sell moderately well despite no promo or significant radio airplay. In fact, it's expected the song will shift between 23k copies and 30k copies in the U.S. meaning it just might land a spot on the Billboard Hot 100 chart.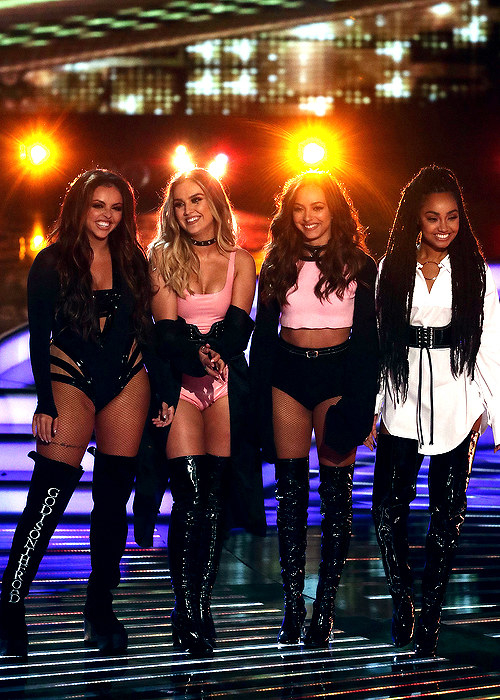 The girl group have sold over 17 million records worldwide, as confirmed before performing and debuting their new single and a new music video is scheduled for release on October 21st.
What is the moral of the story? Well, to look at the positive and filter out the hate. Yes wild unknown, people might still be attacking Perrie Edwards and hating the fact that her, Jesy Nelson, Jade Thirlwall and Leigh-Anne Pinnock are having the ultimate success of their lives, but simply shifting focuses will only bring to terms better things.
All you have to do is point out positives, and people of disgusting attitudes will slowly wither away. It's simple, easy and fun! If someone ever tells you that you or your favorite artists are disgusting, attention-seeking, etc, don't reply at all. And if you must, reply back with a positive witty comment such as , "I'm getting a nice paycheck next week", or "Wow, I never realized obsession towards someone you've never met could exist. Splendid day!"
Remember, you are in control of what you see, what you want to see and what you want to hear. So filter away, and remain positive to the tea! Now, get out there and celebrate!
Little Mix's new single 'Shout Out To My Ex' is now available to purchase worldwide on iTunes media. It's also been serviced for streaming via Spotify.
This post was created by a member of BuzzFeed Community, where anyone can post awesome lists and creations.
Learn more
or
post your buzz!