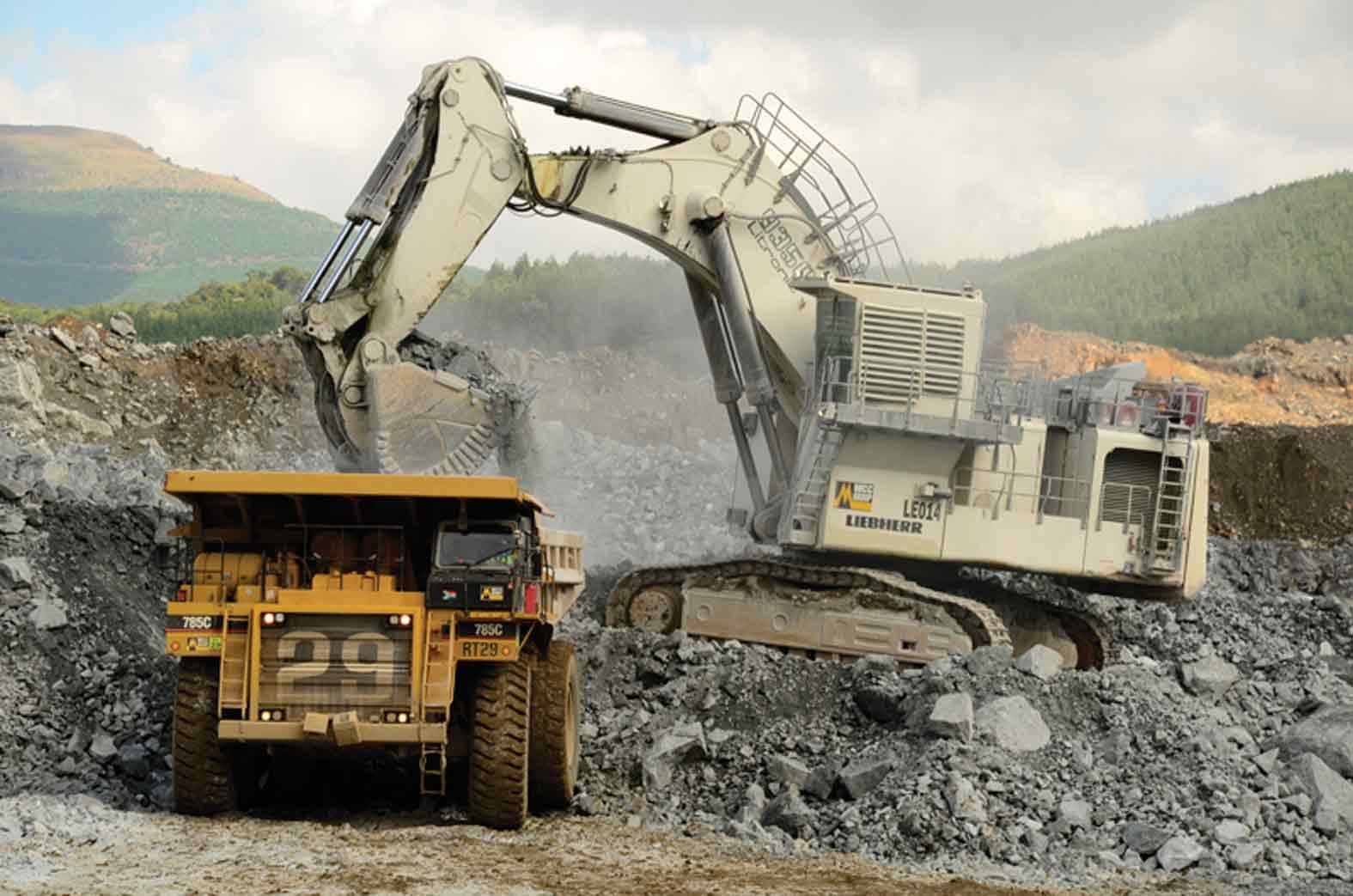 Norilsk Nickel, whose largest shareholder is Vladimir Potanin (30.4%), acquired the share in 2007 after buying LionOre Mining International Limited.
After deciding in 2014 to sell non-core and international assets, the Russian company agreed to sell Nkomati to BCL - the Botswana state-owned mining company that last year went into liquidation. The conduct of the Botswana government and subsequently the liquidator Warren-Dixon of KPMG has left a bitter taste in the mouth for Norilsk. Now the best chance of Norilsk receiving its funds appears to rest with an Arab investment company.
Emirates Investment House
Representing the interests of the Emir family of Dubai, Emirates Investment House (EIH) from the UAE is in discussions with liquidator Nigel Warren-Dixon of accounting firm KPMG regarding acquisition of Botswana state-owned BCL including the Nkomati mine which is the source of a US$271.3m dispute between BCL and Norilsk Nickel.
The Arab company has already been granted access in order to carry out due diligence of BCL's assets. "Emirates Investment House is very interested in buying shares in BCL, but their sale is only possible after the end of the liquidation procedure - when the issue will be settled with the creditors," stated Dixon-Warren who also confirmed that taking on the dispute with Norilsk Nickel is one of the conditions of the transaction.
EIH are anticipated to present a proposal by the end of April, which will detail the price they are willing to pay for the BCL shares. EIH were unavailable for comment, and the Botswana government (who have taken up a position of denial throughout proceedings) also declined to comment.
Strategic priority acquisition gone bad
In October 2014 Norilsk originally agreed to sell its interests in African operations to BCL for US$337 million. At the time it was hailed as an acquisition of 'strategic priority' by BCL, as part of the 'high-profile Polaris II diversification and investment strategy'. The deal was expected to safeguard the long-term future of BCL by providing a reliable supply of concentrate for the Selebi-Phikwe smelter.
However BCL requested renegotiation and given the decreasing value of global metal markets, Norilsk agreed to several price concessions in late 2015, ultimately reducing the sale price. According to Norilsk, they have "consistently signalled their intent to constructively discuss with BCL any further proposals reasonably required to complete the transaction".
The final regulatory approvals for the transaction were obtained on September 6, 2016, with obligation to complete the deal by September 13. Norilsk states that BCL have not made any attempt to move ahead with the transaction. In October 2016 Norilsk learned through the media that BCL had been placed into provisional liquidation.
Botswana's reputation in jeopardy
Norilsk Nickel Africa CEO, Michael Marriott, was scathing in his criticism: "BCL has failed to honour its obligations under the sale agreement concluded in October 2014. The failure of BCL to abide by its obligations under the sale agreement is unacceptable in any business transaction. This deplorable conduct has resulted in the BCL smelting and mining operations being placed into provisional liquidation.
"The closure of BCL will have a devastating effect on the livelihoods of thousands of people, and a negative impact on the regional economies which rely on the BCL smelter to beneficiate nickel, copper and PGM concentrates. It is disappointing to note that the Government of Botswana recently invested in refurbishing the BCL smelter, at an estimated cost of US$67m, giving hope to the people of Botswana that BCL had a good future with Nkomati able to supply the bulk of concentrates for beneficiation. Botswana has an excellent reputation internationally as a country with a sound investment climate. These actions by BCL could jeopardise that reputation.
"Throughout the process Norilsk has acted in good faith, and given BCL repeated opportunities and offers of assistance to complete the transaction, including concessions to significantly reduce the sale price… Norilsk has done everything possible to support BCL in its endeavours to secure its long-term future, and therefore sees no other option but to defend its interests in courts with jurisdiction over the matter."
Marriott also went on to add that the impact could be felt across the wider region: "The fall-out could also be even wider. The Southern Africa Development Community ("SADC") has repeatedly announced their desire to beneficiate minerals within the region and the South African Department of Mineral Resources (DMR) was also highly supportive of the transaction as it meant that Nkomati's concentrate containing, nickel, copper, platinum and palladium would be beneficiated by BCL in the region thereby benefiting the Southern African regional economy. Instead, if BCL were to be closed, this means that Tati Nickel, and the Selkirk Project will most likely not proceed, severely impacting people and businesses in Francistown as well."
Botswana has been named the most attractive investment destination in Africa, according to the latest Africa Investment index for 2016 by Quantum Global's independent research arm. In the global rankings, Botswana is ranked position 71 out of 190 economies in the ease of doing business, according to the World Bank's latest Doing Business rankings that was released late last year. Apparently, this situation would significantly change in 2017 in a negative prospect for Botswana country.
Government backed into a corner
The Botswana government moved swiftly to liquidate the BCL mine in October 2016, without any clear explanation regarding the closures at BCL and Tati. It was alleged at the time that this move came to avoid litigation by Norilsk. Speaking in January 2017, Minister of Mineral Resources, Green Technology and Energy Security, Sadique Kebonang was surprisingly candid: "We were at war and we had to move at night to execute our strategy.
"We withheld this information because we did not want it reaching Norilsk before the execution of our plan."
Had BCL not been liquidated, there was an opportunity for Norilsk to liquidate the mine through the courts, and the government's actions were to safeguard its people, according to Kebonang: "They threatened to sue us and liquidate the mine. We were not going to allow our mine to be liquidated by Russians and watch them as they strip it bare and leave our people with nothing.
"Had they managed to do that, the mine employees would not be staying in the mine houses, they would have sold everything and stripped BCL and Tati mine bare."
Kebonang also disputed that there were further concessions on the table, accusing Norilsk of trying to back the government into a corner to buy the Nkomati mine for US$271.3m, despite its value dwindling to approximately a third of that amount. He said the future would be determined by the liquidator: "The liquidator is the one who will make a decision to either shut it down or restructure the operations."
He also claimed that the government didn't have the money to pay for the Nkomati mine, and revealed that US$67m had been secured for the payment of terminal benefits to the 5,000 who lost their jobs. "Every single employee will receive their benefits."
Nkomati profitability
Doubt has been cast on the Botswana government's claim that they couldn't afford to continue operations. Nkomati is Africa's largest primary producer of nickel. It's a large mine in the Mpumalanga Province in the east of South Africa and since the deal between BCL and Norilsk it has been the main supplier to BCL's smelter in Selebi Phikwe, which is the largest local employer in central Botswana. The Botswana government is BCL Limited's sole shareholder.
Since the agreed sale was announced BCL has been smelting concentrate from both Nkomati and Tati, and the Nkomati supplies were considered critical for sustaining 5,000 jobs in Selebi Phikwe. BCL has been earning annual revenues of around US$4.5m from the smelted concentrate but claims that a drop in nickel prices, a US$7.3m smelter refurbishment and cash crisis led to BCL Limited facing insolvency.
However, Norilsk was reportedly willing to pay BCL US$130 per tonne to smelt concentrate from Nkomati on their behalf. The revenue generated for BCL from that deal alone would have been US$28.8m per annum. These revenues from Norilsk would have been fixed for a five year renewable contract, regardless of the price of nickel. Those revenues would have been partly used to fund the mine's operations and also to make deferred payments to Norilsk for the sale of Nkomati.
When the sale was agreed in October 2014 the price of nickel sat at over US$8 per pound. Although nickel prices decreased rapidly to under US$4 per pound, by the time the deal broke down it was clear that prices were rising again. Nickel prices reached over US$5 per pound, a 30% increase, by the time of BCL's sudden liquidation.
African Rainbow Minerals (ARM), owner of the other 50% of Nkomati, issued reports showing Nkomati's cash costs were at US$4.18 per pound while prices hovered over US$5 per pound. The latest annual report shows that shareholder support was no longer required and that Nkomati was in a positive cash position.
Refusal to negotiate
Sources suggested that the Botswana government were never interested in negotiating, and through its investment company Minerals Development Company Botswana (MDCB), the government pushed Norilsk to take legal action despite the Russian company previously showing no appetite for such a struggle. Rather than negotiate, the MDCB Chief Executive Officer Paul Smith is claimed to have convinced cabinet to liquidate BCL before Norilsk could pursue legal action.
Sources also suggested that Norilsk were willing to negotiate further and to reduce the price significantly.
Local complaints against Botswana government
The Botswana government also faced criticism from miners, who questioned the legitimacy of the mine closure and the reasons provided. Botswana Mine Workers Union (BMWU) said in January that it would do everything it could to ensure the ruling Botswana Democratic Party (BDP) lost in the upcoming by-election in Palapye.
BMWU Secretary General Mbiganyi Ramokate said that the decision to help opposition parties was a result of the provisional liquidation of BCL and Tati-Nickel in Selibe Phikwe which led to over 5,000 job losses among mine workers.
Ramokate claimed that some of the lies told were that the mine is deep and therefore dangerous and expensive to mine and that the resources were depleted. "We all know that the deepest shaft is 1,540 meter level as opposed to over 3,000 plus meter lever of other mines elsewhere and that the resource statement contradicts reports that the ore is depleted."
"Botswana and Phikwe residents were also told that Norilsk is owed over $270m, however, this is disputed by the same government that the company is not a creditor and has no right to enforce. It was said that the government has been pumping in money into the mine for 37 years; something which facts from BCL documents show is not true."
The BMWU were also disheartened by the government's dishonesty and claimed that miners were not paid since October 2016, despite the assertion that all workers had received their benefits before Christmas. The mine hospital was due to be kept open for another year, and the local school was to receive payments for the children's education, however neither of those promises has been kept.
There is also suspicion about the circumstances of liquidation. Ramotake added "the government refuses to talk about the $4 per Pound Recovery Plan for BCL prior to liquidation. Further and very profound, there is refusal to talk about BCL exploration projects; the company had discovered diamonds through its exploration ventures and there is secrecy and conspiracies about the future of these resources. There are reports that some people want to steal these diamonds".
Further legal action averted?
In December 2016 Norilsk Nickel (Norilsk Nickel Mauritius and Norilsk Nickel Africa) filed legal claims against BCL (BCL Limited and BCL Investments Proprietary Limited) in both the Botswana courts and the London Court of International Arbitration, in an attempt to recover US$271.3m, plus costs and damages.
BCL represents the largest copper and nickel producer in Botswana and the US$271.3m relates to unfulfilled payment for the agreed sale of Norilsk's 50% share of the Nkomati, (as well as its 85% stake in Tati Nickel Mine).
The affidavit submitted to the courts by Norilsk read: "In material breach of the share sale agreement, BCL failed to perform their obligations to purchase the shares.
"In September 2016, shortly before the liquidator's appointment, BCL sought to suggest in a short letter and without any proper basis, that they did not accept that the share sale had become unconditional and therefore refuted liability.
"It is the applicant's position that it cannot be sensibly argued that the share sale agreement did not become unconditional. As BCL well knows, the documents showing the fulfilment of the conditions are clear."
The immediate reaction from the Botswana government was to claim ignorance. Minerals deputy permanent secretary, Nchidzi Mmolawa told journalists that the government was unaware of the lawsuit.
"If anything, they would have served the provisional liquidator, who would then advise us," Mmolawa continued.
BCL provisional liquidator, Nigel Dixon-Warren serving creditors or government?
BCL's liquidator, global accounting firm KPMG's Nigel Dixon-Warren is listed as the respondent in the lawsuits. Dixon-Warren however is considered to be acting on behalf of the government and deliberately hindering Norilsk.
A statement from the Russian company expressed disappointment with his procedural game-playing and failure to deal with Norilsk's "uncontroversial, straightforward and indisputable" claims. "The position he has taken in relation to Norilsk's application was aggressive and wholly unnecessary, and has undoubtedly served to waste the resources of BCL, by incurring legal costs."
Norilsk further questioned the conduct of Dixon-Warren in their statement: "Dixon-Warren appears to have forgotten that his overriding duties as liquidator are to the creditors of BCL; he should be acting completely independent of Government.
"And as BCL's most significant creditor, Norilsk is obviously taking an active interest in all issues pertaining to BCL".
Subsequently Norilsk requested that Dixon-Warren be interdicted from selling any part of BCL unless he first obtained approval from Norilsk as the largest of the creditors. In response to Dixon-Warren's previous claim that Norilsk was not known as a creditor; "It is not a creditor at the moment because we have not received any claim yet. Once they submit it will be assessed," the Russian company also specified that their permission should be sought for any decision involving creditors and that they wish to claim costs against Dixon-Warren if he opposes the application.
Dixon-Warren was reluctant to speak on the matter. "I'll not say much on the Norilsk matter as it is still before court, but their actions meant I had to use my legal team more than I had intended to." However he did offer bleak news to creditors at that time: "Liquidation is complex in nature and may take longer than expected due to legal issues that may arise. I have dealt with cases here in Botswana which took close to 10 years."
After the Botswana government's stealth liquidation to avoid Norilsk Nickel being able to obtain their money through legal proceedings, plus the alleged impartiality of the liquidator Dixon-Warren of KPMG, 10 years would be a very long process to endure from Norilsk's point of view. The Russian company has already welcomed the interest from Emirates Investment House and now awaits the UAE based company's proposal to the BCL liquidators, due by the end of the month.
This post was created by a member of BuzzFeed Community, where anyone can post awesome lists and creations.
Learn more
or
post your buzz!
Looks like there are no comments yet.
Be the first to comment!