1.
A digital luggage scale if you're tired of sweating it out at the baggage check counter, hoping to avoid paying pesky overage fees for all those gifts you're hauling. This scale is super accurate so you can be confident in your under-50-pound pack-job.
You can also switch between pound and kilogram measurements. 
Promising review: "Works great, a must-have when flying. Very accurate scale. Easy to read with the light on it. It's a must if you have a wife like mine who loves to shop for clothes and fill up her suitcase along with mine, or if you want to stay under that 40 pounds and avoid paying the extra for overweight baggage fees. Easy to use, very accurate, well-made, and a nice design. Very pleased. Saved me money." —Amazon Customer
Get it from Amazon for $8.99+ (available in four colors).
2.
A freezable snack box with built-in cooling technology that you can load up with snacks to fuel your adventures knowing they'll stay cool and fresh all day long. Travel days are hard enough without spending any of it hunting down snacks just to avoid hangry meltdowns. 
Promising review: "This will carry four frozen breastmilk bags and keep them frozen six to eight hours, which is perfect for domestic airport travel or small outings. I like to bring a few extra bags with me on trips for a night out or if it will be hard to nurse somewhere. Awesome product and less bulky that other cooler bags." —Joshua
Get it from Amazon for $14.34+ (available in 10 colors and prints).
3.
A waterproof travel document holder because you're in charge of keeping track of everyone's passports and boarding passes, which is a lot easier to do when they're all organized in one, easy-to-access place. 

Promising review: "I took my kids on their first international trip, and this thing was a total lifesaver. It fits easily in a fanny pack or small purse for easy access, and it fit my whole family's passports, vaccine cards, boarding passes, and a pen with plenty of room for cash and cards if you decide to use it as a wallet for your trip. It made getting checked in a breeze and helped my family keep everything organized." —Kevin Garcia

Get it from Amazon for $9.99+ (available in seven colors). 
4.
A set of portable soap sheets so you and the fam can always guarantee access to cleansing hand soap, even in the most — How do I say this nicely? — ~neglected~ public restrooms. 
Promising review: "Love this product. Provides great suds as any handful of soap would. This is excellent for travel, especially in public bathrooms that don't always guarantee soap. Discreet and great for places where you might not want to touch the dispenser. A lot comes in one container. Gave some packets away to my family." —Kerry-Ann Archibald1
Get a six-pack (300 sheets total) from Amazon for $7.49+ (available in larger multipacks).
5.
A cooling memory foam seat cushion to make you and your aching back feel ~supported~ even on painfully long drives (or flights). 
The velour cover zips off for easy cleaning in the washing machine.
Promising review: "We enjoy traveling and spend several weeks on the road each year. I have lower back problems that require my getting cortisone shots for pain relief. For the last few weeks, I have also been having trouble sitting for more than a few minutes because of a pain in the area of my tailbone. I ordered this item for our last trip. I could not believe the difference it made! I was able to sit comfortably both driving and riding without any pain, and that made a huge difference in my enjoyment of the trip. When we got home I ordered a second one so I could leave one in the car and have one inside. I am recommending it to all my friends who need some relief." —Susan S. 
Get it from Amazon for $43.99 (also available in three colors). 
6.
A foldable 3-in-1 wireless charger for forgetful packers who always seem to leave behind at least one vital charging cord. With this all-in-one dock, you'll have everything you need to power your iPhone, Apple Watch, and AirPods for the duration of the holidays. 

This is only compatible with iPhones 12 and newer, AirPods 2 and 3 and AirPods Pro/Pro 2, Apple Watch Ultra/SE/8/7/6/5/4/3/2.
Promising review: "I absolutely hate having to worry about all the different cords I need for travel — iPhone, AirPods, watch. This is extremely convenient and saves me the hassle of having three different cords. Absolutely love this gadget!" —Blanca 
Get it from Amazon for $39.99+ (available in nine colors). 

7.
A versatile travel harness seat if you're nervous about showing up to your auntie's house for Christmas dinner only to find out they don't have a high chair for your tot. This adjustable harness rolls up tiny enough to stash in a bag and converts most any chair into a kid-friendly option for on-the-go feedings.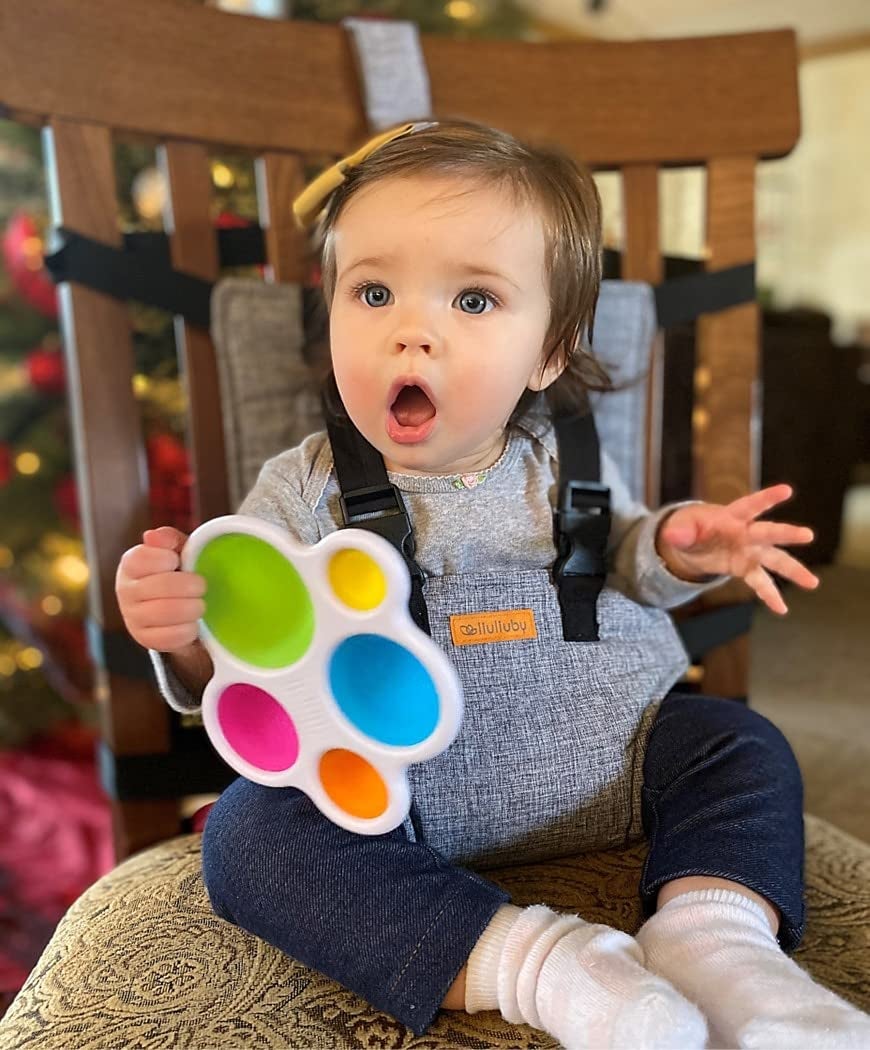 Liuliuby is a New York City-based small business founded by Mompreneur Mari Liu to reimagine everyday baby products after her own experiences as a new mother. 
This harness is designed for ages 6 months and up.
Promising review: "This thing was amazing! Ten stars — it fit every type of chair we encountered on our Kenyan vacation! Kept our toddler controlled and made feeding on the go so easy. Very lightweight and packable, a vacation must-have!" —Kireme1
Get it from Amazon for $29.99.
8.
A pair of reusable anti-nausea bands that may help soothe churning stomachs caused by long car rides and even pregnancy without copious amounts of Dramamine. 
For more info on how to use acupressure for nausea management, check out this guide from the Memorial Sloan Kettering Cancer Center. 
Promising review: "I have always suffered from motion sickness. My whole life I have hated long car rides, even short car rides. As soon as I get in the car and buckle in, I already feel the nausea. I bought these for a 16-hour roadtrip, and they worked 100%. I felt perfectly comfortable the whole way through. I could even watch movies and text on my phone and feel alright. My two daughters suffer from the same thing (ages 1 and 3) to the point where they couldn't keep any food down. The kids bands worked for them 100% of the time, too. 10/10 recommend. I'll be buying more for sure." —Veronica 

Get a pair from Amazon for $8.53.
9.
A Trtl neck pillow for actually supporting your neck while you try to catch some mid-flight z's. It's way less bulky than traditional travel pillows and will keep you from head bobbing onto your neighbor's shoulder.
Promising review: "I am a terrible flyer who recently took the red-eye from Dubai to Chicago (15 hours). The Trtl Pillow was a mini lifesaver! I was able to comfortably rest my head on the support and felt warm enough to actually doze off....a rare accomplishment for this skittish flyer. The Velcro works wonderfully with regards to adjustment, and I liked wrapping the fabric around my mouth and nose. Sort of felt cozy...even if I did look like a ninja in a neck brace! Overall, this product has changed the way that I fly, and I am so thankful for this invention and the opportunity to support a small company with big ideas." —S.Viruly
Get it from Amazon for $59.99 (available in four colors).
10.
Or, a memory foam travel pillow because it can be bent any which way to get you in a suitable sleeping position no matter what kind of trains, planes, and automobiles situation your travel plans entail.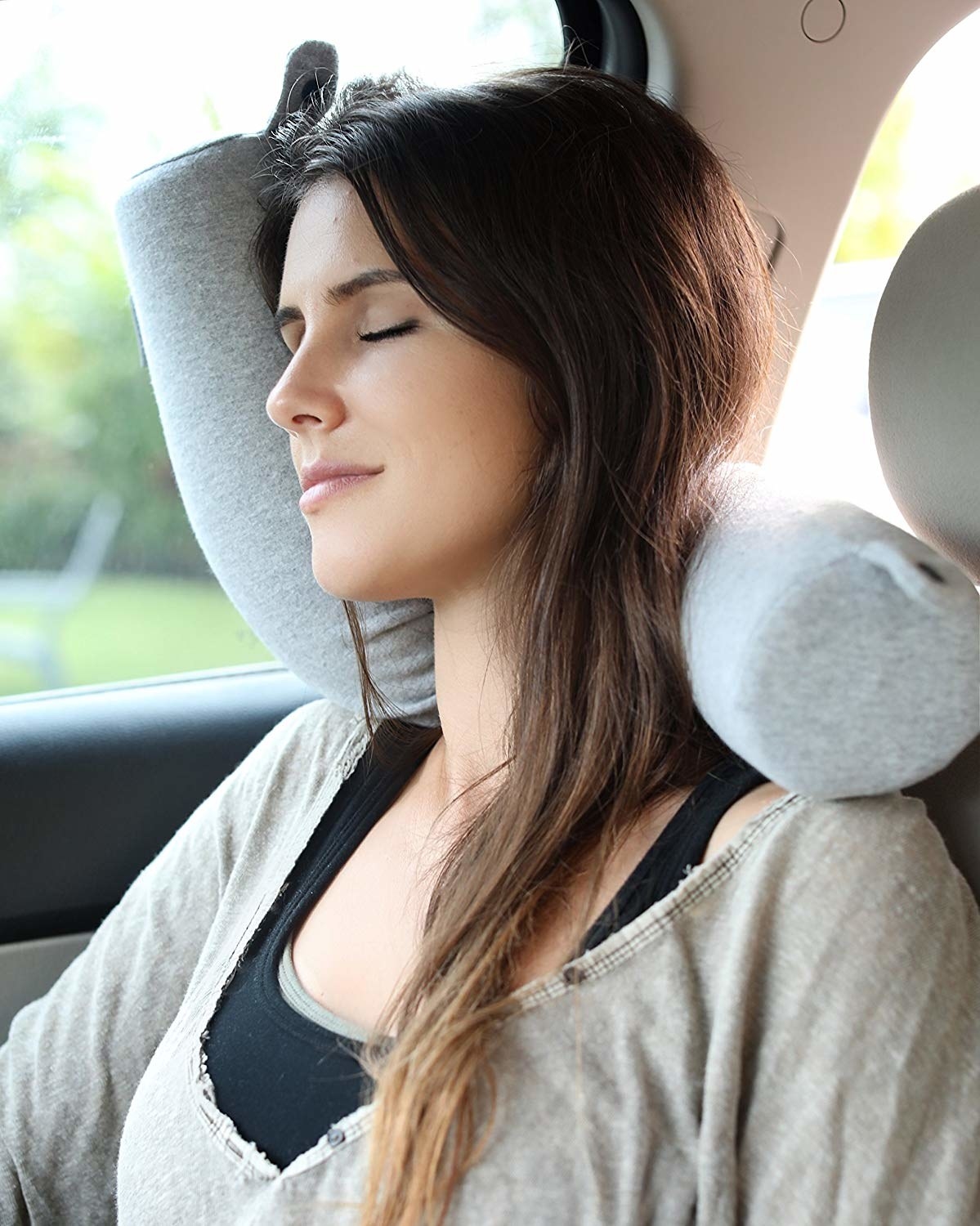 Promising review: "Love how soft and flexible this pillow is; my only complaint is that I didn't get more. I have two kids, and they fought constantly over it! It's very comfortable and easy to use. My favorite thing about it is that the cover is removable and washable. I always feel yucky after a flight and love that I can wash it!" —Amanda and Pam
Get it from Amazon for $24.99+ (available in six colors).

11.
A heavy-duty bag strap so you're not stuck wearing (or holding) the winter jacket that couldn't fit in your carry-on. This simple little add-on attaches to luggage, purses, or backpacks to free your hands of those travel essentials that are just too bulky for your bags. 

Promising review: "Seriously so useful for traveling. I bought this last year and used it on my two Europe trips — six different countries and lots of bus, train, and plane journeys and it made my life so much easier. I hooked it to my book bag and hooked my neck pillow, collapsible umbrella, and reusable water bottle to it. I even hooked my parka through it some. 110% recommend. It is super sturdy and I never had any issues with it even with me dragging it along with all the stuff hooked to it." —Logan
Get it from Amazon for $8.49+ (available in six colors and in packs of two). 
12.
A pair of backseat organizers with a clear tablet holder and tons of mesh pockets to give backseat passengers easy access to all the snacks, toys, and tech a successful holiday road trip requires.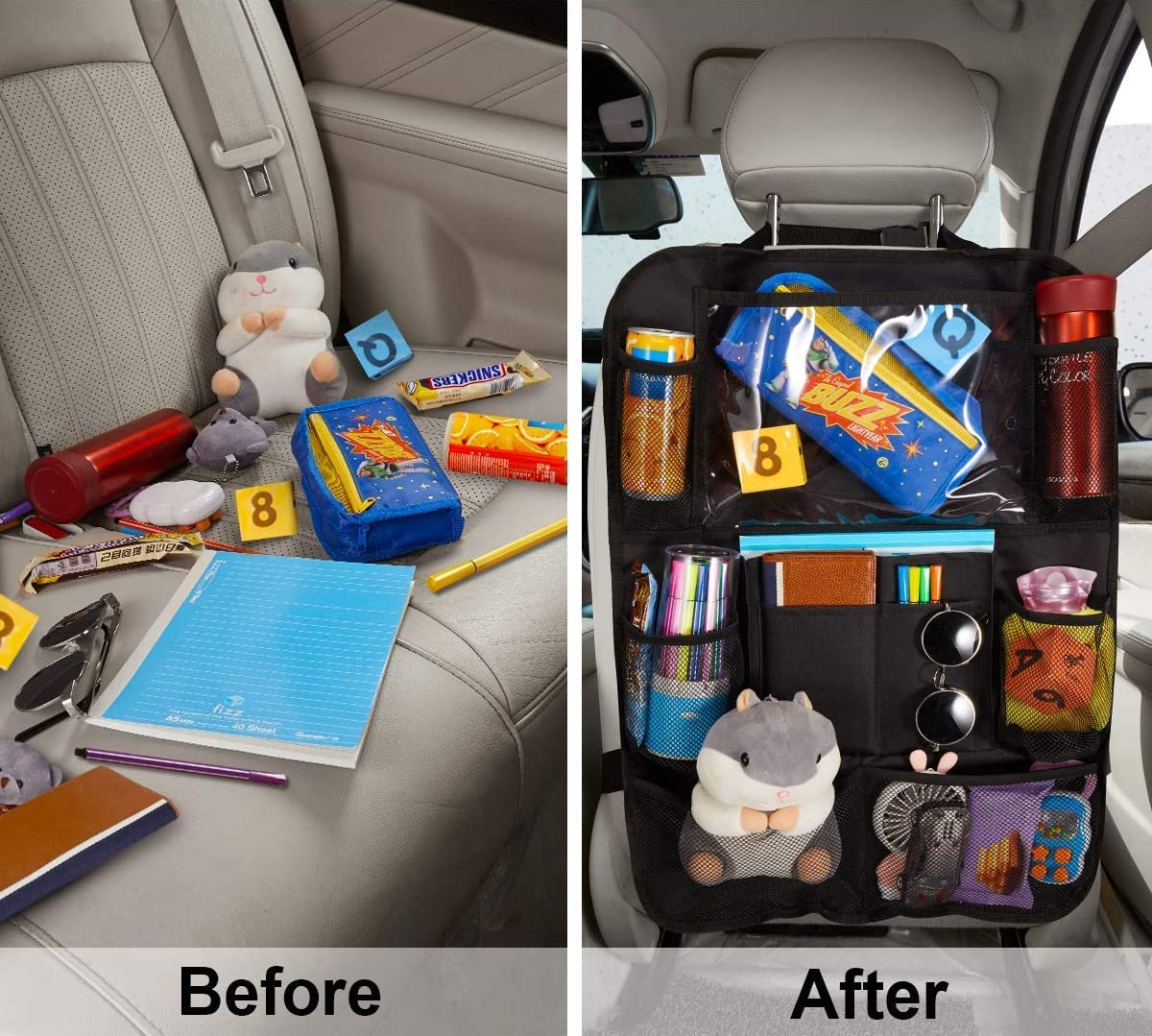 BuzzFeed editor Heather Braga is a big fan of this organizer: 
"I ordered this backseat organizer for our first road trip with my 1-year-old and it was the best backseat companion I could've hoped for. I loaded it up with toys, books, and his favorite snacks for our six hour drive and I'm so glad I did. It held everything/anything I needed and made it easy for me to see what my options were for keeping him entertained/soothed. I ended up keeping it in the car full time so we always have a book, toy, or wipes on-hand whenever we leave home. Definitely recommend it!" 
Get a pair from Amazon for $15.99. 
13.
Or, a universal Kindle Fire car headrest mount for keeping the kiddos fixated on something more fun than being trapped in a car for hours. Parents love this option because it easily mounts onto any headrest, so even babes in backward-facing car seats can enjoy their favorite flicks. 

Promising review: "My baby hates the car and I mean HATES the car. This has literally been a lifesaver. We use it for our Amazon tablet as well as our iPad, and it is very easily adjustable. We just took it with us on vacation because we couldn't live without it." —Cam Ray Jacobs

Get it from Amazon for $15.50 (also available as an iPad mount).