1.
A set of eight solar-powered jar lanterns filled with string lights that'll soak up sun during the day so it can glow dreamily for you at night.
2.
A fast-acting lawn repair formula because your dog's pee, playing, and digging have wreaked havoc on your yard. This easy-to-use combination of grass seeds, mulch, and soil amendment is specifically designed to repair pet-induced damage and get new grass growing ASAP. 

Promising review: "I used this in the spring to fill out our lawn more, and it worked great! I was worried because I feel like you always hear grass seed horror stories, but I just raked our lawn good, spread seeds all over, and watered it once (sometimes twice) per day and it filled the lawn in beautifully!" —Mariah
Get it from Amazon for $16.44+ (available in four sizes).
3.
A spacious inflatable pool so taking a dip no longer has to be a special occasion. Now every day can be a pool day! 
Promising review: "Very easy to unbox and get set up. I used an electric pump (not included) and followed the easy directions. Took me only about 10 minutes to get it inflated. Then it only took me maybe an hour to fill with a garden hose. I love the drain pipe underneath that is angled away from the pool so the water is directed out of the area. But I can see that it might not be good for the pool lining if someone stepped on it from inside the pool. So I was careful to let my kids know not to step in that corner. Overall, great quality, good size (fits three full-size floaties in it!), and my kids loved it." —K M
Get it from Amazon for $59.99+ (available in two sizes).
4.
A collapsible outdoor beer table to lend a hand and hold your beer (and snacks) when you've got more important things to do, like crushing this cornhole competition. 

Faircraft USA is a Mechanicsburg, Pennsylvania-based Etsy shop run by a husband-and-wife duo creating beautiful and functional wooden home goods. 
Promising review: "Purchased this as a gift for my brother to go with his corn hole boards. It is just as pictured. It seems like it'll be a little low to the ground for taller men standing around a corn hole board...but better than the beers sitting on the ground or in the off hand. Beautiful workmanship. Highly recommend this product and shop!" —Hayley
Get it from Faircraft USA on Etsy for $60. 
5.
A three-piece wicker chair and table set for creating an outdoor lounge space so stylish your indoor furniture might start to get jealous.
This set includes two armchairs with seat cushions and a side table with a tempered glass top.
Promising review: "I absolutely love this set 😍 I cannot believe the price of it. It shipped fast, and was fairly quick and easy to assemble. It's a hit; I get so many compliments by anyone who rings the doorbell." —Mrs.Mathews
Get it from Amazon for $99.99+ (available in five colors).
6.
A pair of magnetic grill lights if your grilling adventures often go late into the night. You're not about to let a silly thing like the sun get in the way of the best kabobs on the block.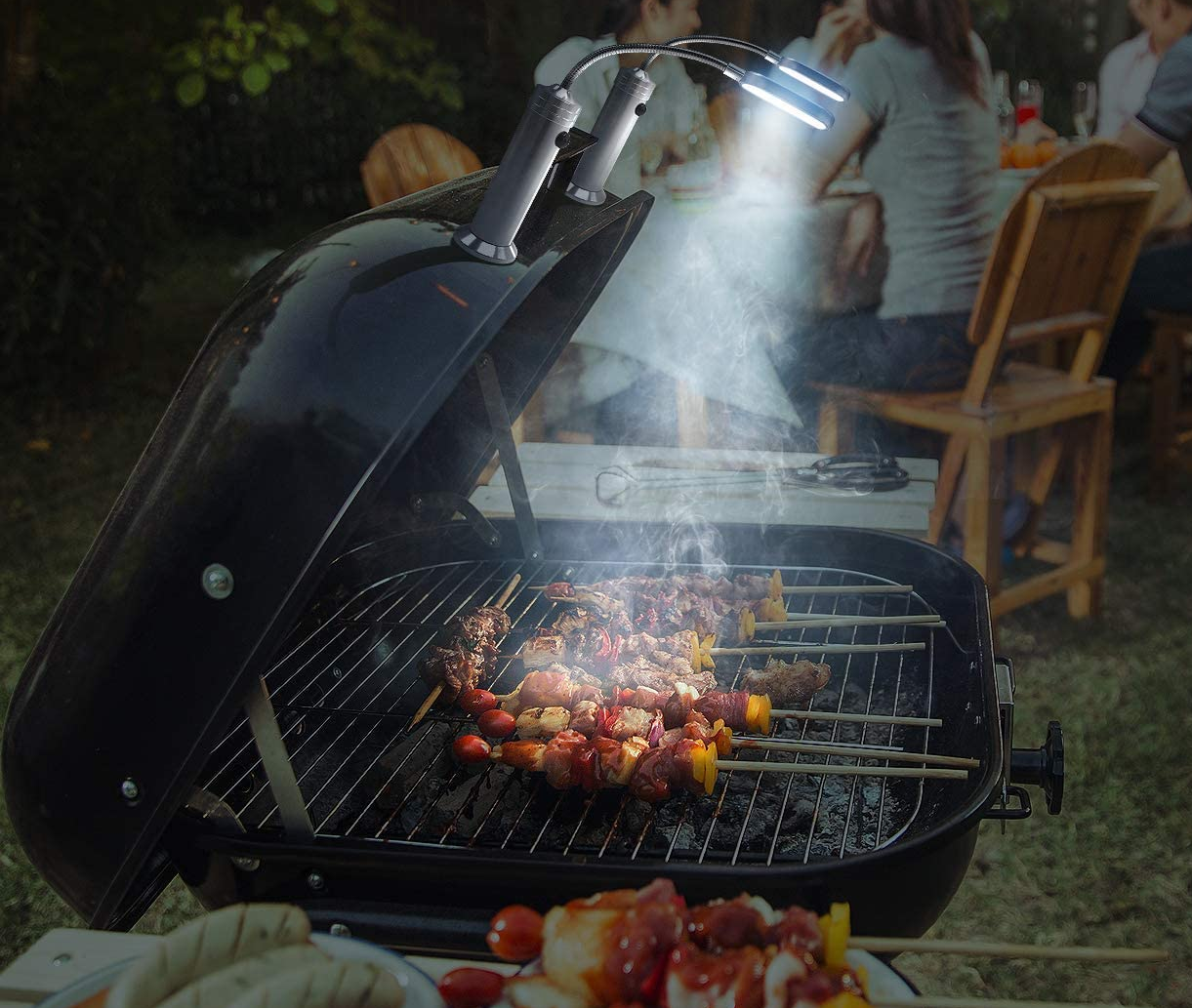 Promising review: "I used these for the first time the other night and they were exactly what I wanted. I often tend to grill after dark and I can't see what's on the grill, but not anymore. These light up the entire grill surface area perfectly. Would definitely buy again." —Flossie DeGrave

Get a pair from Amazon for $22.49. 
7.
These color-changing inflatable pool balls that'll instantly bring the party straight to your backyard, even if it's just you and your spouse hanging around on a Tuesday. Plus, imagine the photo ops!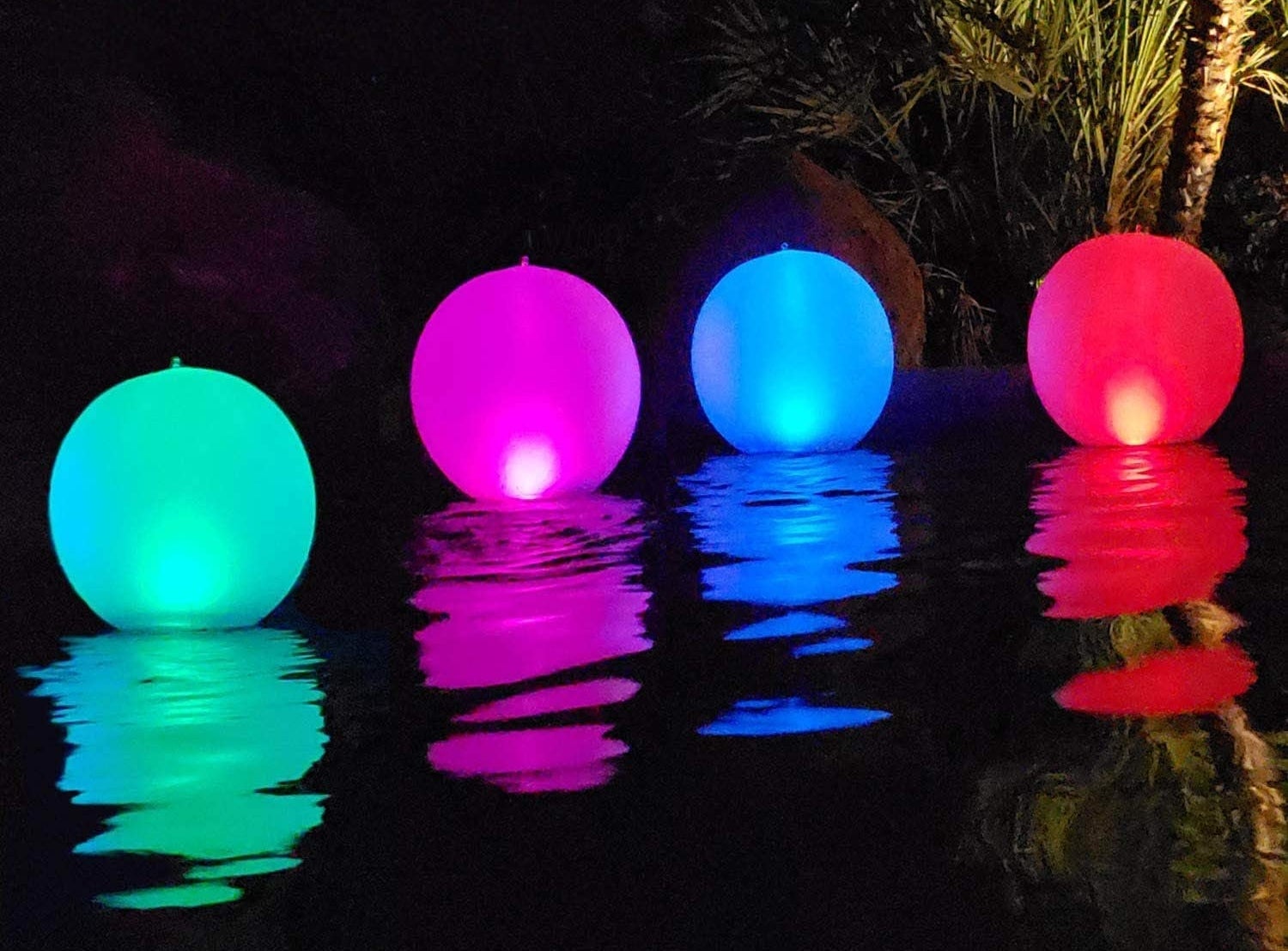 Each light cycles through red, blue, white, and green.
Promising review: "My pool is so old school and boring that I bought these to liven it up and what a difference!! My pool went from 'meh' to WOW! The balls are easily inflated by mouth like a beach ball. Once inflated, a few hours in the sun and they are charged and ready to go. They light up after dusk (it has to be rather dark). There is no manual way to power them on or off; they glow all night long. The changing colors are vibrant and very beautiful. They have a loop at the top if you would like to hang them. They would be magical hanging in a tree or from a pergola. I really liked how easy these were to fill and charge, and I like the solar power and the amazing color display. They make my inner child happy." —J. Matheson
Get a set of four from Amazon for $66.99. 
8.
An electric pressure washer because sometimes the only seasonal refresh your outdoor space needs is a powerful deep clean to wash all that built-up grime. Did you replace your patio furniture? No! You just cleaned it for the first time in forever.
This pressure washer has a powerful 1,800-watt motor, five quick-connect spray tips, a 20-foot hose, and a 40.6 fluid ounce detegrent tank.
Promising review: "This has been one of the best investments we as homeowners have made. This little guy gets the job done; countless things have been cleaned since we bought it three years ago. My favorite is our backyard pavers. The cord may not be long enough for some users depending on how big the space you are washing is, but for us it works just fine. Highly recommend!" —BSanchez
Get it from Amazon for $175.
9.
Connectable Edison bulb string lights so you can make your backyard look like a trendy beer garden and leave passersby wondering how they can get a reservation.
Promising review: "I have ordered four boxes of these light sets now. I love love love these lights. They are gorgeous. I plugged them in while in the package to make sure they all worked. Then I unscrewed all the bulbs to make it easy to hang. I hung them up all around my balcony using a staple gun. When I finished I screwed the light bulbs all in :) I would highly recommend these lights. They are PINTEREST perfect!" —Cora
Get it from Amazon for $11.86+ (available in three sizes and in eight colors).
10.
A flexible adjustable mister to help you keep cool whether you've got a full gardening itinerary planned or just want to lay out in the sun without overheating immediately. 
The mister will cool the surrounding area by 20 degrees, and it comes with an interchangeable flower-shaped misting head for a fun, whimsy detail.
Promising review: "Works exactly how I want it to. Provides a fine, cool mist on the patio, allowing us to enjoy the backyard until sunset without breaking a sweat. Easy to set up. It was out of the box and cooling us off within minutes." —Debra L. Kusek
Get it from Amazon for $30.89.
11.
A three-piece wicker rocking chair and table set with thick bottom and back cushions for comfortably rocking the hours away with a good book and a good drink in the great outdoors.
This charming set includes two rocking chairs with bottom and back cushions and a matching side table with a glass top.
Promising review: "Put this whole set together myself in about two hours — clear instructions and well-organized packaging of the different tools/pieces. I've bought a similar-looking (but cheaper) porch set in the past and was disappointed with the quality of the cushions — I was worried that this set would have the same problem, but I was wrong! The cushions are VERY comfy, and the chair is wide enough for me to comfortably sit crisscross! Absolutely worth the investment!!!" —Katie Swimer
Get it from Amazon for $89.99+ (available in three colors).
12.
An outdoor projection set including a 100-inch screen and a mini projector if it physically pains you to stay inside when the weather is nice. This projector is compatible with an array of streaming devices like your laptop, Fire TV Stick, and Roku so you can start binge-watching shows in your backyard.
The home projector includes multiple ports (HDMI, two USB ports, AV, and a 3.5mm headphone jack) for widespread device compatibility. It also has built-in speakers, but can easily be hooked up to other external speakers or a soundbar via Bluetooth.
Promising review: "Perfect for Halloween projections on windows for spooky decor. Always works great for regular watching shows and movies outdoors! The unit isn't that loud, but the Bluetooth connection makes it perfect for connecting to a Bluetooth speaker for louder volume." —ashley 
Get it from Amazon for $79.99.