1.
A hollow nipple-shaped penguin teether if you're looking for an easy way to stop your baby from endlessly chewing on their hand. Better yet, the unique handle design means it won't find its way to the dirty floor when they let go.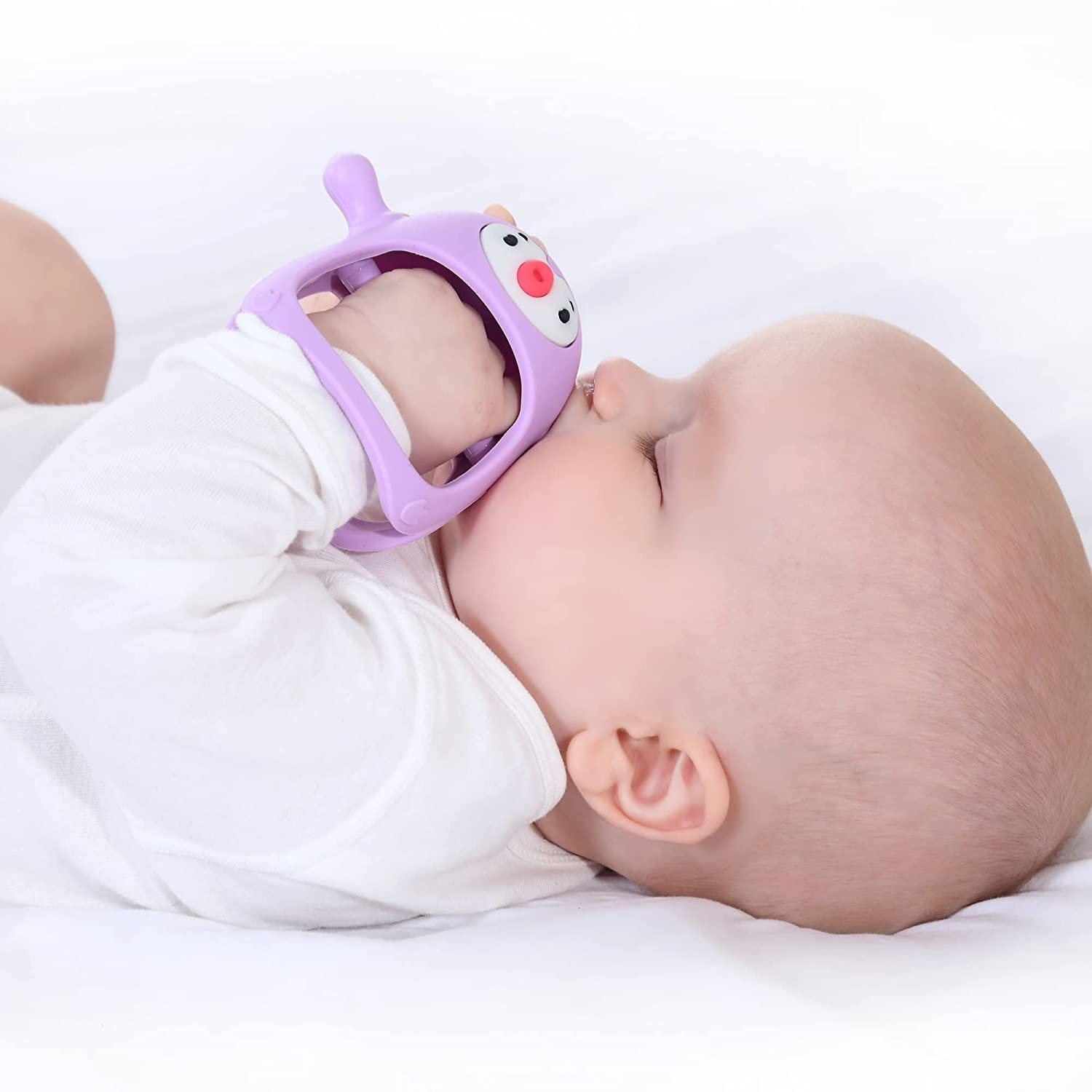 Promising review: "Thinking about this product??? FREAKING BUY IT! My baby started teething early and this is one of the only things she's able to hold and get to her mouth. She is obsessed and I am so happy she can can sooth herself! BUY IT BUY IT BUY IT! It's amazing easy to clean and great quality!!!." —Amazon Customer
Get it from Amazon for $9.99 (available in nine colors). 
2.
A set of starter spoons with a unique texture that holds on to foods better and soothes sore gums — so your little one will basically be feeding themselves in no time!
The set includes a stage one spoon and stage two spoon. The first stage spoon doubles as a teether, and is designed to introduce babies to holding utensils and exploring purees, as they soothe their sore gums. The second stage spoon is capable of holding more food and can even be loaded with solids for the child to grab and eat.
Note: The spoons don't have a stopper, so please supervise your babies to make sure they don't stick the spoon too far back in their mouth. Recommended for ages 6 months+.
Promising review: "Great skill-building utensil. My baby loves gnawing on these for teething just as much as he loves eating with them! I love that you can load the spoon and hand it to baby to feed themselves. My little one just turned 6 months and uses these spoons with wild success. A must-have for BLW or feeding, in general." —Christopher
Get a set from Amazon for $13.99+ (available in three colors and packs of two, four, or six spoons).
3.
A pack of sink extenders so your child can finally reach the faucet all by themselves! No more picking them up and awkwardly hovering over the sink while they take three years to wash their hands.
Promising review: "Must have for toddlers and small children! LOVE this! My 1- and 3-year-old love washing their hands now and my back gets a nice break. Adding the faucet extenders and a stepstool to our bed time/morning routine has been a godsend. Great bargain for the price." —TeaBea21
Get a two-pack from Amazon for $10.95.
4.
A bestselling Baby Einstein Take Along Tunes Musical Toy you'll be grabbing any time your baby needs some soothing music to calm them down. It features stimulating lights and 10 classical melodies to keep them entertained. Best of all? There's a volume control button!!!
Promising review: "I LOVE this thing! I bought it before my daughter was born because of high reviews. It's a reasonably priced toy and my daughter has been using it since birth. Whenever she's having a meltdown I break it out of the diaper bag and she's all better. :) I actually memorized the songs and order and they're pretty catchy. Not annoying and overbearing like other toys. I don't know what I would do without it!." —uhhdorkable
Promising review: "The best baby distractor EVER! Every person with a child must have this toy! I had about five tucked in various places in case one got lost. My son loved them from basically birth and sometimes it would distract him for hours of non-crying! (heaven for a new mother) Of course in the beginning you have to keep pushing the button for them but compared to swinging him in his car seat that was easy! Then we he got older he would spend entire car ides just playing with this one toy. I give it to everyone I know who has a baby." —NH-Mommy
Get it from Amazon for $9.49.
5.
A Fridababy three-step cradle cap system that's gloriously simple to use. Start with the foam sponge to lather up their noggin with gentle baby soap, then use the bristle brush to loosen those pesky flakes. Lastly, switch to the fine-tooth comb to lift away the flakes and breathe a sigh of relief.
Promising review: "My 6-week-old had bad cradle cap all of a sudden and this brush worked miracles. I wish I had it from birth. We have continued to use this brush even though the cradle cap has gone and it does wonders on the scalp and keeping the hair looking healthy. Highly highly recommend. Plus, my baby enjoys the gentle scalp massage from the soft bristles.." —LM01
Get it from Amazon for $13.49.
6.
An Itzy Ritzy adjustable stroller organizer so you can easily store your phone, sippy cup, sunscreen, and all your other necessities while you go out for a much-needed afternoon stroll.
Itzy Ritzy is a small biz owned by parents of three babes that specializes in creating safe, stylish parenting gear.

Promising review: "Love love love!! Use this every single day!! It has been so helpful, not to mention how gorgeous it is! We get so many compliments on it and matches her diaper bag! Would definitely recommend this to any of my moms!!" —shae Cox
Get it from Amazon for $23.04+ (available in seven styles).
7.
A spray bottle of SoCozy Curl Spray Leave-In Conditioner filled with keratin and olive oil to keep your little one's hair free of tangles and easy to manage. It's technically designed for kids, but many adults say it works perfect for restyling their own hair on busy mornings!

Check out a TikTok of the SoCozy Curl Spray in action. This is designed to work on all hair types, with reviewers with 2a–4c curls swearing by it! 
Promising review: "Amazing!! I had NO idea that my frizzy-haired little girl had beautiful curls. I went down an Instagram rabbit hole and saw a similar girl show how her frizz was curls. I ordered this!! My mind has been blown!! This has changed our lives. It smells so good! It is easy to use and air dry. Before my daughter woke up with terrible bed head that looked like this! Now it is gorgeous soft curls. We will definitely buy again and tell everyone about this product!!" —Amazon Customer
Get it from Amazon for $7.99.
8.
Or a coconut and shea butter moisturizing detangler with 12,000 5-star reviews that'll make stubborn tangles disappear with just a few spritzes.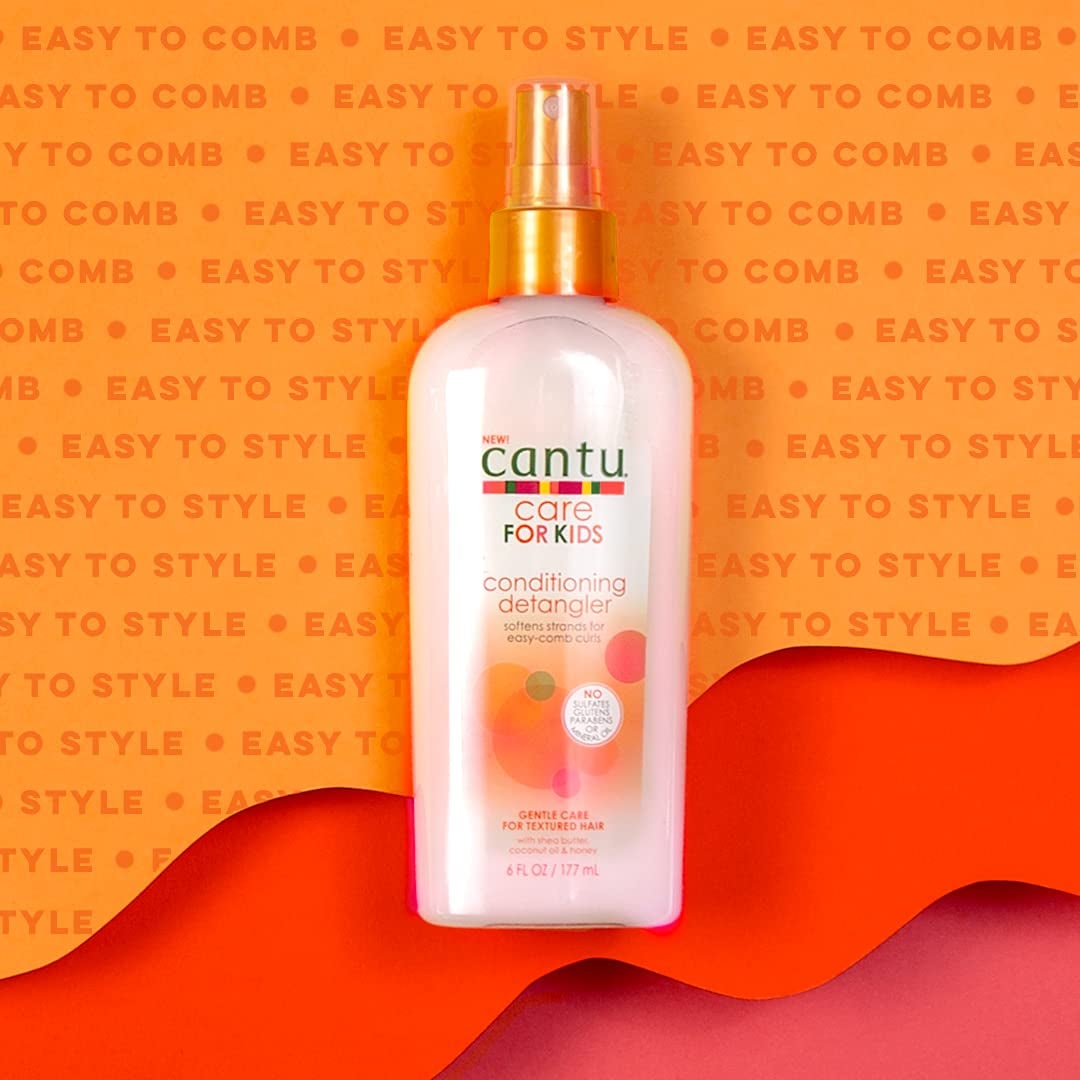 BTW, it's not just for kids, adults love it too.
Promising review: "All I can say is WOW!!!!! This is by far the best conditioning spray I have purchased. I have spent a lot of money on the expensive 'miracle detanglers' and 'miracle brushes,' coconut oils and hours combing out big knots in my daughters hair when this is all that's needed! Her hair is a disaster full of knots after the beach. I sprayed this on before going to the beach and it made all the difference in the world. Goes to show that the expensive stuff is NOT always the best. PLEASE DON'T EVER STOP MAKING THIS!!!!!" —G
Promising review: "Best detangler ever for our 4c hair! I bought this originally for my daughter who is starting to comb her own 4c hair. I knew from experience what an arm-breaking task it was. But she managed with no problems so I tried on my hair. Comb just glides through and leaves your hair so soft. Best of all, no sulfates, parabens, or phthalates! Love this product. Highly recommend." —Kindle Customer
Get a pack of three from Amazon for $13.47.
9.
A Philips Avent Soothie Snuggle, which is basically a pacifier with an adorable stuffed animal attached. It'll make the paci so much easier to find when your toddler eventually spits it out, and the stuffed animal easily detaches for quick cleaning!
Promising review: "A must-have. I love that the Soothie Snuggle can detach so I can throw the giraffe in the wash and sterilize the paci! Now if his paci comes out, I'm not wasting time looking for it and can easily pop it back in his mouth. Thank you!!" —Daryenne
Get it from Amazon for $14.95 (also available in five other animals).
10.
A pack of spill-proof Munchkin snack catchers so your toddler can have easy access to their Goldfish without accidentally spilling the bag all over the floor. It's also the perfect size for a cupholder, so it's great for on-the-go snacking.
Promising review: "My son is 20-months-old, and these are awesome! It gives him some independence and helps use fine motor skills and thinking to get his snacks which is great. But when he inevitably throws his snack, it doesn't go everywhere! I highly recommend!" —Stephanie
Promising review: "After having my 18-month-old crush her graham crackers in the bag and then toss it all up in the air covering herself and everyone and everything in graham cracker powder (including the interior of my car), I had enough. These cups are a godsend! They are the perfect size for her hand and she can't just yank the top off. She likes the independence they grant her and my husband likes not having to strip her car seat and have the car detailed over cracker crumbs." —Shawny
Get a pack of two from Amazon for $5.95 (available in two color combos and a pack of four).
11.
A TikTok-famous Tushbaby — it's basically the hip carrier and fanny pack hybrid you never knew you needed. The plush padding makes it a super comfortable seat for your baby and will help relieve any excess strain on your back. Plus, it has tons of storage pockets for bottles, snacks, and anything else you usually throw in your heavy diaper bag.
Tushbaby is a small biz run by three California mamas and specializes in products that bringing a little more ease to everyday parenting life.
Promising review: "I saw this on Shark Tank as I was sitting with a glass of wine in my hand and had just taken an Advil to relieve the kink in my back from caring my 25 lb. little one around — I bought it immediately! It's been great! Easy to use once you adjust it a few times for fit and comfort. Certainly much better on the back than the Mommy hip shelf. I use it daily as we go on walks, when she gets tired and wants to be be carried I can just sit her right on and go. Plus it's got handy storage pockets for the phone and snacks and doggie poops bags of our four-legged family member is with us. Highly recommended for those who have a toddler who wants to walk but not at the endurance level yet to make it the whole way!" —wildcatsarahj
Get it from Amazon for $84.99+ (available in two colors).
12.
A pack of brightly colored stacking cups that prove sometimes the cheapest toys are the most entertaining. Your baby will be endlessly entertained while developing their hand-eye coordination, and there are even large numbers on the bottom to help with number recognition.
Bonus: These have holes in the bottom for water play and come with a cute star ring to keep them together so they don't get lost during travel.
Promising review: "MVP in our toy collection!! Of all our toys, these stacking cups are the ones our 10-month-old reaches for first EVERY time. She is obsessed and has been since she was 4 months old! At first, the rims of the cups were easy for her to practice her grasp, but as time has gone on she has used them to bang together and, finally, to stack. They are easy to clean (I believe they are intended to be a bath toy, although we don't use them that way) and easy to throw in a diaper bag for on-the-go play. If we could only have one toy for her, this would be the one!" —Carmen Lewis
Get a pack of eight from Amazon for $4.99.
13.
A tube of maximum-strength Boudreaux's Butt Paste, which is a diaper bag must-have for all parents. If you need a quick fix to give your baby some relief from dreaded diaper rash, this gentle yet protective cream will do the trick thanks to the 40% Zinc Oxide.
Promising review: "The BEST BY FAR! Must have!!!! This is by far my favorite diaper cream! It works instantly for any almost any rash! My son has super sensitive skin and I can put it on before bed and by morning any rash he has ever had is gone or almost gone! Amazing stuff!!! I give it to all my first time mom friends! I HIGHLY recommend, I have tried it all!!!!!" —Amazon Customer
Get it from Amazon for $4.94 (available in two sizes and also in three-packs).
14.
A machine-washable Tiny Twinkle full-sleeved bib — because you spent way too much on baby clothes to have them covered in food stains. The full sleeves mean you'll spend way less time wiping them down when they accidentally fling their mushed peas all over the place.
Tiny Twinkle is a small biz based in Phoenix that creates high quality, safe products for babies, children, and parents. 

Promising review: "My kids hate wearing bibs and are the messiest eaters I've ever seen. I will do two loads of laundry a day because they get so dirty… But not anymore. This apron covers their little arms and all of their clothes so that I don't have to do the laundry after every single meal! And if it gets gross I pop it in the washer and it's good as new. I've ordered four of them! You need this, your friends need this." —Abigail Wood
Get it from Amazon for $9.99+ (available in 20 colors and in two sizes).