Spinach Artichoke Stuffed Shells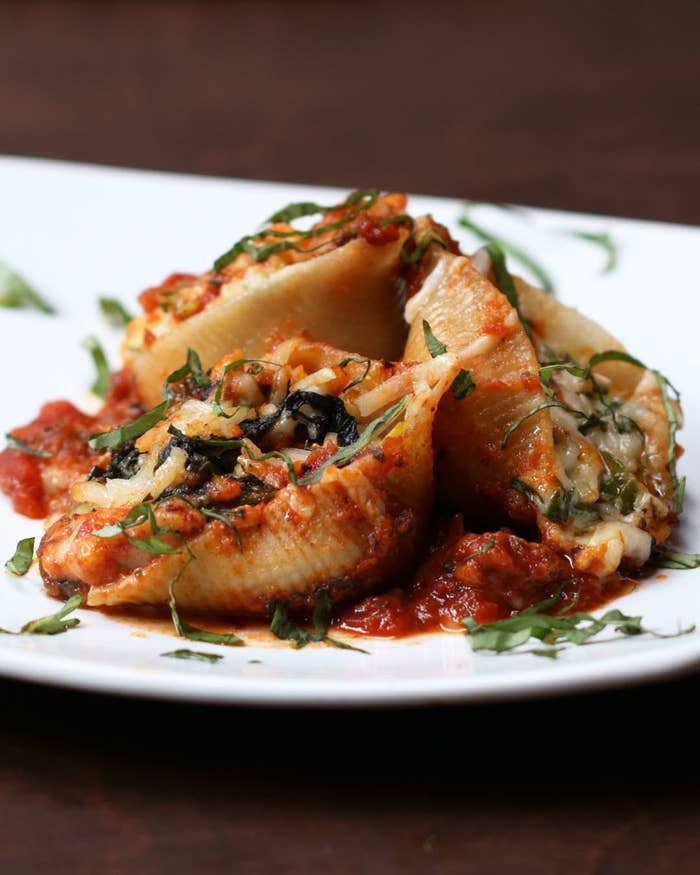 INGREDIENTS:
1 tablespoon olive oil
4 cloves minced garlic
12 ounces baby spinach (about 2 bags)
Salt and pepper
1 can (14 ounces) artichoke hearts, chopped (in water, drained)
2 cups Daiya Dairy-Free Mozzarella Style Shreds, divided
4 ounces Daiya Plain Cream Cheeze Style Spread
1 jar marinara sauce
1 box (16 ounces) gluten-free jumbo pasta shells
Fresh basil, garnish
PREPARATION:
1. Heat a large sauté pan over medium heat. Add the olive oil and garlic. Sauté until fragrant. Add the spinach and cook until wilted. Squeeze out some excess liquid. Season with salt and pepper.

2. Combine the chopped artichoke hearts, spinach mixture, 1½ cups Daiya Mozzarella Style Shreds and Daiya Plain Cream Cheeze Style Spread. Season with salt and pepper and stir to combine.

3. In a large pot of salted, boiling water, cook the shells according to package instructions. Drain.

4. Preheat oven to 375℉/190°C.

5. Pour a layer of marinara sauce in the bottom of a 9-inch x 13-inch baking dish. 

6. Stuff the cooked pasta shells with the filling and place in the baking dish.

7. Spoon some sauce over the top of the shells and top with remaining Daiya Mozzarella Style Shreds. 

8. Cover with foil and bake 15-20 minutes.

9. Garnish with chopped fresh basil.

10. Serve immediately.