Sour Cream Pasta With Herb Roasted Turkey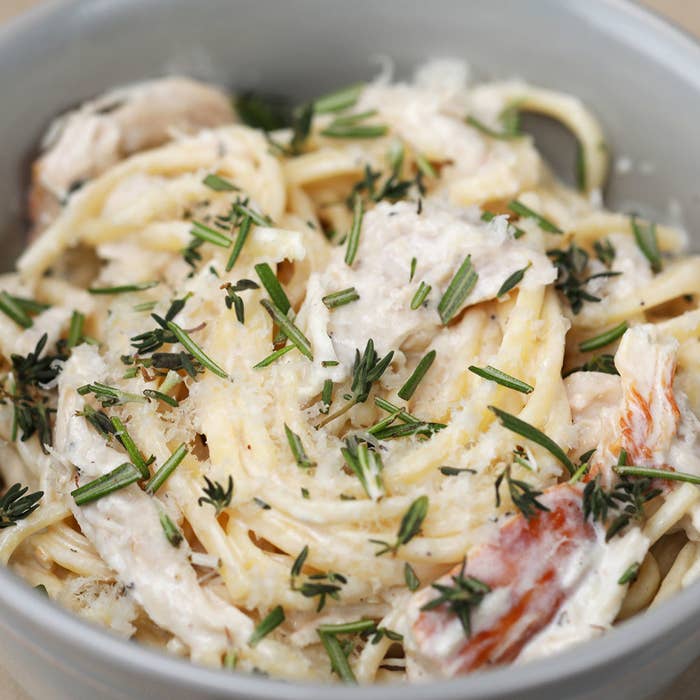 INGREDIENTS
Roasted Turkey
1 boneless turkey breast (about 2 pounds)
1 tablespoon olive oil
1½  teaspoons salt
½ teaspoon pepper
2 teaspoons minced rosemary
2 teaspoons minced thyme
Sauce
1 tablespoon olive oil
3 cloves garlic, minced
½ teaspoon rosemary
½ teaspoon thyme
1 cup milk
1 teaspoon salt
1 teaspoon pepper
1 cup Daisy sour cream
1 pound uncooked linguine
Fresh parmesan cheese, for garnish
PREPARATION
1. Preheat oven to 400ºF. Place turkey breast on a sheet tray and rub with the olive oil, salt, pepper, rosemary, thyme. Roast turkey for about 1 hour and 5 minutes, or until internal temperature reaches 165º. Remove from oven and let rest. 

2. After it's rested for 15–20 minutes, lightly shred it with two forks to produce large strands of turkey. 

3. In a saucepan, heat olive oil. Add garlic, rosemary, and thyme and let simmer for 2 minutes. Stir in milk and bring to a simmer. Let simmer for 2–3 minutes, then pour into pasta serving bowl. 

4. Bring a large pot of salted water to boil, then cook linguine according to package instructions. A couple minutes before the pasta is done, whisk sour cream into the milk sauce. Once pasta is done cooking, drain it and add it to the sauce, along with the turkey. Toss the pasta all together until completely coated in sauce. Garnish with grated parmesan and extra herbs.