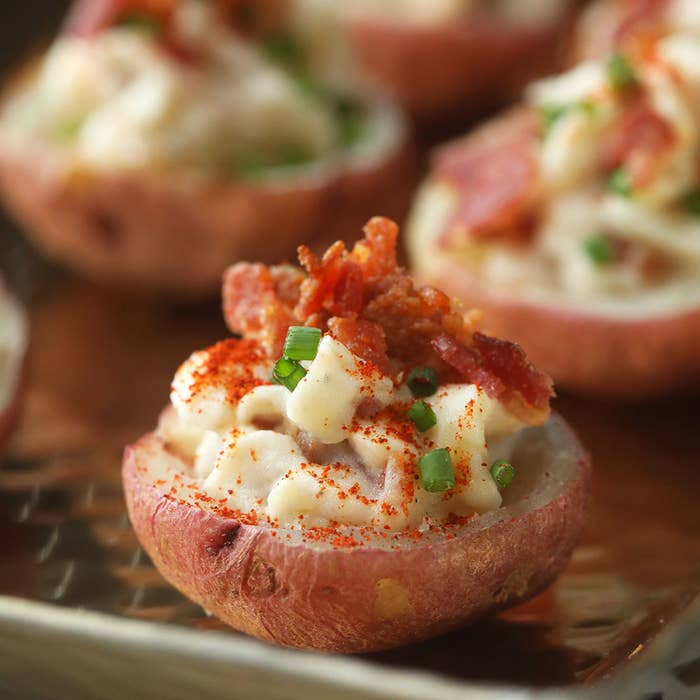 Loaded Mini Potatoes
Servings: 10–12
INGREDIENTS:
2 lbs small red potatoes

½ cup Daisy sour cream, plus extra for garnish

3 tablespoons olive oil

½ cup milk

1 teaspoon salt

½ teaspoon pepper

8 pieces of bacon, cooked and crumbled

2 teaspoons chopped chives, plus more for garnish

Paprika, for garnish

PREPARATION:
Preheat oven to 400ºF (200ºC).


Bake potatoes whole for about 30 minutes or until they are easily pierced with a fork. Remove from oven and cool. 


Cut potatoes in half and carefully scoop out most of the inner flesh, leaving a little bit around the skin, so that the potato forms a small bowl. Mash up the scooped-out flesh. 


Place the sour cream in a medium bowl. Mix in the milk, salt, and pepper until sour cream is smooth. Pour into the mashed potatoes and continue mashing. Mix in the crumbled bacon (reserving 2 tablespoons of bacon for garnish) and 2 teaspoons of chives.


Transfer mashed potatoes to a piping bag with a large star tip and pipe evenly into the potato skins.


Bake for 10 minutes. Let cool out of the oven for 5 minutes. 


Garnish with a dollop of Daisy sour cream, reserved bacon crumbles, extra chives and a sprinkle of paprika. 


Enjoy!