Creamy Turkey Enchiladas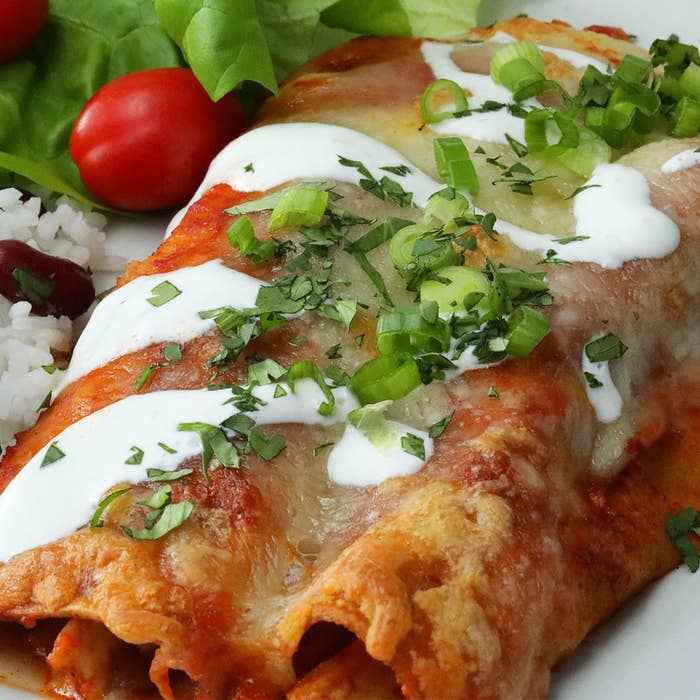 INGREDIENTS
Servings: 6–8
Enchiladas
3 cups cooked shredded turkey breast
¾ cup sour cream
½ teaspoon salt
1 (28 oz) can red enchilada sauce
9 corn tortillas
4 cups shredded Monterey Jack cheese
Chopped cilantro, for garnish
Sliced green onions, for garnish
Sour Cream Crema
½ cup sour cream
2 tablespoons lime juice
½ teaspoon salt
1 tablespoon water
PREPARATION
1. Preheat oven to 375ºF.

2. In a bowl, mix shredded turkey with the sour cream and salt. Stir well to coat turkey.

3. Coat the bottom of a 9 x 13 glass baking dish with a few spoonfuls of enchilada sauce. 

4. Begin rolling up enchiladas: Dip a tortilla in the enchilada sauce so that it is completely coated. Place a few spoonfuls of turkey in the center of the tortilla, then top with a small handful of shredded cheese. Roll up the tortilla and nestle it into the baking dish. Repeat with the rest of the tortillas until the baking dish is full of enchiladas. 

5. Spoon the remaining enchilada sauce onto the tortillas, then cover the tortillas with shredded cheese.

6. Bake enchiladas for 20–25 minutes, or until cheese is melted and bubbling.

7. While enchiladas are baking, make the sour cream crema. Whisk together sour cream, lime juice, salt, and water until smooth.

8. Once enchiladas are done baking, sprinkle with chopped cilantro, green onions, and drizzle with sour cream crema.