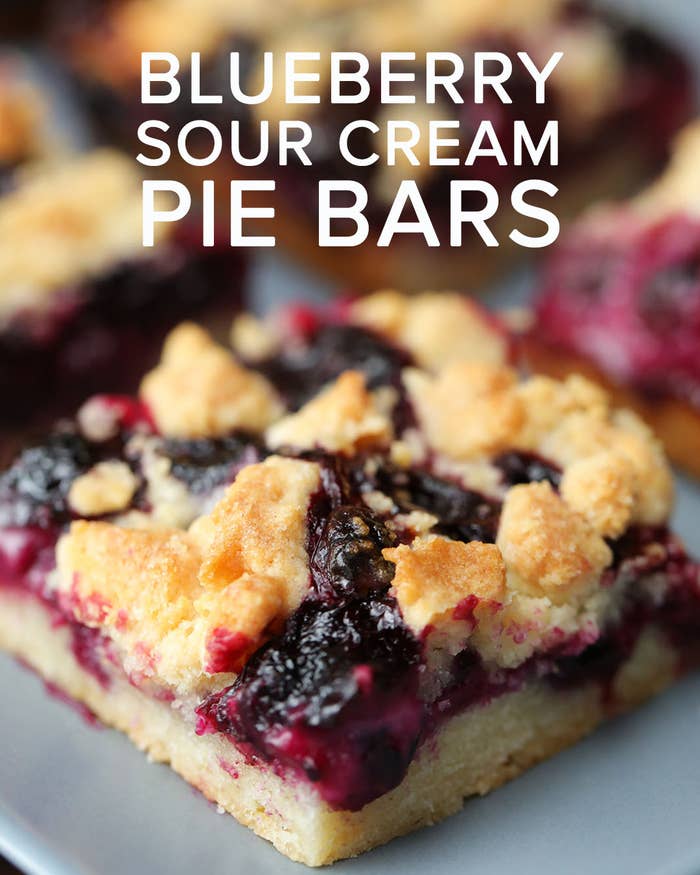 INGREDIENTS:
Crust:
¾ cup sugar

1½ cups all-purpose flour
Pinch of salt
½ cup unsalted butter, chilled and cut into small cubes
3 tablespoons water
Filling:
½ cup Daisy Sour Cream

⅓ cup sugar

1 tablespoon cornstarch

½ teaspoon salt

2 teaspoons vanilla extract

2 tablespoons lemon juice

2 cups blueberries

How You Make It:
1.Preheat oven to 350ºF (180ºC).

2.Crust: In a food processor, pulse together the sugar, flour, and salt. Add the butter and let the food processor run until the butter is completely crumbled. With the food processor still running, slowly pour in the water. Pulse a few more times. The dough should still be crumbly, but stick together when squeezed.

3.Prepare an 8-inch x 8-inch square pan. Spray with cooking spray and then line with parchment, so the excess parchment hangs over the two sides. 

4.Reserve ½ cup of pie crust. Press the rest of the crust down into the bottom of the pan evenly. 

5.To make the filling: Whisk together sour cream, sugar, lemon juice, cornstarch, vanilla, and salt. Lightly fold in the blueberries. Pour the mixture into the crust. Sprinkle the reserved pie crust on top of the blueberries. 

6.Bake for 40 minutes, then raise oven temperature to 400ºF (200°C) and bake for another 20 minutes. Remove from oven and let cool. Then refrigerate for 3-4 hours before slicing and serving.