These Dairy-Free Key Lime Coconut Bars Are A Must For Your Next Summer Gathering
When it comes to ingredients, less is always more.
by
,
Dairy-Free Key Lime Coconut Bars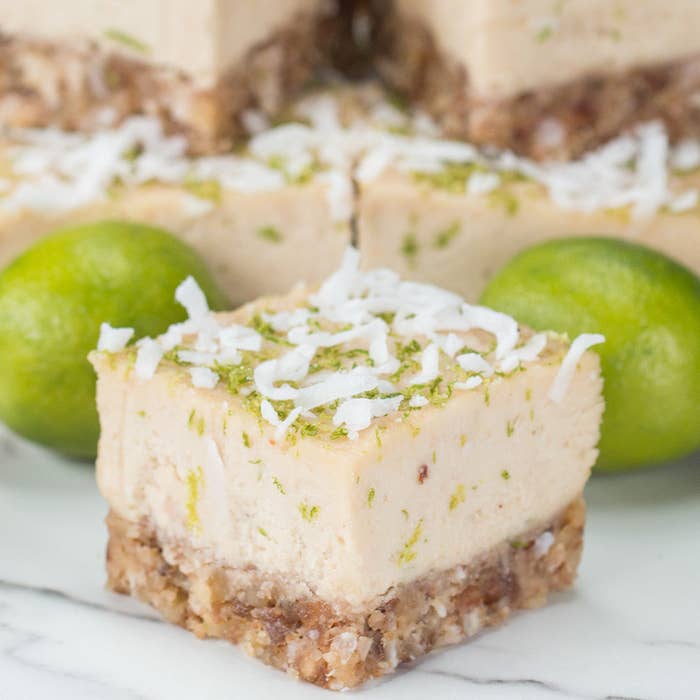 INGREDIENTS
Crust
1½ cup Walnuts
1 cup shredded coconut or coconut flakes
1 cup dates, pitted
1 teaspoon vanilla extract
Splash of water
Pinch of sea salt
Key Lime Layer
2¼ cups raw cashews
½ cup Key lime juice
¼ cup maple syrup
2 teaspoons vanilla extract
Lime zest
⅓ cup coconut oil
Shredded coconut or coconut flakes, for garnish
PREPARATION
1. The night before you intend to make your key lime bars, place cashews in a bowl of water and let soak overnight.
2. Add walnuts, coconut, dates, vanilla extract, water and salt to a food processor or blender and pulse until sticky mounds begin to form.
3. Press the crust into an 8x8 freezer-safe pan lined with parchment paper.
4. Drain the cashews well and add to the food processor. Blend until smooth.
5. Scrape down the sides of the processor and add lime juice, maple syrup, vanilla extract and lime zest.
6. Blend until smooth, adding the coconut oil half way.
7. Spread the mixture on top of your crust and garnish with more lime zest and coconut.
8. Cover with foil and freeze for 3 hours or until set.
Enjoy!