Chicken Taco Cups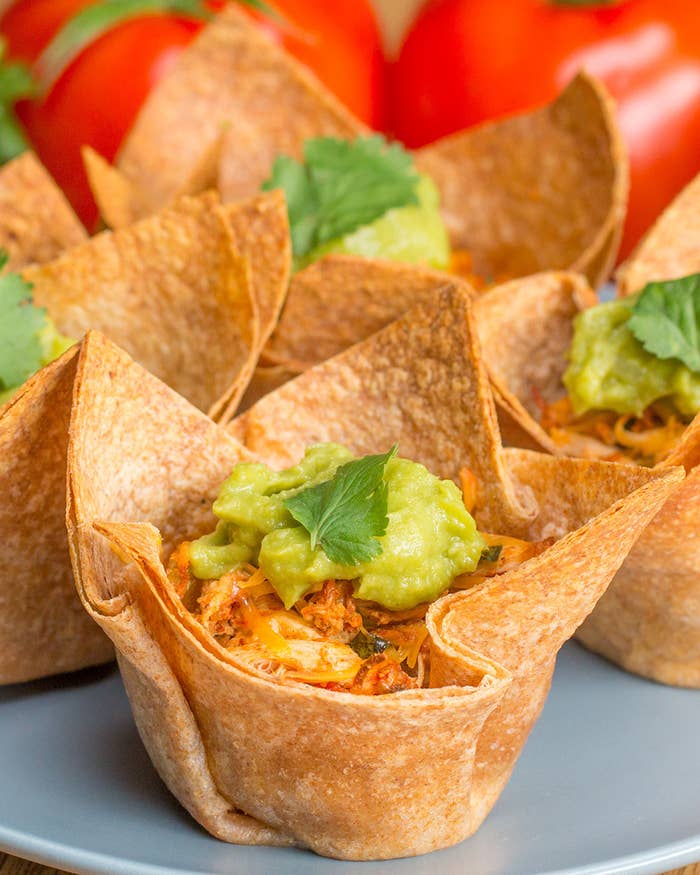 INGREDIENTS:
1 pound chicken, shredded
1 tablespoon chili powder
1 teaspoon garlic powder
1 teaspoon cumin
½ teaspoon oregano
¼ teaspoon salt
¼ teaspoon pepper
½ cup diced green chilies (1 4-ounce can)
1 cup diced tomatoes
¼ cup cilantro
12 whole grain tortillas
¼ cup shredded sharp cheddar cheese
1 tablespoon olive oil
½ avocado, mashed
PREPARATION:
1. Preheat oven to 350º F/180ºC.
2. In a large bowl, combine shredded chicken (we used rotisserie!), chili powder, garlic powder, cumin, oregano, salt, pepper, green chilies, tomatoes, and cilantro.
3. Cut whole grain tortillas into squares. (You can use the leftover bits to make chips!)
4. Lightly coat muffin tin with cooking spray or oil and line each cup with a tortilla square.
5. Scoop chicken mixture evenly into each cup. Top with a sprinkle of cheese.
6. Lightly brush top edges of tortillas with olive oil.
7. Bake 18-20 minutes or until cups are heated through and edges are golden brown.
8. Top with a dollop of avocado and garnish with leftover cilantro.
Enjoy!