Veggie-Packed Chicken Enchiladas For The Fam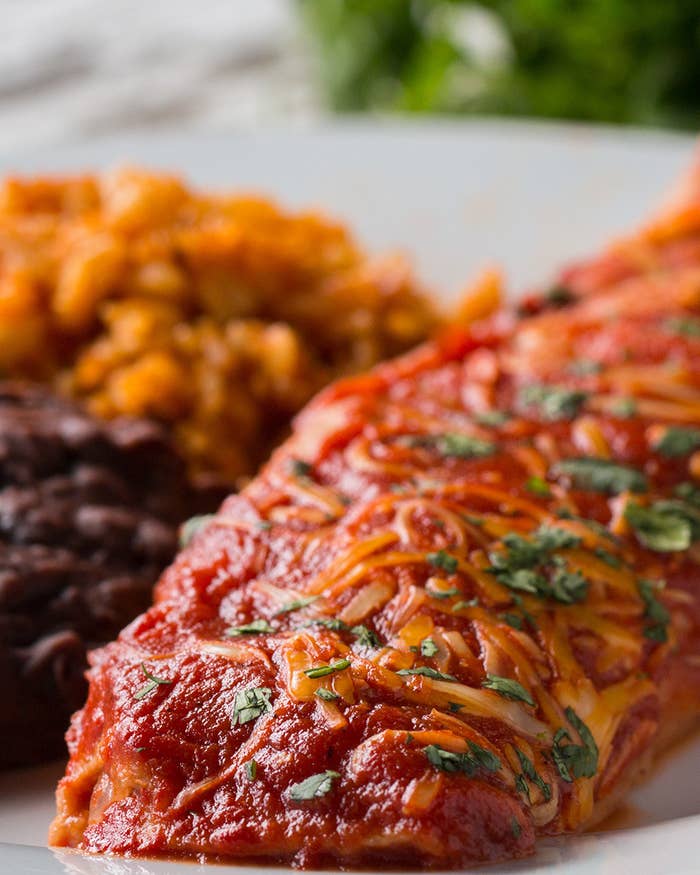 INGREDIENTS
2 cups tomato sauce
1 cup vegetable broth
Salt, to taste
Pepper, to taste
¼ teaspoon chile powder
¼ teaspoon cumin
¼ teaspoon garlic powder
2 medium zucchinis
½ red onion, diced
2 boneless, skinless chicken breasts, cooked and shredded
6 medium whole wheat tortillas
2 cups shredded cheese
Cilantro, to serve
PREPARATION:
1. Preheat oven to 400°F (200°C).
2. In a medium saucepan over medium heat, add the tomato sauce, vegetable broth, salt, pepper, chile powder, cumin and garlic powder.
3. Stir occasionally, until the sauce begins to boil. Remove from the heat.
4. Using a box grater, grate the zucchini.
5. In a large skillet over medium heat, add grated zucchini, red onion, salt and pepper. Cook until onions are translucent.
6. Add chicken and ¼ of the tomato sauce mixture. Combine well and remove from heat.
7. Fill the tortillas with the zucchini mixture and add cheese. Fold the tortillas over and place seam-side down into a greased baking dish. Repeat with remaining tortillas.
8. Pour the remaining tomato sauce over the tortillas and sprinkle with cheese.
9. Bake for 20 minutes, or until heated through and cheese is melted.
10. Top with cilantro. Enjoy!