One-Pot Cheesy Lemon Chicken Pasta
Cheesy goodness.
by
,
One-Pot Cheesy Lemon Chicken Pasta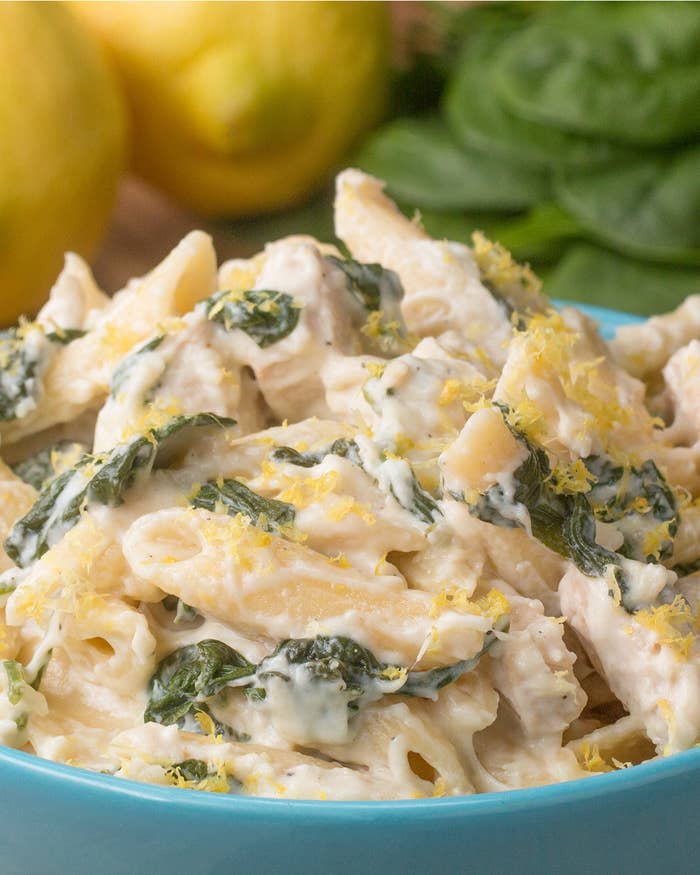 INGREDIENTS
Servings: 5
2 tablespoons olive oil
1 medium yellow onion, diced
1 pound chicken breast, cut into bite-sized pieces
Salt, to taste
Pepper, to taste
2 cloves garlic, minced
2 ½ cups uncooked penne
2 cups chicken broth
3 tablespoons lemon juice
3 full cups spinach
3 ounces cream cheese
½ cup shredded mozzarella cheese
½ cup Parmesan cheese
Zest from 1 lemon, for garnish
PREPARATION
1. In a large pan or skillet, heat olive oil over medium heat. Add onions and stir until soft.
2. Add chicken, season with salt and pepper, and cook until browned.
3. Stir in garlic and cook for an additional minute.
4. Add uncooked pasta, chicken broth. Stir and bring to a boil. Reduce heat to low, cover and simmer for 20 minutes.
5. Uncover, stir and cook an additional 5 minutes, or until all of the liquid has been absorbed by the pasta.
6. Turn off heat, stir in lemon juice, spinach, cream cheese, mozzarella cheese and Parmesan cheese. Stir until cheese has melted and spinach wilts.
7. Garnish with lemon zest and enjoy!