Lighter Cauliflower "Alfredo" Pasta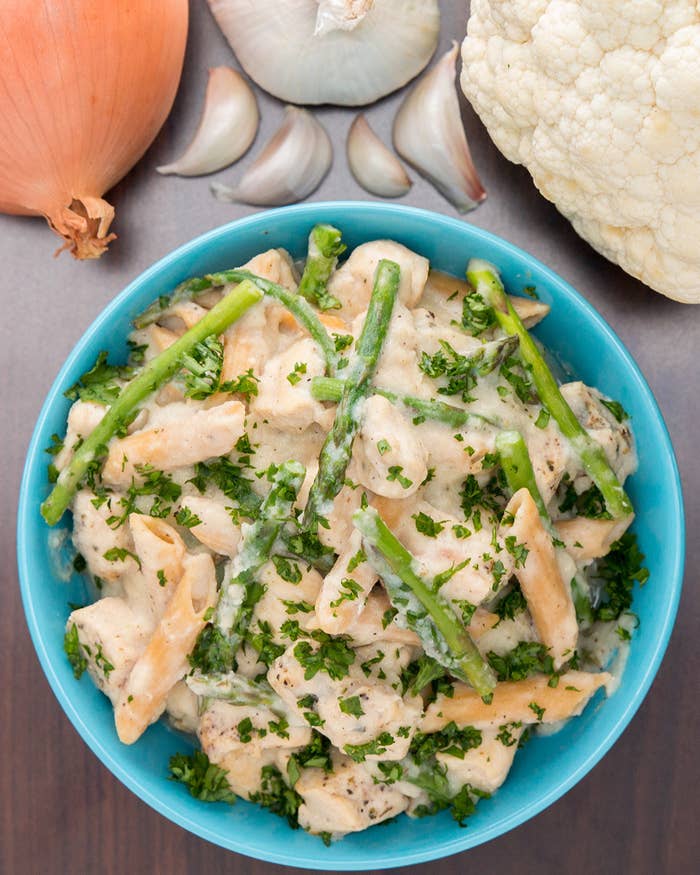 Here's what you'll need:
* Preferred cooking oil
* ½ large white onion, diced
* 3 cloves garlic, minced
* 4 cups vegetable broth
* 3 cups water
* 1 large head cauliflower, broken into florets
* 1 cup unsweetened almond milk
* 1 cup parmesan
* ½ teaspoon salt
* ½ teaspoon pepper
* 2 boneless, skinless chicken breasts, diced
* Dried oregano, to taste
* 1 cup asparagus, chopped
* 2 cups cooked penne pasta
* Parsley, for garnish
Here's what you'll do:
1. In a large pot, add vegetable broth, water, and cauliflower florets. Boil until cauliflower is tender.
2. While the cauliflower is boiling, sauté onion and garlic until fragrant. Set aside.
3. Drain the cauliflower, reserving 1 cup of the liquid for the next step.
4. In a food processor or blender, add cauliflower, reserved cooking liquid, almond milk, parmesan, sautéed onion and garlic, salt and pepper to taste. Blend until smooth. (Depending on the size of your blender, you may need to do this in batches.)
5. In a large skillet, heat cooking oil over medium-high heat. Add chicken, salt, pepper, and oregano to taste. Cook until chicken is no longer pink and remove from the skillet. Set aside.
6. Add asparagus to the skillet and cook.
7. Once asparagus has reached your desired doneness, add cooked pasta, the cooked chicken, and the cauliflower sauce. Combine well and heat through.
8. Serve topped with fresh parsley and enjoy!