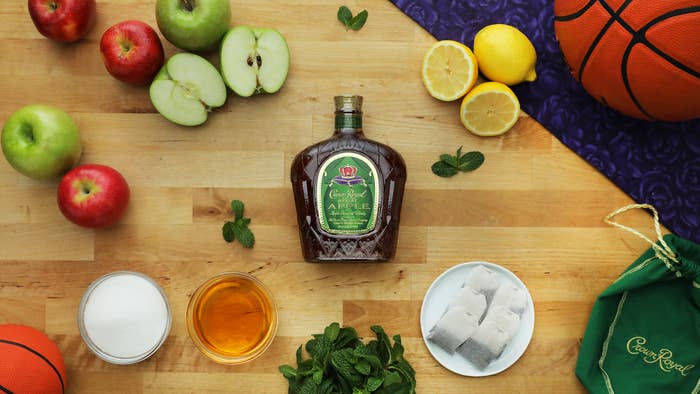 Ingredients
6 black tea bags
7 cups boiling water
3⁄4 cup apple juice
3⁄4 cup sugar
2 apples, chopped
1 & 1⁄4 cups Crown Royal Apple
1 apple, sliced, plus more for garnish
1 lemon, sliced
Handful of mint sprigs
Preparation
1. Steep black tea bags in boiling water for 10 minutes. Remove tea bags and cool tea completely.
2. Combine apple juice, sugar, and chopped apples in a small pot. Bring to a simmer, stirring occasionally to dissolve sugar, for 7–10 minutes or until apples are softened. Once apples are soft, turn off heat and use a fork or potato masher to lightly crush the apples. Cool syrup, then strain.
3. Pour cooled tea, apple syrup, and Crown Royal Apple into a pitcher. Stir. Add apple slices, lemon slices, and a few mint sprigs.
4. To serve: Pour sweet tea over ice in tall glasses. Add a few apple slices and mint sprigs to each glass for garnish.