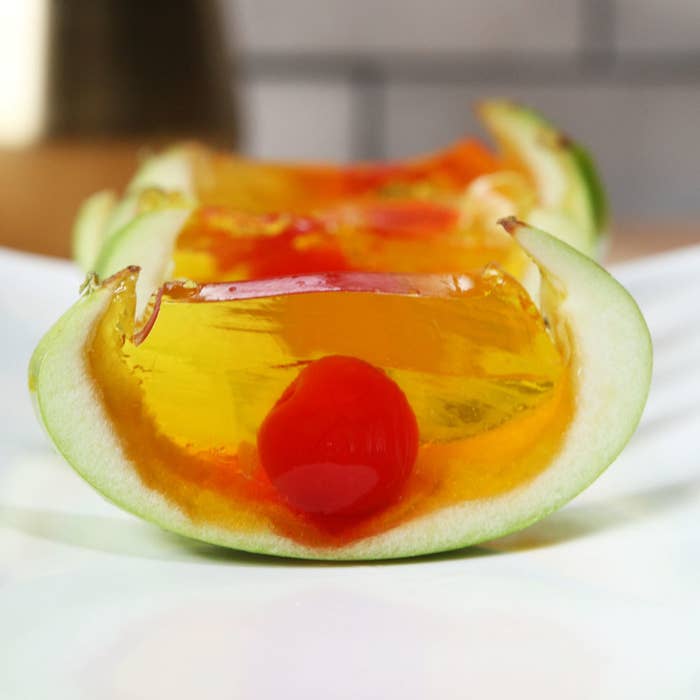 Servings: 12 servings - 4 slices per serving

INGREDIENTS
6 apples
4 cups boiling water
12 ounces lemon gelatin
2 cups Crown Royal Green Apple
2 cups cold water
Maraschino cherries for garnish
PREPARATION

Cut apples in half and core out innards, being sure not to poke any holes through the apple. Set cut apples in lemon water so halves do not brown.

Boil 4 cups of water.

Pour boiling water over lemon gelatin and mix.

Add 2 cups cold water and Crown Royal Regal Apple, mix.

Pour mixture into apple cups; use a muffin tin to stabilize the apples.

Drop maraschino cherries into full apples.

Chill for at least 4 hours.

Cut apples into four slices and serve.

Enjoy responsibly! Note: There will be some leftover jello mix.

Spiced Rum and Ginger Beer Punch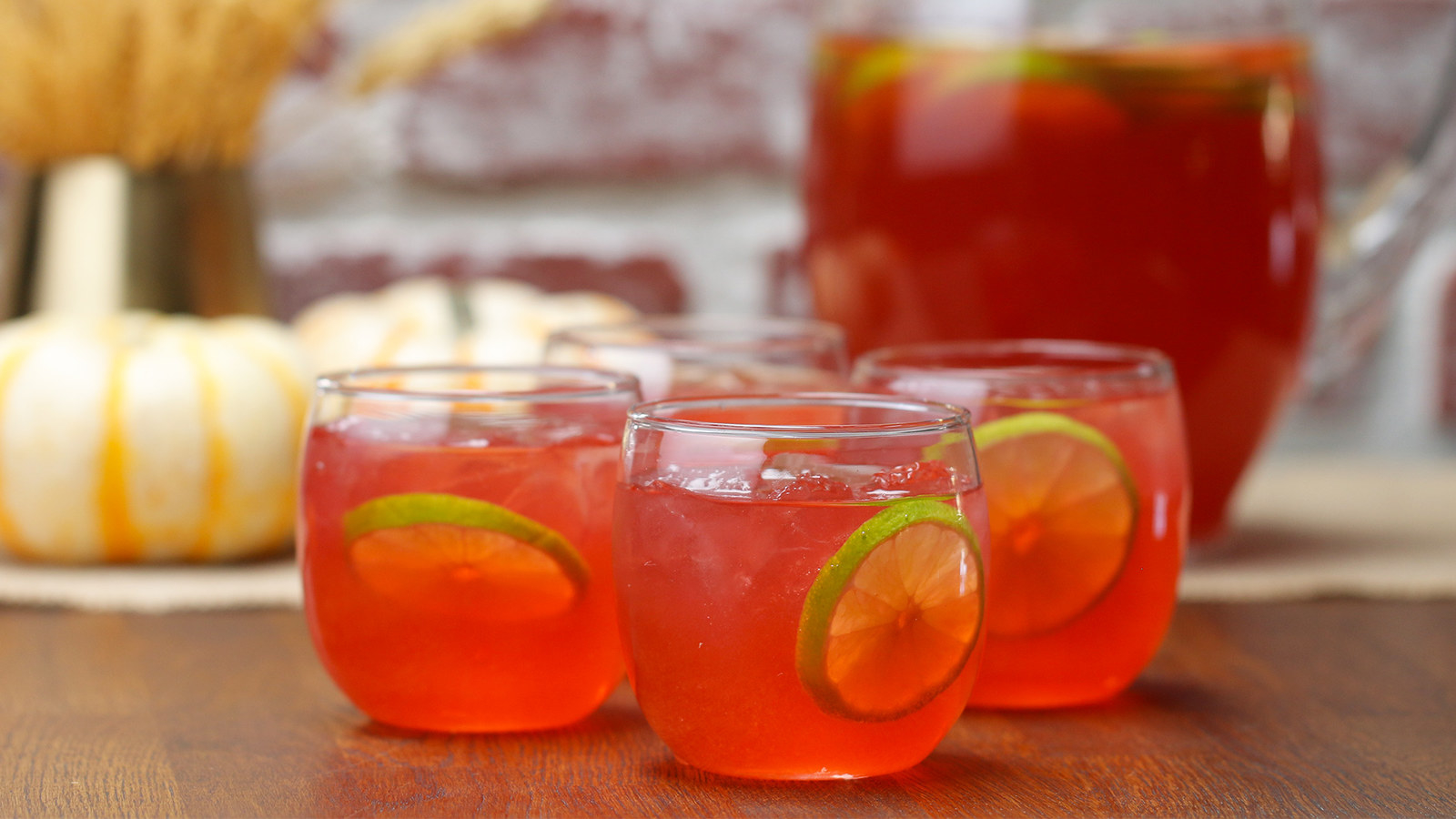 Servings: 8

INGREDIENTS
Simple Syrup
1 cup water
⅓ cup white sugar
¾ cup fresh raspberries
3 large limes (juice only)
1½ ounces Captain Morgan Original Spiced Rum
Cocktail
4 limes, sliced into rounds
4 ½ cups ounces ginger beer (preferably one that is not too sweet)
1¾ cups Captain Morgan Original Spiced Rum
Ice
PREPARATION

Combine all simple syrup ingredients in a saucepan over medium heat and stir until sugar is dissolved. Bring to a boil and turn the heat down to medium-low. Cook for 5 minutes.

Remove the syrup from heat and strain. Refrigerate for 1 hour to cool.

In a pitcher, combine 3 sliced limes, the chilled syrup, Captain Morgan Original Spiced Rum, ginger beer, and ice. Stir. (Optional- muddle the limes slightly before adding liquid ingredients).

Serve over ice in glasses garnished with a lime wheel.

Enjoy!
Slow Cooker Spiced Apple Cider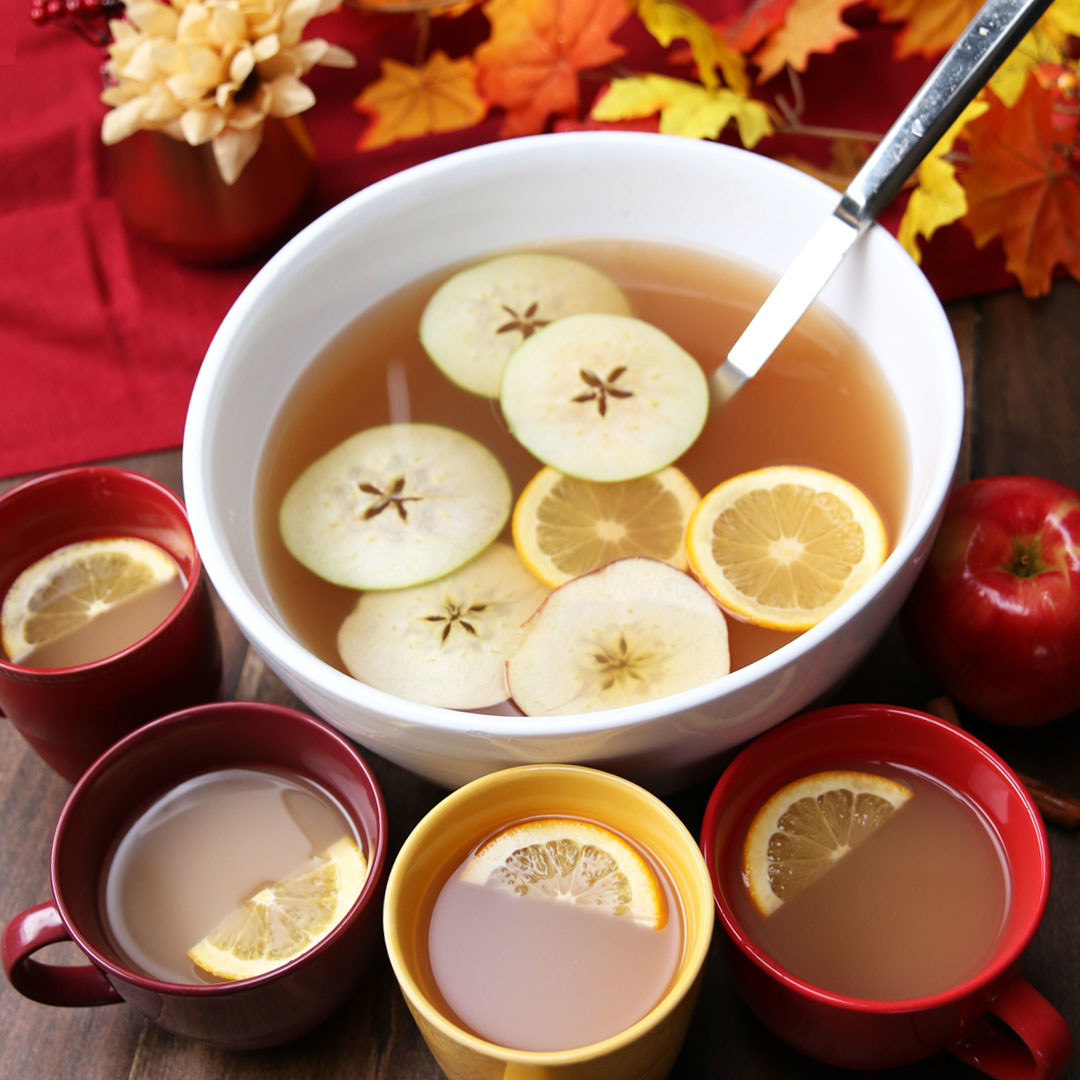 Servings: 8
INGREDIENTS
10 Apples, assorted
1 orange
14 cups water
1 teaspoon cloves
1 whole nutmeg
½ teaspoon allspice
3 cinnamon sticks
½ cup brown sugar
¼ cup maple syrup
10 ounces Smirnoff Green Apple

PREPARATION

Quarter apples and orange and place in slow cooker.

Pour water in slow cooker.

Place cinnamon sticks, cloves, nutmeg, and allspice in apple mixture.

Cover and set slow cooker to high for 3 hours.

After 3 hours, mash the apple mixture in the slow cooker.

Add brown sugar and maple syrup.

Cook on high for 1 additional hour.

Strain apples into serving bowl.

Add Smirnoff Green Apple.

Serve and enjoy!

Slow Cooker Chicken Fajitas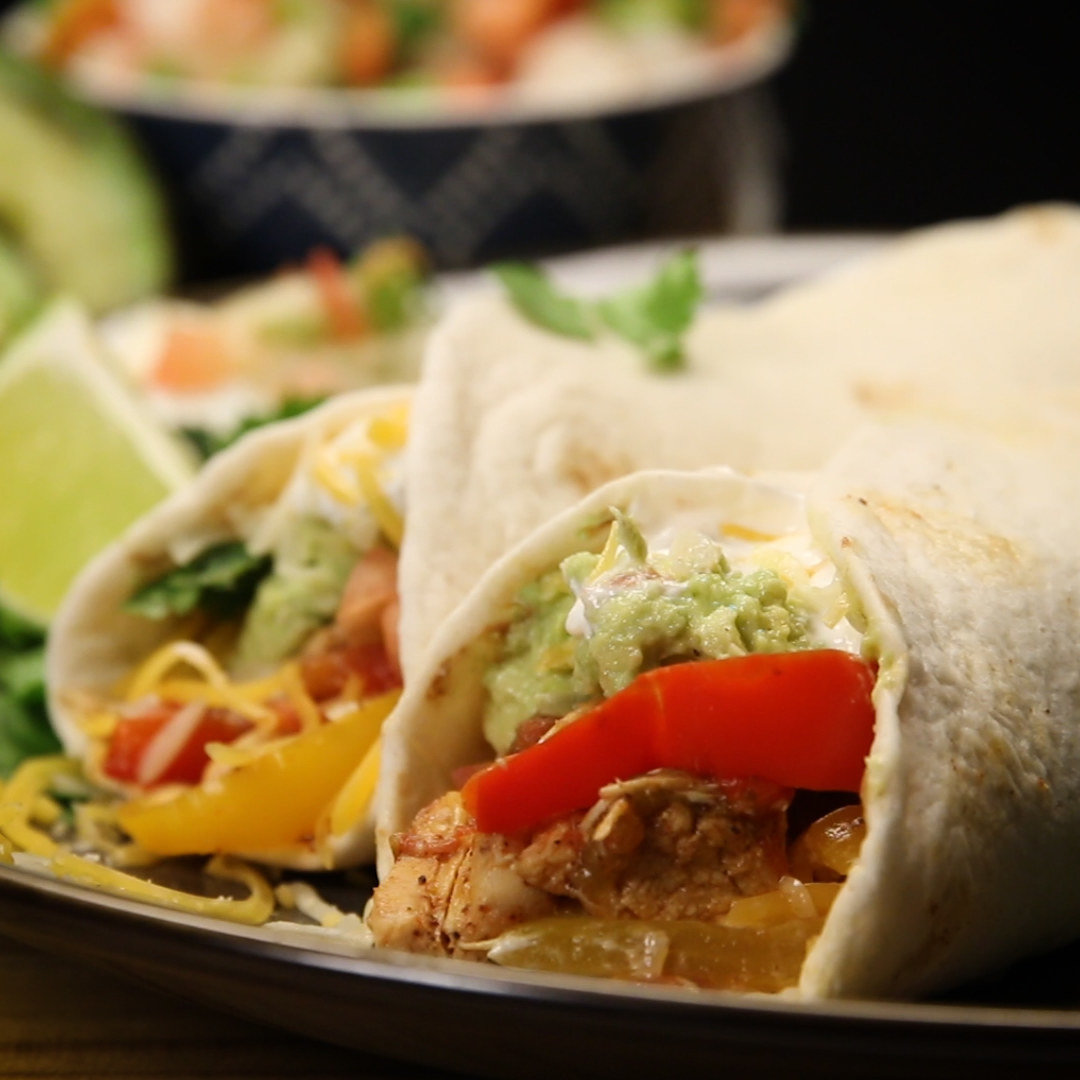 Servings: 10
INGREDIENTS
1 Red Bell Pepper / sliced
1 Yellow Bell Pepper / sliced
1 Green Bell Pepper / sliced
1 Yellow Onion / sliced
2 lbs Boneless Skinless Chicken Breasts / cut in half
2 Tbsp. Taco Seasoning*
4 Cloves Garlic / diced
1 Lime
1 10 oz Can Diced Tomatoes With Green Chiles / drained

For serving: (optional)
Flour Tortillas
Cheese
Sour Cream
Guacamole

*To make your own Taco Seasoning at home: (or use pre-made taco seasoning mix)
1 Tbsp. Chili Powder
1/2 tsp Garlic Powder
1/2 tsp Onion Powder
1/4 tsp Cayenne Pepper
1/3 tsp Oregano
1/2 tsp Paprika
1 1/2 tsp Ground Cumin
1 tsp Salt
1 tsp Black Pepper
1 tsp Corn Starch


PREPARATION
Add half of the sliced peppers and onions to your slow cooker.
Next, layer the chicken and coat all sides with taco seasoning.
Top with garlic, tomatoes (be sure to drain) and the juice from one lime.

Add the remaining peppers and onions, cover, and cook on HIGH for 3-4 hours.
Remove chicken and cut/shred into slices (chicken left longer will tend to shred more - cook to your preference).
Return the sliced chicken to the slow cooker to marinate in the juices for about 10 more minutes (on LOW) until ready to serve.
If you find that there is too much liquid, you can remove till there is a desired amount before serving.
Assemble Fajitas to your liking - we recommend topping with cheese, sour cream, and guacamole!
Enjoy!
Loaded Sweet Potato Skins

INGREDIENTS
4 sweet potatoes
1 Tbsp. olive oil
1/4 cup whole milk
Salt to taste
Pepper to taste
1/2 cup shredded mozzarella
1/2 cup shredded cheddar
4 strips bacon, cooked until crispy, and crumbled
Sour cream and chopped chives for serving

PREPARATION
Pierce each sweet potato a few times and bake at 400˚F / 200˚C for 50 minutes or until soft. Let potatoes cool, then cut in half lengthwise.

Scoop out potato flesh leaving a thin layer of sweet potato inside, and add flesh to a medium bowl. Place skins back on baking sheet, drizzle with olive oil and bake at 400˚F / 200˚C for 10 minutes.

Mash sweet potato flesh with milk, salt, and pepper until smooth and creamy. Remove sweet potato skins from oven, fill each with an equal amount of potato mixture and top with cheese. Bake at 400˚F / 200˚C for 15 minutes until the cheese is melted.

Remove skins from oven and top with crumbled bacon. Serve with sour cream and chives.

Enjoy!
Pull-Apart Garlic Rolls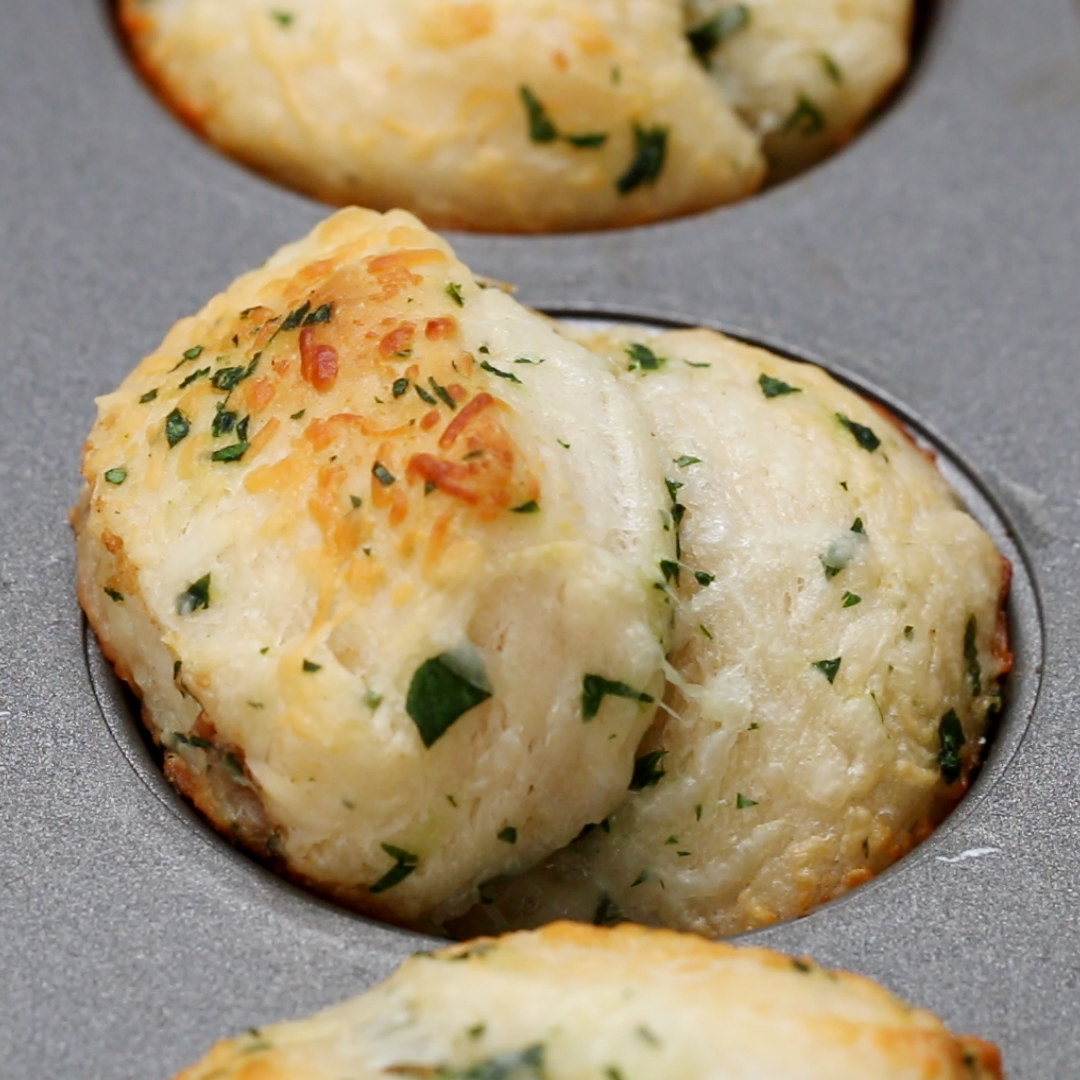 Preheat oven to 375°F / 190°C

INGREDIENTS
1 tube refrigerated biscuits
3 Tbsp. butter, melted
½ tsp garlic powder
2 Tbsp. fresh parsley, minced
1 cup shredded mozzarella

PREPARATION

Cut biscuits into fourths, and place in a large mixing bowl.
Add the butter, garlic powder, parsley, and mozzarella, and mix with your hands, coating all of the biscuit pieces.
Place the pieces in a muffin tin, three pieces per tin (you'll have two extra — just use them in whichever tin you want).
Bake for 15 minutes.
Best served fresh out of the oven!