The Weather Is So Bad In Newfoundland That Police Arrested A Weatherman
Don't ever change, Newfoundland.
The weather in Newfoundland has been total crap this July. Day after day, local CBC weather guy Ryan Snoddon brings news of clouds, rain, and sadness.
This guy checked his weather app and fainted from confusion.
WTF kind of July fog is this?
And what does "taste of humidity" even mean, Ryan Snoddon?
Earlier in the month, Snoddon tried to put a brave face on the low temps. "Two weeks ago, I wrote a column that said that we shouldn't give up on July just yet," he wrote recently. "There were a few recent examples of previous Julys which had started slow yet still finished nicely.
But now he's now given in to the inevitable:
Well, here we are, two weeks later, two chilly weekends have gone by, and July of 2015 is slowly and steadily inching closer to becoming one for the record books …for all the wrong reasons.
This year's shiteous mess of cool temps and cloudy nothingness is causing people to bundle up at the beach. Won't somebody think of the children?
But this is Newfoundland, so people are having fun with the whole depressing thing — and with Snoddon.
The CBC is also embracing the awfulness. It asked people to come up with new names for July.
It ran a contest that asked people to describe the summer in one word. Winners got this snazzy Snoddon T-shirt.
But now things have taken a serious turn. The Royal Newfoundland Constabulary issued an official media release for a "Missing Season — SUMMER."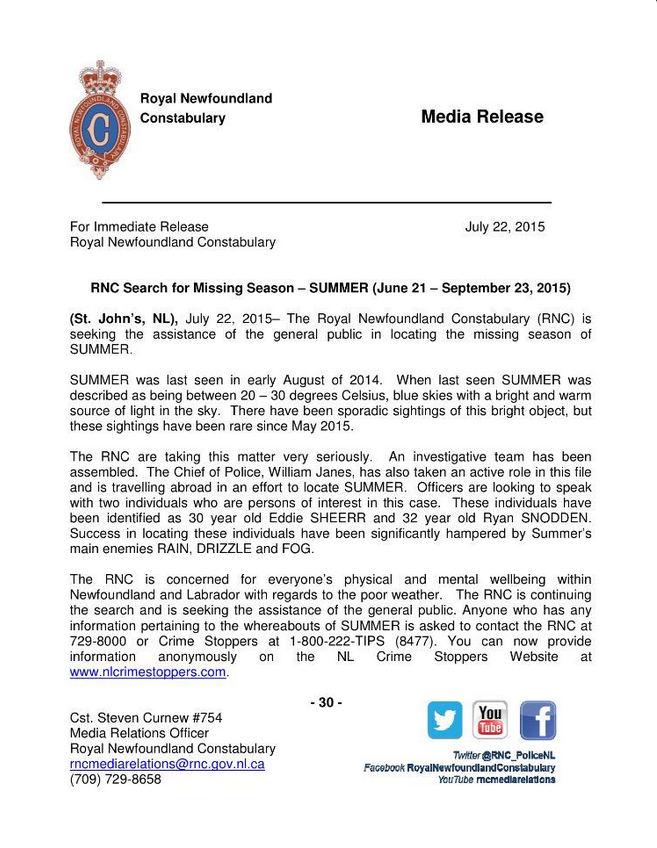 Roughly 45 minutes after issuing the release, Snoddon was taken away for crimes against Newfoundland weather.
The RNC then said they are going after the other weatherman of interest.
Snoddon remains in custody at this time.
As for the weather? It still sucks.
Newfoundland: where the weather is shit but the people are amazing.