1.
A weather-resistant Adirondack chair if you want to relax outside without a care in the world. It has an ergonomic back and wide armrests so you'll be comfy while enjoying the crisp fall breeze.
Promising review: "It took me about 25 minutes to assemble, I will admit I was a little overwhelmed at first, but luckily the instructions were very clear and easy to follow. The finished product was well worth it. The wood look finish is even prettier in person. It has somewhat of a gloss to it but not too much; it looks gorgeous when the sun is beaming on it. Totally surpassed my expectations! The color is also just what I was expecting from the pictures, so it matches the rest of my decor perfectly. The chair is quite heavy; it is totally designed to last! I am sure I will get many years of use out of this. A gorgeous new addition to my backyard." —Sunrise Circle

Get one from Amazon for $118.99+ (available in 12 colors, two styles, and in packs of two or four).
2.
A gas firepit table because is any backyard setup complete without one? It even comes with a glass lid so you can use it as a table when the fire isn't going.
Promising review: "My favorite purchase for our deck. I LOVE this fire table. Good size, great value compared to what is out there. Packaged nicely. My husband put it together alone in 30–45 minutes with no frustration and easy-to-follow directions. Puts out a decent amount of heat. Enough rocks to adequately cover. Just add your propane tank. I love that it has a lid as well. You will find sturdier fire tables, but not at this price. Excellent value." —MGF
Get it from Amazon for $109.99.
3.
Or a large firepit so you can feel like you're on a camping adventure without ever having to leave your home. Make sure everyone comes prepared with their scariest ghost stories 👻!

For added safety, it's recommended to use with a fireproof mat.
Promising review: "Awesome firepit for the patio. Our family loves having fires at night, and we've had quite a few firepits. This one is sturdy and the perfect size. The depth is better than ones we've had in the past, and the flat bottomed feet make it easy to drag it closer or further away using the provided poker tool. Definitely recommend this one over other products like it." —Amazon Customer
Get it from Amazon for $199.
4.
Some whimsical swaying garden lights to illuminate your outdoor space and set the scene for an autumn night that's (seemingly) filled with dancing fireflies.
One set of these lights comes with eight stems that have bulbs on the end. They are completely solar powered, so there is no charging or cords involved!
Promising review: "I love these little balls of moving light in our garden! Make sure you 'loosen' them up out of the box. They are very upright at first, but the wires flex, and you can arrange them to appear to float in the night. I plan on buying more to give the illusion to my whole backyard. They are not too bright, but absolutely are brighter than many of my other solar lights. So far mine have stayed lit until morning!! The wind makes them bounce and sway, just enchanting!! Buy some! They will make you happy!!" —Ruth Anderson
Get a two-pack from Amazon for $16.97+ (also available in packs of four and six).
5.
An inflatable hot tub if you're looking for the perfect way to keep enjoying your backyard this season while also staying nice and toasty.
It comes with a pump that handles all the inflating, heating, and filtration as well as the massage system — did I mention the massage system?? At just the push of a button, AirJets release soothing bubbles that'll make you feel like you're at your own personal spa in your own backyard!
Promising review: "I was skeptical about buying an inflatable hot tub, but my sister has wanted one forever. After researching many varieties we ended up purchasing this. I am amazed at how well it works. I have had it for several months now and it is still working perfectly. The lining is thick and sturdy, and supports your back. It is easy to get in and out of. The cushioned bottom is more comfy than I expected. It holds heat well, we like it at 104 and it stays between 102 and 104 while in use in a 40- to 60-degree environment. The bubbles are plentiful, relaxing, and strong. I thought set up was quite easy, I give it five out of five stars. Get it!" —Kristine

Get it from Amazon for $539.99 (also available in a smaller size).
6.
A highly rated portable projector (over 18,000 5-star reviews, to be exact!) that'll help facilitate the most epic outdoor movie night while you soak up every minute of the cool fall temps.
Promising review: "This was purchased to watch movies outside in the summer. The quality is excellent and for the price, you can't go wrong! I would totally recommend this projector to anyone. It's easy to use and the remote is functional. The speakers are actually very good when it comes to volume!" —Practical and Efficient Mom
Get it from Amazon for $89.99.
7.
And a projection screen with a HUGE viewing area so everyone watching will feel like they're at the theater. Good luck getting them to leave at the end of the night!
The screen is 120 inches and made of an anti-crease material. It also comes with brackets and ropes for mounting purposes.
Promising review: "This screen is perfect for our use. We bought it for outdoor movie nights whether being on the garage door, in the backyard, camping, or inside the garage. It's very easy to install with no wrinkles and shows a great picture. I've attached pictures that show how well I can still see the picture despite being surrounded by 7,000 Christmas lights in close vicinity." —Hallie H.
Get it from Amazon for $24.99.
8.
A trusty "not" citronella candle for maintaining a mosquito-free backyard you'll actually want to spend time in. It has an impressive 50-hour burn time, so pesky bugs don't stand a chance.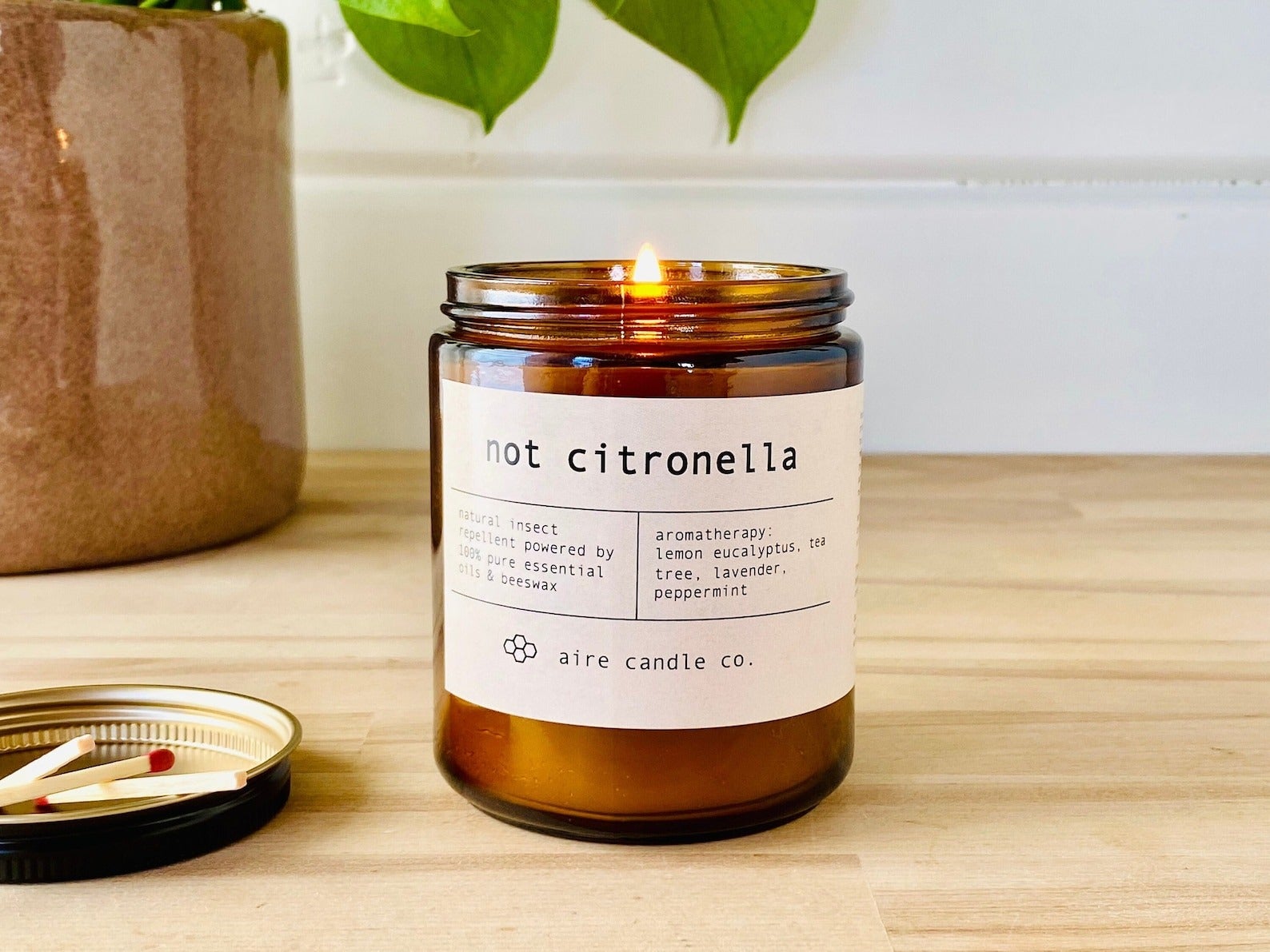 It contains lemon eucalyptus oil, which is said to be one of *the* most effective essential oils for repelling mosquitoes! It also contains lavender, peppermint, and tea tree oils.
Aire Candle Co. is a Massachusetts-based Etsy shop that makes 100% pure beeswax candles and other non-toxic products for the home.
Promising reviews: "This candle is stellar! Seriously, we have tried a lot of things to keep the mosquitoes and bugs away to no avail, but this works! I light it at peak times on our patio and we have not seen any mosquitoes since! Ordering more because I love it!!" —Michele Robinson
"Smells great and feels a lot cleaner than a citronella candle. Seems to work pretty well at keeping the bugs away, I used to get eaten up on my porch before this candle! Will be buying again when mine runs out!" —Brooke
Get it from Aire Candle Co. on Etsy for $25+ (available in two sizes). 
9.
An electric leaf blower to help you quickly *and* easily clear your yard of all the fallen leaves. 🍁 Sure, they make for nice IG photo shoots, but you may eventually want them gone!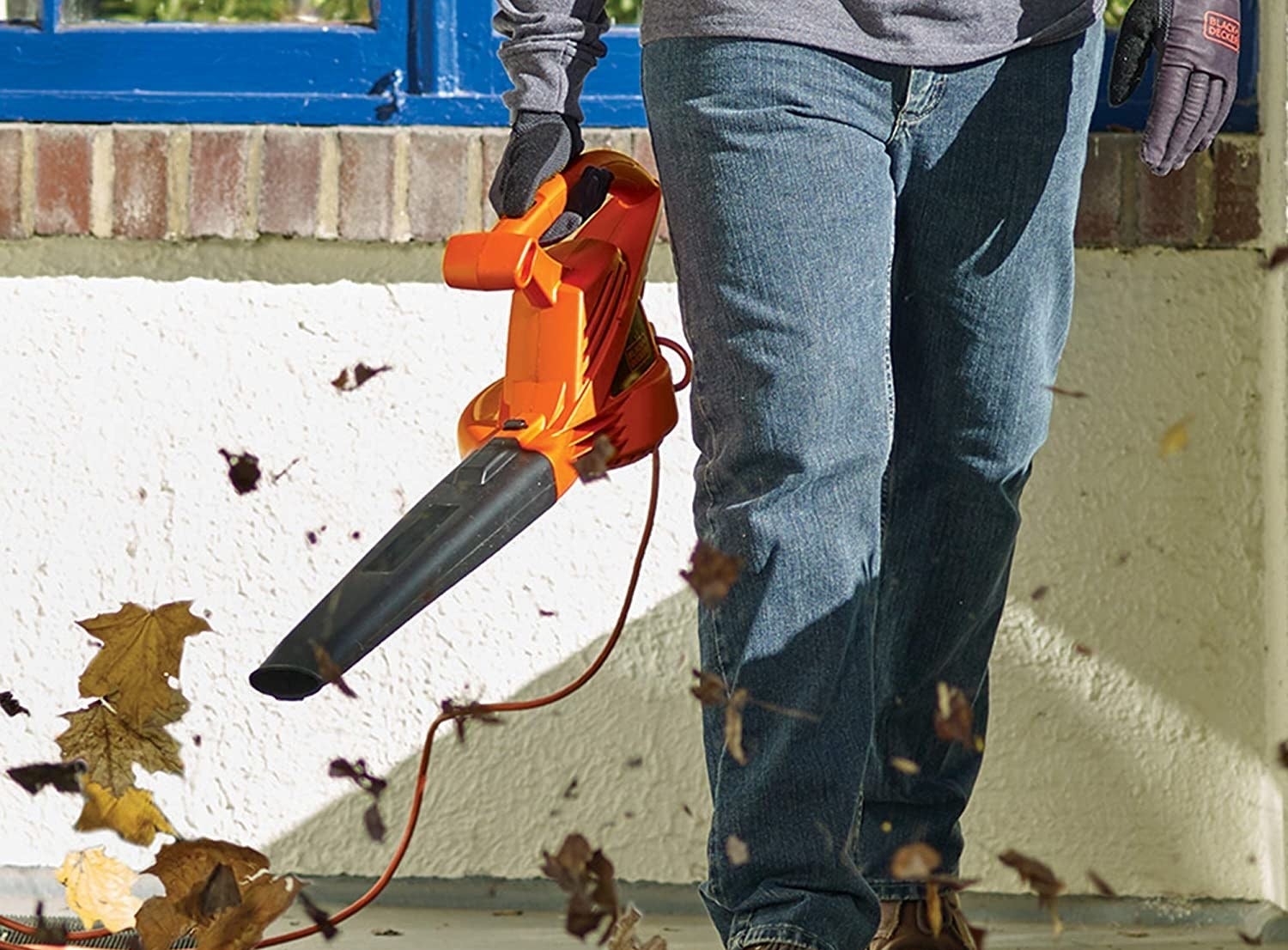 It's also great for clearing debris from your driveway, patio, pathway, and other areas all year round!
Promising review: "I didn't expect such a powerful blower at this price. I have a large front and backyard, and needed a blower that was powerful but lightweight (arthritis) and this delivered beyond my expectations. Great product and great price." —Kristina, USA buyer
Get it from Amazon for $29.
10.
Or a pair of leaf scoops because you shouldn't have to break your back when cleaning up that pile of leaves in your yard. This'll make a very annoying task ~unbe-leaf-ably~ easy.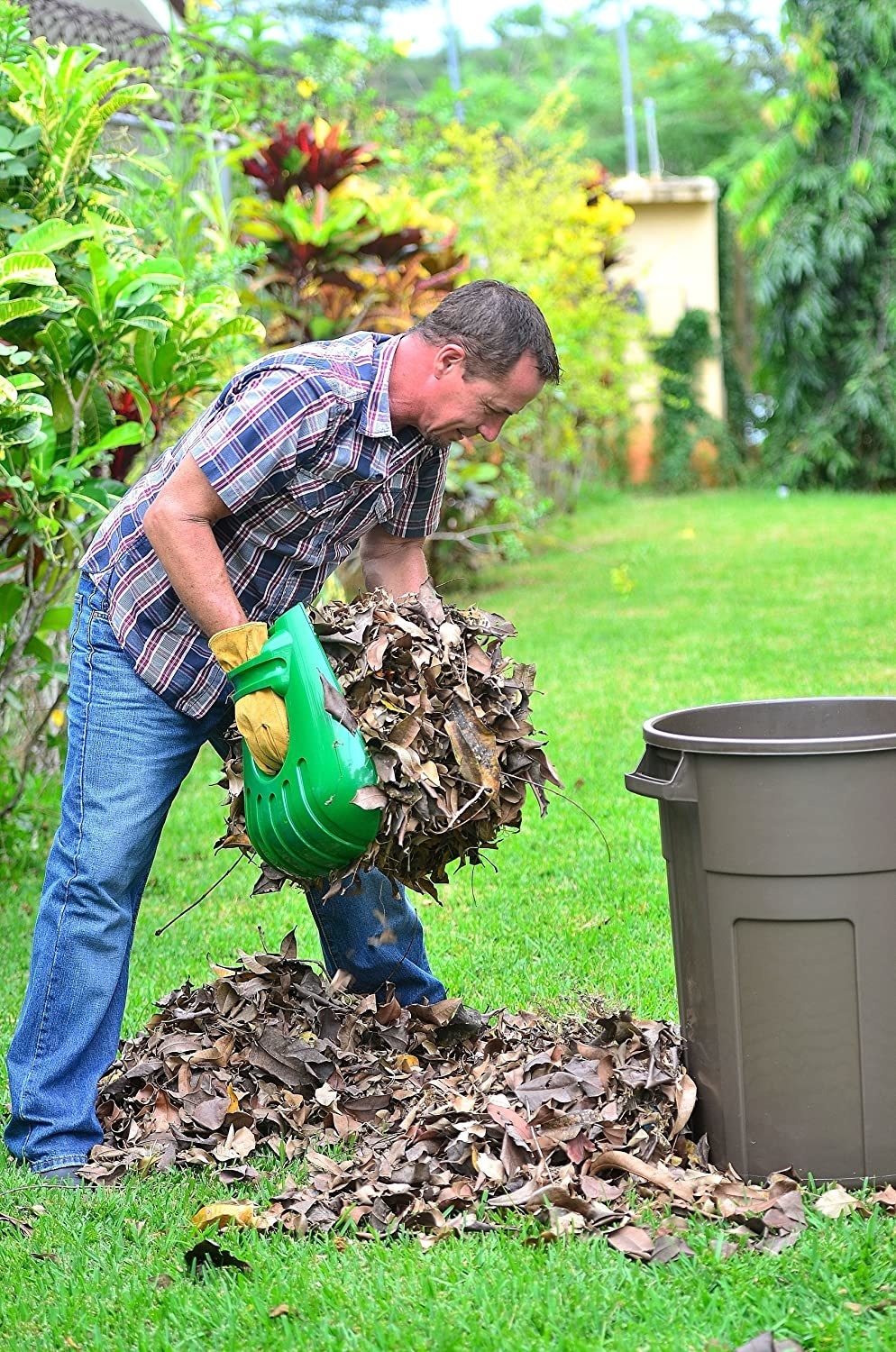 Promising review: "We have a very large wooded property that requires a lot of leaves and sticks to be raked up. We have tried various brands of leaf scoops, but most lasted not even one season. Since purchasing the ReLeaf Leaf Scoops, our job has been much easier. First of all is the way your hands grasp the scoops. These are much more ergonomic and are actually like extensions of your own hands. Second, these are very sturdy and do not bend when trying to pick up a pile of sticks and debris. We have made it through the season so far without issue. Next will be the dreaded fall cleanup. I highly recommend the ReLeaf Leaf Scoops which make our yard, woods, and garden cleanup easier." —trouble54
Get a pair from Amazon for $29.95.
11.
Also, a gutter cleaning scoop that'll help you address the wet leaves and debris clogging up your gutter. It has a mesh screen to ensure proper drainage *without* the mess spilling all over you.
Promising review: "I bought this with a little apprehension because I didn't know if it was going to work as described. But it fits perfectly in my gutters, and it is sturdy and works well. There's a small space at the back near the handle that lets water seep out, so you get mainly leaves and other debris from the gutter rather than splashing water everywhere when a gutter is backed up. This product is definitely as described by the seller, and I would buy from them again." —BJ A.

Get it from Amazon for $11.99.
12.
A hanging hammock chair if you want nothing but chill fall vibes in your backyard. As soon as you walk outside, you'll want to curl up in this cocoon-like structure and ~hang~ out with a good book or playlist.
This swinging hammock chair comes with two cushions and installation hardware.
Promising review: "Back to basics — simple, chic, and comfortable. Perfect addition for the backyard, porch, anywhere you'd like to lounge. There were no installation directions, but they do provide a number of options to work with based on your needs." —afytasuki
Get it from Amazon for $49.99 (available in six colors).