World's First "Tasteable" Print Ad
Yep, just tear off a piece and taste the Fanta orangeness. YUMMY! Alas, it's a false claim.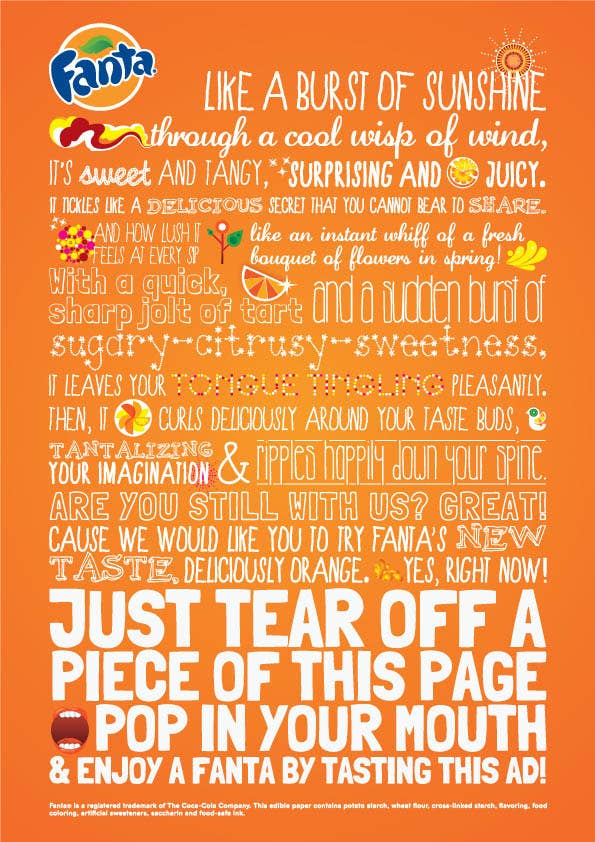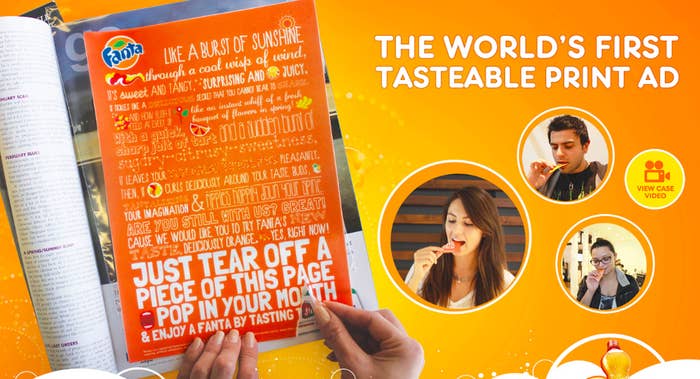 This...is a not a smart idea.
The ad with too much damn copy was created to introduce a more "orange-y" flavor.
From the ad agency (Ogilvy One, Dubai) press note:
Taste, in every sense, is a personal thing. It has to be directly experienced to be completely understood, appreciated, sought for and subscribed to. For a beverage like Fanta which is relatively known for its unique orange taste, introducing a new "more orange-y" flavor – is undeniably, vague. No matter how much we described it. The product had to be tried, thus the necessary means of sampling. Enabling the audience to immediately and directly react and respond. Average and forgettable sampling was transformed into an innovative medium using print media to showcase the taste. This allowed for curious people to tear and try the new taste of Fanta straight from the print ad without having to drink it.
Sorry guys, eat your words, not true.
Maybe you've made the first "tasteable" ad that tastes good.
But it's not the first tasteable ad.
Volkswagen beat you to it in 2011. See below ad.
Also, I'm 100% sure others before VW made edible print ads.
No matter Fanta. I don't know where the hell that ad has been, so I sure ain't eating it.