What's your go to Pre-Race anthem?

It switches between Ed Sheeran and Lil Mama

No music, just quoting Vines

It's Saturday night. What's your Nug doing?

(If you are the nug, what are you doing?)

Wearing a Hawaiian shirt no matter where she is

GOING OUT! Is that even a question?

With the other nugs of course

Smiling, wherever she is.

Still screeching...somewhere....

It's still Saturday night. What's your thug doing?

(If you are the thug, what are you doing?)

Complimenting everyone and assuring them they are safe

Curled up in bed, watching Netflix. However will occasionally grace the rest of the team with your presence.

Probably sleeping. Time differences, man.

Bumping at the Ticker with your Roommate

Favorite footwear choice?

Crocs STUFFED with Jibbetz

Crocs with the *matching* Jibbetz

What app do you relate with?

The GroupMe meme function

Zenon Girl of the 21st Century

What's your favorite SLU Crew gear?

The Men's team sweatpants

Layers on Layers on Layers
Which IcoNICK Thug And Nug Pair Are You?
You got:

Elyssa and Caleigh
The Same Person-Lover of all things memes, Vines and crappy wine. These two are a match made in heaven and will always provide a good time. Sometimes, it can be scary how similar these two are, but deep down it's true love.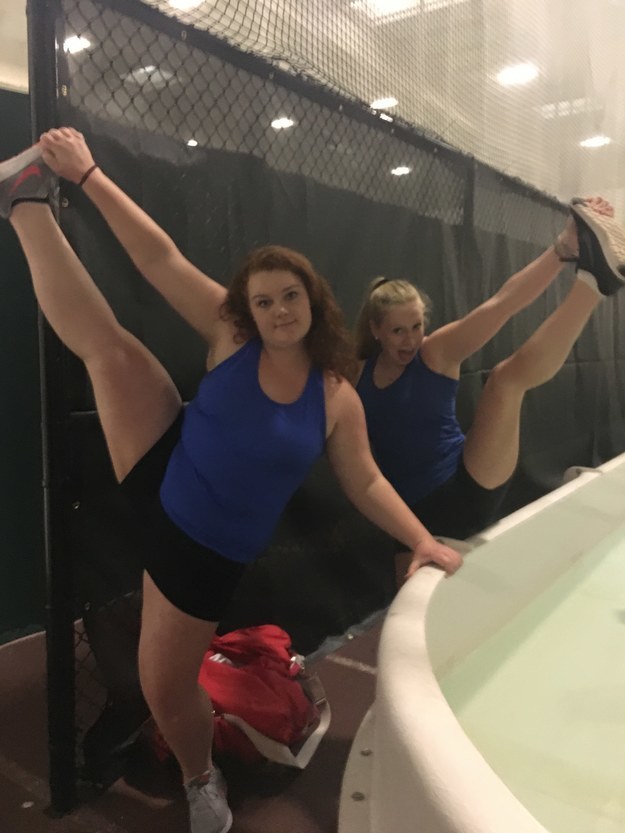 The Dynamic Duo-These two bounce energy between them like no one else. If put in the same room, you WILL hear "THAT'S MY THUG!" followed by "THAT'S MY NUG!" If you're ever looking for someone to Dana sit with or get you amped, these two will surely provide.
LuvBugs-In need of some finals week hugs? Call up your local LuvBug Thug&Nug (Trademarked by Elyssa). Whether it be a long conversation with the occasional sensual arm rub, or a hug followed by a squeeze, your day is definitely going to be a bit brighter with Eliza and Erin around.
The Polar Opposites-Despite not seeming similar, these two found love in a hopeless place. While you can either be seen out partying the night away, or tucked up in bed watching Netflix on the Quiet Floor, these two strike the perfect balance while spreading love throughout SLU's campus
You got:

Ailise and Amanda
A Bond Formed Overtime-Just like the beginning of the universe, the start of this relationship was quiet and uneventful. However, overtime, a bond was formed and a bud blossomed. Many similarities were uncovered and a beautiful Thug and Nug friendship was formed.
You got:

Lizzy and Taylor
Hometown Roots-You can take the rower out of Virginia, but you can't take Virginia out of the rower. These hometown hunnies go way back to their roots and have a deep connection no one can break.
Long Distance Love-Distance makes the heart grow fonder. Despite being miles and miles apart, these two are willing to make it work. Retweet if you're excited for the reunion come Fall!!
This post was created by a member of BuzzFeed Community, where anyone can post awesome lists and creations.
Learn more
or
post your buzz!