Honestly the outcome of this road trip mishap is more proof that love is alive, y'all.
"We and my fiancé were road tripping from New York to the mid west to check out the national parks. Our second stop was Amarillo, Texas, Palo Duro Canyon, to be exact. We were camping there, or at least supposed to. We brought a very large tent from home that was my mother's, we practiced setting it up before hand so we knew all the pieces were there, but we didn't account for bad weather. A storm was coming in, it was dark, and windy. Every time we got a side up and started working on another side, the first side blew down. Eventually we called it quits and slept in the car for about 2 hours and then just hit the road again. It actually ended up being kinda lucky for us, and gave us more time at the painted desert and enough to see the sunset at the Grand Canyon that night!"
Is it possible that they laughed their heads off?
"When I was about 12 or 13, my mom, my best friend, and I all went to the beach for spring break. Not long into our trip we were in traffic in downtown Atlanta, and looked over to see a pickup truck filled to the brim with nude, headless mannequins. We were laughing so hard we were sobbing! My mom could hardly drive!"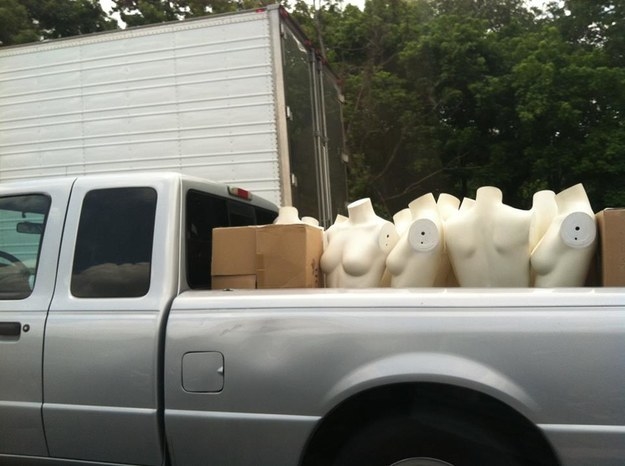 Wait, where's our daughter?
"My family and some family friends we were driving with literally left me at a restaurant during a road trip to King's Island when I was 10 years old. They just drove off without me and got almost a mile before realizing I wasn't in the car!"
—Samra
No harm in turning a hilarious accident into an awesome tradition!
"My boyfriend and I drove from 18 hours from North Carolina to Michigan last Christmas and I was meeting his family for the first time. Somewhere in Ohio we stopped at Buffalo Wild Wings to grab some food and we got seated right outside the women's bathroom. (This is important!) After we sat down I went to the bathroom and the lock got jammed. I couldn't open the door and I was calling for my boyfriend but he couldn't hear me because the loud music speaker was right above the bathroom door!! Some time went by and luckily my boyfriend comes to check on me. He calls the manager over and the entire staff is trying to get this door open. I was so embarrassed and very hangry at this point. I was in there for a good half hour until they called a locksmith who just beat the lock off with a hammer. Our food was on the house and it was definitely an icebreaker considering his family teased me about it the entire trip. Now it's tradition to stop at Buffalo Wild Wings every time we drive to visit his family!"
At least that was all they found in the car.
"My husband and I road tripped through Australia in a station wagon. Sitting at our campsite one night, someone came over and said "There's a turkey in your car" and sure enough, a wild turkey had flown in the open trunk and was eating our mango. My husband was so sad."
Don't feed the birds.
"I was on a road trip with my family to Port Aransas, Texas. We drove through to grab lunch to eat on the ferry over from the Texas coast to the island. Several ravenous looking seagulls were flying alongside the car so I decided to feed them some fries. Bad idea. Two seagulls turned to 40 seagulls pecking and pooping all over the car. Never feed a flock of seagulls in a minivan on a ferry."
—Clark
Oh the creative ways to stay entertained before the age of smart phones.
"My family and I went on a week long canoe trip in the early nineties. Half of us were in a 1980's conversion van and the other half were in a 1980's motor home. It had a huge picture window in the back and so did the van. Whomever's turn it was led so the other could see the charades being acted out through the big windows. We played charades for 6 hours using walkie talkies to guess the answers."
When you're on the road you gotta get extra resourceful.
"I was visiting my sister in Sonoma county (northern California) and we did a day on the Russian river with a few of her friends. We had two double tubes that had built in coolers and when we were almost half way down the river, one started to loose air. We pulled off onto the embankment to check it out. We found a small hole in the side and the the only thing we had with us besides drinks and snacks was a tampon. Well it worked! It held for the rest of the day lol!"
You better really like pancakes.
"When my dad and I drove across the country, we ate at the exact same chain restaurant for lunch every single day — and also sometimes for dinner! — basically from Idaho all the way through Pennsylvania."
—Tory
Submissions have been edited for length and/or clarity.
Note: This post was updated May 28 to remove a duplicated story