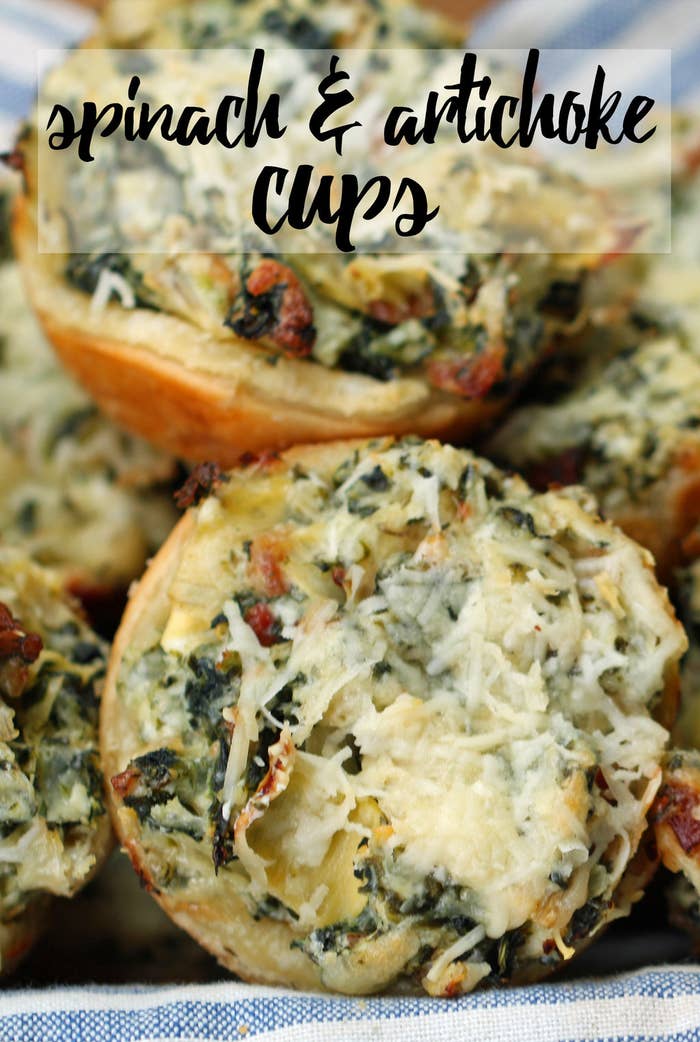 Here's what you will need:
Yields: About 16 Dip Cups
For dip:
* 8 oz cream cheese
* 3/4 cup frozen spinach, defrosted and drained of excess liquid
* 1/2 cup mozzarella
* 1/2 cup romano
* 1/2 cup parmesan
* 14 oz can artichoke hearts, quartered
* 1/4 cup chopped bacon
* 1/4 cup sour cream
* 1 tsp minced garlic
* 1/2 tsp red pepper flakes
* 1 tsp dried basil
For Cups:
* 1 box puff pastry, thawed according to box instructions
For Toppings (Optional):
* Parmesan cheese
Instructions:
1. Preheat your oven to 400˚F/ 200˚C.
2. Combine cream cheese, drained spinach, mozzarella, romano, parmesan, artichoke hearts, bacon, sour cream, garlic, red pepper flakes, and dried basil in a large bowl.
3. Mix until the ingredients are well combined and set aside.
4. Roll out the puff pastry using a rolling pin.
5. Take a jar and press down on the dough to create perfect circles.
6. Once you have all your circles, remove excess dough and repeat steps four and five until you have enough to fill your muffin tin, or until you run out of dough!
7. Take your dough and place it in the muffin tin to create a cup for the dip.
8. Spoon the dip into each cup until they're 3/4 full.
9. Top with parmesan cheese (optional).
10. Bake for 20 minutes at 400˚F/ 200˚C (temperature and time may vary based on the oven)
11. Remove from muffin tin and allow to cool for about 15 minutes.
12. Serve & Enjoy!