No-Bake Cereal Bars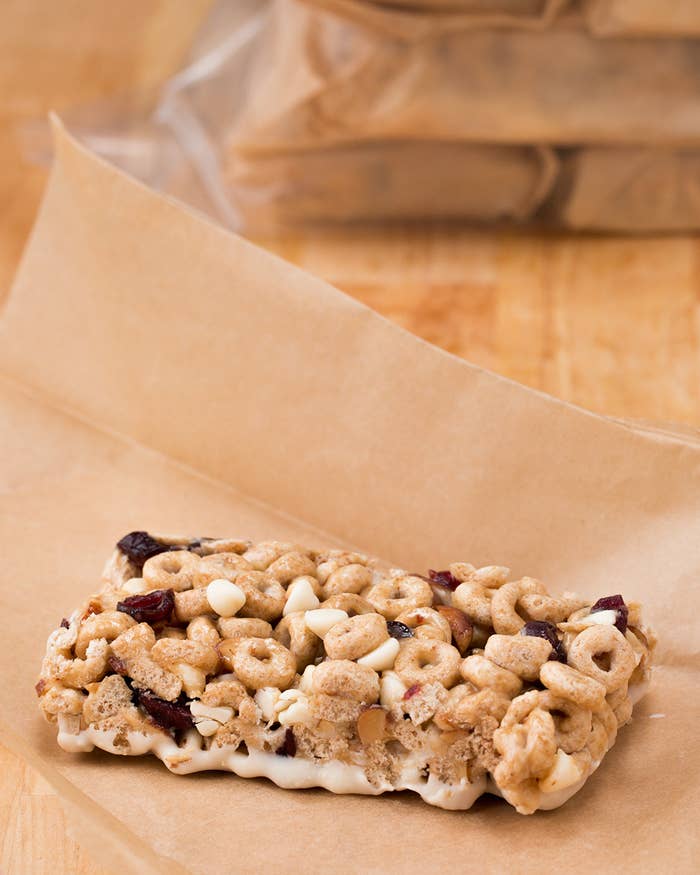 INGREDIENTS
Makes 8 bars
½ cup honey
¼ cup peanut butter
3 cups toasted oat cereal
1 cup yogurt chips (save ½ cup for melting)
½ cup unsalted toasted almonds, chopped
½ cup dried cranberries
1 teaspoon coconut oil (optional)
PREPARATION
1. In a bowl, mix honey with peanut butter. Microwave for 45 seconds, stirring every 15 seconds, or until melted.
2. In a large bowl, combine oat cereal, ½ of the yogurt chips (save the other half for later), chopped almonds, and dried cranberries.
3. Pour the melted honey mixture into the bowl and stir until well mixed.
4. Pour into an 8x8 baking pan lined with parchment paper, and gently flatten the mixture evenly around the pan.
5. Freeze for 30 minutes, or until the mixture has hardened enough to cut it into 8 pieces.
6. Melt the other half of the yogurt chips in the microwave for 15 seconds at a time, until melted. (Optional: adding 1 tsp of coconut oil will help with the melting process)
7. Dip the bottom of the bars in the melted yogurt chips and place on a piece of parchment paper. Freeze for another 15 minutes.
8. Wrap each bar in parchment paper & store in the refrigerator or freezer for up to 3 months.
9. Enjoy!