These Beef Kebabs Are Out Of This World Delicious And Totally Grillable
Grill all of the things!
by
,
,
Beef Kebabs With Garlic Sauce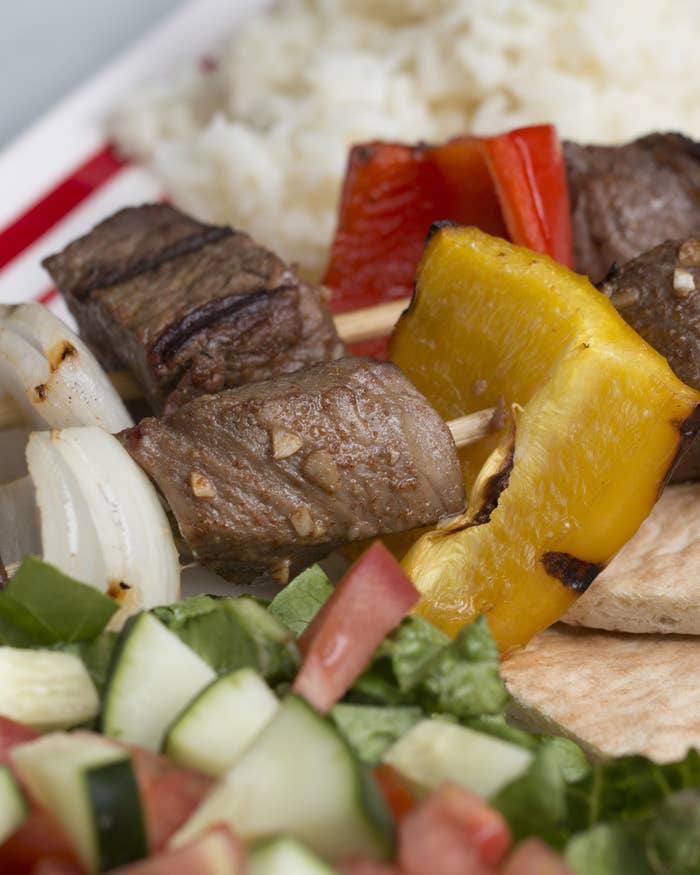 INGREDIENTS
For the kebabs:
2 pound beef sirloin, cut into 1 inch cubes
1 tablespoon. garlic, minced
1/2 teaspoon ground coriander
1 teaspoon cumin
1/2 teaspoon paprika
1 teaspoon distilled white vinegar
1/2 cup olive oil
3 bell peppers (red, yellow and green), cut into 1 inch pieces
1 red onion, cut into 1 inch pieces
For the garlic sauce:
1 cup garlic cloves, peeled
1 tsp salt
4 cups vegetable oil
1 lemon, juiced
PREPARATION
1. In a re-sealable freezer bag, add beef, garlic, coriander, cumin, paprika, white vinegar, and olive oil. Seal the bag and distribute seasonings. Allow to marinate in the refrigerator for 24 hours.
2. In a food processor, add garlic cloves and pulse until the garlic becomes finely minced.
3. Add salt and pulse until well incorporated. Scrape down the sides of the bowl if you see the garlic building up on the sides.
4. Turn on the food processor and keep it on. In a thin stream pour 1/2 cup of oil followed by 1/2 tsp of lemon juice. Keep alternating until you have used all of the oil and lemon juice. The garlic sauce should become light, fluffy and creamy.
5. Store garlic sauce in an airtight container in the refrigerator for up to 1 week!
6. Preheat the grill on high.
7. To assemble the kebabs, spray skewers with non-stick cooking spray and alternate threading beef, onions and bell peppers onto the skewer.
8. Cook 5-7 minutes on each side.
9. Serve kebabs with garlic sauce, salad, rice, hummus, and pita bread.
10: Enjoy!
Want BuzzFeed Tasty right in your inbox? Sign up for our newsletter!