Jack O' Lantern Stuffed Peppers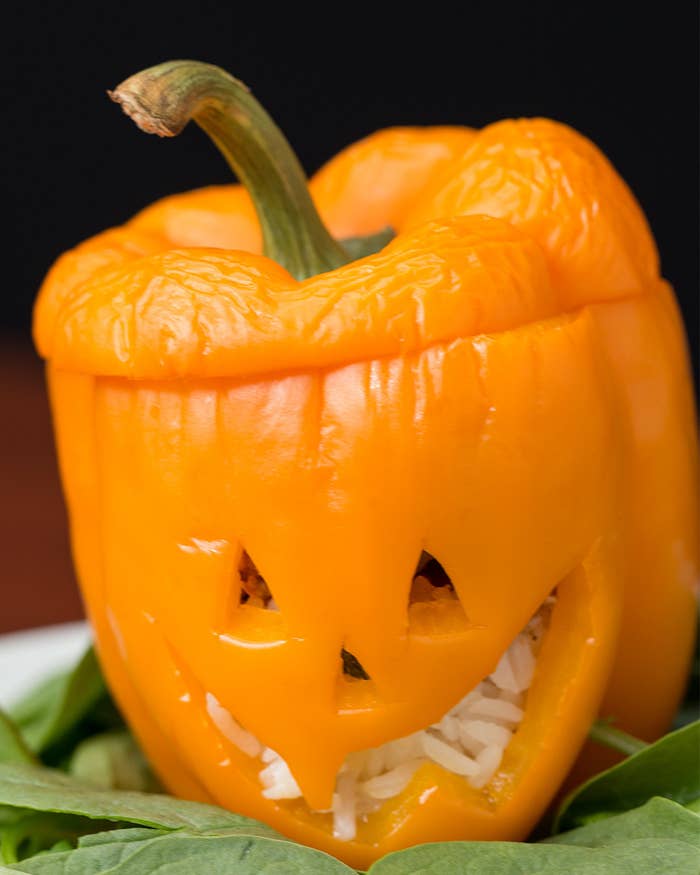 INGREDIENTS
Serves 8
2 tablespoons olive oil
1 cup onion, diced
2 cloves garlic, minced
1 pound ground turkey
½ teaspoon salt
1 teaspoon oregano
1 teaspoon pepper
1 zucchini, diced
1 cup diced tomatoes
8 orange bell peppers
1 ½ cups cooked rice
PREPARATION
1. Preheat oven to 350˚F/180˚C.
2. In a large skillet, heat the oil and cook onions and garlic for 3 minutes, or until they start to soften. Add the ground turkey to the pan, followed by salt, pepper, and oregano. Stir and cook for 3-4 minutes.
3. Then add zucchini and diced tomatoes. Cook until zucchini has begun to soften and remove from heat.
4. Cut the top off of the bell pepper low enough that the stem remains attached and remove the seeds. Save the top!
5. Carefully, carve out your desired jack-o'-lantern face using a steak knife or paring knife. Repeat for the rest of the bell peppers.
6. Place carved bell peppers in a baking dish and spoon in a layer of cooked rice in the bottom followed by the turkey mixture, and top with mozzarella cheese. Put the top of the bell pepper back on top.
7. Bake for 35 minutes or until peppers are tender and the cheese has melted.
8. Enjoy!
Want BuzzFeed Tasty right in your inbox? Sign up for our newsletter!